Tale of Two Fund Giants Reveals Differences in the Plot
(Bloomberg Opinion) -- Almost a year ago, Stephen Bird took charge at what was then Standard Life Aberdeen Plc. Since then, the former Citigroup Inc. executive has rebranded the business as Abrdn Plc, cut the annual dividend by a third and rejigged the firm's management. But the gap with its bigger U.K. rival Schroders Plc keeps growing in the key areas of assets, costs and — most important — returns to investors.
Schroders, under the leadership of Chief Executive Officer Peter Harrison, was able to generate net inflows of 17.9 billion pounds ($25 billion) in the first half of this year. That swelled its asset under management and administration to a record 700 billion pounds, an increase of 66% since the end of 2018.
At Abrdn, however, Tuesday's half-year earnings report showed net outflows of 5.6 billion pounds. Its asset base has shrunk since 2018. In an industry where economies of scale are increasingly important, that's the wrong direction to be heading.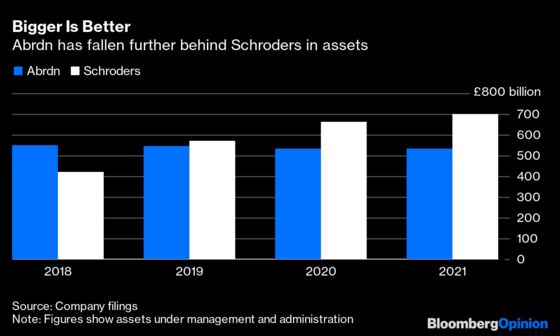 Abrdn's midyear cost-income ratio was 79%, down from 85% at the end of last year. It's targeting 70% by the end of 2023, which would still leave it in a worse place than the 67% Schroders achieved at the end of June.
The piecemeal transfer of a 100 billion-pound contract to manage assets for Lloyds Banking Group Plc in the past few years has boosted Schroders's cash pile and hurt Abrdn's. But the figures on investment performance highlight why more money is flowing to Schroders above and beyond that mandate transfer.
Over one, three and five years, its portfolio managers have consistently beaten their benchmarks by more than their peers at Abrdn. On the key three-year measure, 75% of Schroders assets have outperformed, compared with just 66% at Abrdn.
Moreover, the money managers at Schroders have improved their outperformance in the first half of the year compared with the end of 2020. By contrast, the one-year and five-year relative returns have deteriorated at Abrdn with the three-year number unchanged.
Bird's appointment last year was designed to end the infighting that had bedeviled the Edinburgh-based firm since the 2017 combination of Standard Life and Aberdeen. But it seems the disturbance of having a new guy in charge has simply replaced the distractions caused by the merger. Investment performance is the key to attracting customers; Abrdn's stock pickers need to up their game if the company is to reverse the outflows and start to challenge Schroders as the U.K.'s biggest stand-alone asset manager.
This column does not necessarily reflect the opinion of the editorial board or Bloomberg LP and its owners.
Mark Gilbert is a Bloomberg Opinion columnist covering asset management. He previously was the London bureau chief for Bloomberg News. He is also the author of "Complicit: How Greed and Collusion Made the Credit Crisis Unstoppable."