Disney Knows Better Than to Battle a Superhero
(Bloomberg Opinion) -- "Black Widow" star Scarlett Johansson is reminding Hollywood that at least one group still favors the box office: the actors who were promised a big payday from it. Mess with that and you just might hear from their lawyers. For companies like Walt Disney Co., it's the overlooked cost of going all in on streaming, where tangled rights deals and prickly contracts are making for a messy transition. 
"Scarlett Johansson Sues Disney" was quite the eye-catching headline Thursday. A brand known for expertly averting scandal is on bad terms with the current star of its biggest film franchise — a development almost more enticing than the superhero plot itself. But with companies such as Disney actively undermining the movie-theater business to drive more viewers to their streaming-video apps, it was only a matter of time before one of these situations erupted. 
The latest installment in the Marvel Cinematic Universe, "Black Widow" arrived both in movie theaters and on the Disney+ app earlier this month, a new simultaneous release strategy that Disney and some of its competitors have been embracing as the Covid-19 pandemic hurts theater attendance and increases streaming demand. Johansson's lawsuit contends that her contract guaranteed an exclusive theatrical release and that a sizable portion of her salary was tied to box-office sales, according to the Wall Street Journal.
The film has grossed about $158 million in the U.S. and Canada since July 9, although about half of those ticket sales came during the opening weekend, according to data provider The Numbers. As a point of comparison, "Black Panther" in 2018 drew $202 million in its opening weekend and $700 million total domestically. Those first few days of a blockbuster movie release are the most important, and instead of fans having to make the trip to theaters for "Black Widow," the company provided Disney+ subscribers with the convenience of streaming from home for a $30 fee. That decision may have shortchanged Johansson by some $50 million, the Journal reported, citing an unidentified source.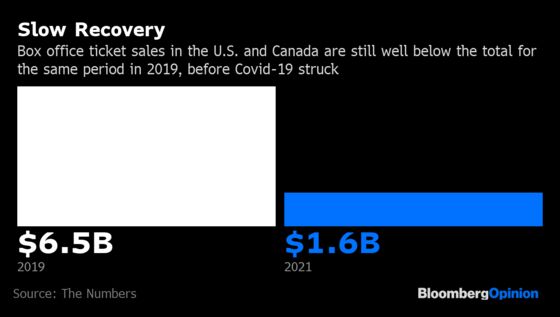 AT&T Inc.'s Warner Bros. studio grappled with similar consternation from its film stars after the company decided to put all of this year's new films on HBO Max the same day they hit the big screen, starting with "Wonder Woman 1984" over the winter. The New York Times described a "tense negotiation" that ended in actress Gal Gadot and director Patty Jenkins each securing more than $10 million to acquiesce. Other actors and production partners reportedly felt blindsided by Warner's aggressive streaming move, which forced it into other renegotiations that ultimately cost it a reported $200 million. 
For the streaming companies, this is largely a temporary annoyance because of studios' bait-and-switch, which was driven by the pandemic. Future agreements will be better structured for the streaming-TV era. Still, Disney probably would have been better off striking the quiet deals that Warner did. It now risks angering fans of Marvel and Johansson, who is getting a virtual thumbs-up from many of them for her suit. Disney should know it's never a good idea to battle a superhero. 
This column does not necessarily reflect the opinion of the editorial board or Bloomberg LP and its owners.
Tara Lachapelle is a Bloomberg Opinion columnist covering the business of entertainment and telecommunications, as well as broader deals. She previously wrote an M&A column for Bloomberg News.