Has Saudi Aramco Given Up on a Global IPO?
(Bloomberg Opinion) -- Saudi Aramco has been invited by Crown Prince Mohammed bin Salman to participate in a new initiative whereby it will invest tens of billions of dollars in the future of Saudi Arabia. To which one might respond: Doesn't Aramco do that already?
It's a fair question. The "Shareek," or "partnership," plan was announced in a late-night teleconference last week. Large companies, including Saudi Arabian Oil Co., are to invest 5 trillion riyals ($1.33 trillion) in the domestic economy over this decade, reducing the dividends paid to the government in order to do so. Bloomberg News reports Aramco and chemicals firm Saudi Basic Industries Corp. — majority-owned by Aramco after a recent acquisition — would contribute 60% of the investment.
Exactly how it will work is TBD; the company didn't respond to a request for details. But one implication is that hopes for a splashy international listing of Aramco look dead.
Aramco's IPO in December 2019 was the biggest ever but also confined to the small domestic market. This enabled Saudi Arabia to deliver on MBS's objective of an optically high price but at the cost of mostly skipping international capital. The latter was less likely to overlook Aramco's state ownership and would therefore have sought a discount. In the end, the IPO bore a resemblance to domestic taxation. Nonetheless, Aramco and the government took several notably investor-friendly steps. One was guaranteeing minority investors their share of an annual $75 billion dividend payment for five years (see this). Another was adjusting the royalties Aramco pays, boosting free cash flow while preserving the state's overall take (see this).
The Shareek announcement runs counter to this in a number of ways. In the absence of further guidance, I am assuming the implied annual spending by a combined Aramco-SABIC of roughly $80 billion would include the $40 billion budgeted already for its oil and gas business. This would mean redirecting an extra $40 billion of cash flow that would otherwise flow as dividends to the government toward capital expenditure. In one sense, who cares: Rather than dividend the money to the state, which then spends it, the spending happens under Aramco's aegis instead. It's all the same money.
And that would be the end of it if Aramco was still just a 100% state-owned company.
As it stands, Aramco is richly valued relative to global peers. It does enjoy far superior economics, but is also a national oil company, which usually demands a discount (see this). Most importantly, its valuation is determined by that sliver of equity listed on a sliver of an exchange. You can see this in the humdrum price action during 2020 — a momentous year, you may recall — when trading volume for the world's largest oil company was less than that of one fracker, EOG Resources Inc. Even if it's all the same money, shifting half the government's dividend to capex would cut Aramco's free cash flow in half, making it an even more expensive proposition.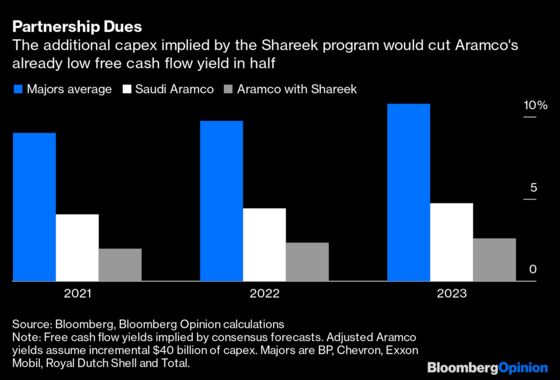 So in theory, a New York money manager might some day be pitched on investing in an oil company directing half its budget to national projects and yielding just a quarter of its global peers on free cash flow. The guarantee on minority dividends might help, but this new program casts a shadow over what happens after that expires. And while Shareek is nominally voluntary, such words take on a more decorative aspect when the person seeking volunteers is MBS. Unless he is now prepared to see Aramco trade at a much lower valuation, that foreign pitch looks likely to remain theoretical.
Lacking details, I am assuming Aramco, as 70% owner of SABIC, is responsible for the entire 60% of the investment plan reportedly reserved for these two companies.
This column does not necessarily reflect the opinion of the editorial board or Bloomberg LP and its owners.
Liam Denning is a Bloomberg Opinion columnist covering energy, mining and commodities. He previously was editor of the Wall Street Journal's Heard on the Street column and wrote for the Financial Times' Lex column. He was also an investment banker.