Chicken Sandwich Frenzy Meets the M&A Market
(Bloomberg Opinion) -- It's a good time to be a seller in the chicken business. 
Sanderson Farms Inc., the third-biggest U.S. chicken producer, announced Monday that it's selling itself for $4.5 billion to a joint venture formed by closely held agricultural powerhouses Cargill Inc. and Continental Grain Co. Sanderson has been a frequent subject of M&A speculation over the years, particularly during past periods of meat market consolidation, but it had always seemed to relish in its independence. With labor shortages and rising inflation complicating the process of producing chicken and CEO Joe Sanderson, the grandson of the company's founder, now in his 70s, the time finally seems right for a deal. It helps that the buyers are willing to pay top dollar: The $203-a-share cash offer from Cargill and Continental values Sanderson at a 30% premium to where the stock was trading in mid-June before speculation of a possible sale and at a 15% premium to its pre-pandemic all-time high.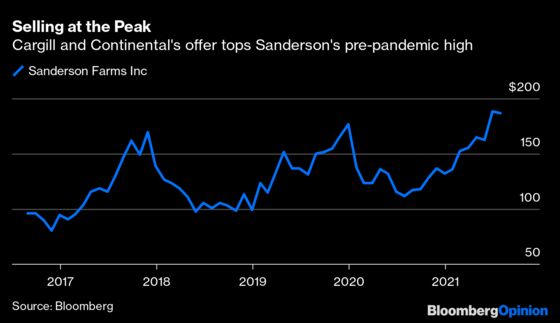 Demand for poultry has surged as restaurants reopen from pandemic shutdowns and crispy chicken sandwiches become a key competitive focus for fast-food outlets. That's made it easier for chicken producers to pass on higher costs by raising prices, but they're scrambling to get the capacity and people they need to keep up with the growing appetite for breasts, thighs and wings. The spike in lumber costs earlier this year convinced Sanderson to delay building a new chicken processing plant, the CEO said in May. Hiring difficulties are crimping output at the facilities it already has, to the point where the company has been exploring ways to use robots to handle larger chickens and replace as many as 75 workers per plant. Separately on Monday, the largest U.S. chicken producer, Tyson Foods Inc., warned that higher prices for feedstocks will weigh on full-year adjusted operating margins in its poultry unit. 
Those difficulties aren't going away, but Sanderson will now be able to manage them as a private entity. Sanderson had said its latest automation push would cost $5 million per plant. The press release announcing the Sanderson sale is fairly light on strategic details, but it does flag the prospect of "state-of-the-art operations" for the combined company, suggesting more automation is in the offing. The deal is structured so that Sanderson will merge with Continental's Wayne Farms (the sixth-largest U.S. chicken producer), with Wayne's CEO Clint Rivers overseeing the combined entity. The other benefit of this setup is that it provides a succession plan of sorts for CEO Joe Sanderson, who has said he will be the last family member to run the company. 
The buyers expect the deal to close by the beginning of next year at the latest, signaling they see a relatively smooth path to antitrust approval. It's a bold outlook; the Biden administration has taken a tougher stance toward dealmaking in already consolidated sectors, and the broader poultry production industry has been scrutinized as part of a Department of Justice investigation on price-fixing allegations. There may be more hiccups to the regulatory process than the two sides are currently counting on. But assuming the deal does go through, Sanderson shareholders are in line for a knockout price when it's not getting any easier to be a chicken producer. 
This column does not necessarily reflect the opinion of the editorial board or Bloomberg LP and its owners.
Brooke Sutherland is a Bloomberg Opinion columnist covering deals and industrial companies. She previously wrote an M&A column for Bloomberg News.