Russia Is No Longer Europe's Reliable Gas Supplier
(Bloomberg Opinion) -- It doesn't matter whether Russia couldn't, or wouldn't, boost natural gas supplies to Europe in recent weeks. Either way it has undermined its claim to be a reliable supplier. It's also boosted the case for its most important customers to reduce their dependence on Moscow-controlled supplies and boost domestic renewable energy sources. 
The well-documented shortage of natural gas currently being suffered in Europe has sent prices on the Dutch Title Transfer Facility and other exchanges soaring. At their peak earlier this month, they were nearly six times as high as at the start of the year. Fourteen energy suppliers in the U.K., selling gas and electricity to more than 2 million customers, have gone bust, squeezed between the soaring cost of buying supplies and capped prices they can charge customers.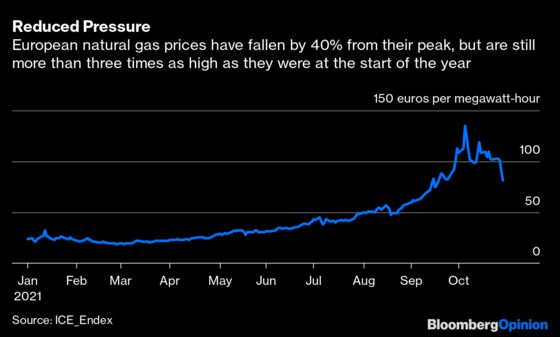 Promises from President Vladimir Putin of more Russian gas for Europe have helped propel a 40% price drop from that peak, leaving prices a mere three-and-a-half times as high as they were at the start of January — and it's not even winter yet.
The dearth of gas in Europe has many causes — dwindling production in the U.K. and the Netherlands, soaring post-pandemic demand, a failure to rebuild inventories after a long, cold winter that drained stockpiles well into April.
But accusatory fingers have been pointed elsewhere, too.
For example, at a manipulative Russia that has been withholding supplies, determined to secure European approval for its new pipeline beneath the Baltic Sea. At European utilities, which are now paying the inevitable price for their shift away from long-term contracts with Russia's state-controlled gas export monopoly, Gazprom PJSC. And at European governments, whose dash for renewable energy with too little consideration for insulating buildings and tackling demand has left the continent vulnerable to problems of intermittency.
The owners of those fingers each have their own agendas. Whether it's competing gas suppliers wanting to limit Russia's sales to Europe, or Russia's energy giants seeking to create, maintain and expand markets for their own supplies.
But one thing is quite clear — Europe hasn't received as much gas as it needs or wants from Russia over the course of 2021 so far. And the reasons for that shortfall matter less than the simple fact of it.
The situation in Germany illustrates the problem. The country's gas storage facilities were 71% full on Oct. 27, according to data from Gas Infrastructure Europe. But the sites controlled by Gazprom through its subsidiary astora, which account for nearly one-quarter of Germany's storage capacity, were just 21% full.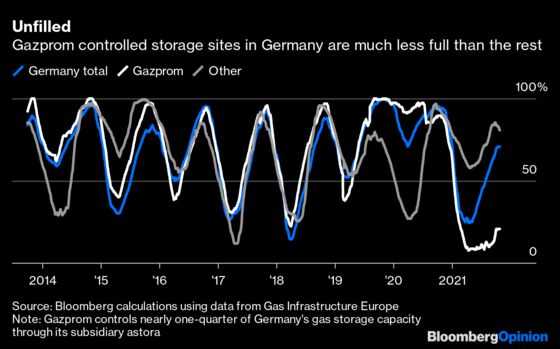 Gazprom may well have supplied all the gas required under its contracts with European buyers, but it has clearly not replenished its own storage sites on the continent. 
It shouldn't come as any surprise that it has prioritized filling storage sites at home in Russia — it would be remiss of it not to do so. Putin has ordered the company to start refilling its European gas-storage facilities next month, when domestic sites will be full. That's helped propel the drop in European prices and ease immediate concerns, but it does nothing to address the longer term issues.
If Gazprom simply couldn't pump enough gas to fill both its domestic and overseas storage facilities, European leaders need to worry that Russia's lack of gas production capacity will increasingly leave them vulnerable to future shortages.
If the crisis has all been part of a Kremlin plot to secure European approval for the Nord Stream 2 pipeline beneath the Baltic Sea, that too should make European leaders very concerned indeed. They need to ask themselves what will be next on Putin's shopping list? The removal of sanctions imposed after the jailing of Russian opposition leader Alexey Navalny? Recognition of Russia's annexation of Crimea? 
Either way, the European response should be the same. Diversify.
Diversify both the sources of natural gas — yes, there's a role for U.S. "Freedom Gas" — and the energy mix.
Gas may be required for years to come to plug the gaps when the wind doesn't blow or the sun doesn't shine. But Russia's inability, or unwillingness, to supply what's needed in a timely fashion blows a hole in its claims to be a reliable supplier of it. 
This column does not necessarily reflect the opinion of the editorial board or Bloomberg LP and its owners.
Julian Lee is an oil strategist for Bloomberg. Previously he worked as a senior analyst at the Centre for Global Energy Studies.