Roku Is $60 Billion of Amazon Defiance
(Bloomberg Opinion) -- If anyone had to make a reasonable guess as to Roku Inc.'s market capitalization, they'd probably come up well short of the correct answer: almost $60 billion. Of course, $40 billion of that arrived in just the last six months, an astonishing stock-market ascent for a business that doesn't make much money and whose name sometimes gets mixed up with other quirky ones in its industry — Fubo, Hulu, Pluto, Tubi, Vudu, Xumo.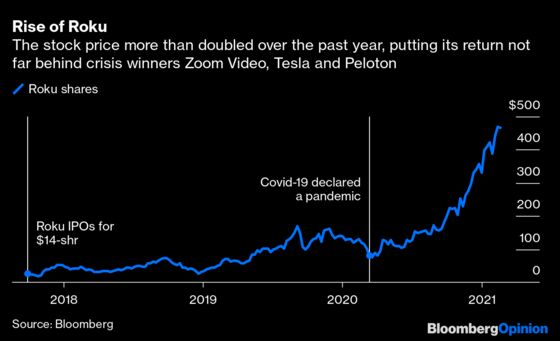 But Roku, a streaming-video platform and device maker benefiting from the stay-at-home crisis, has outmaneuvered far larger rivals such as Amazon.com Inc. and avoided the dilemma that has so often greeted companies daring to challenge the U.S. technology giants: get acquired or get stomped on. So far, Roku has more than held its own: More streaming happens on Roku devices than any other product, and 38% of smart TVs sold last year use the Roku operating system. It's why AT&T Inc.'s HBO Max was left with no choice but to work out a distribution deal with Roku in time for the Christmas release of "Wonder Woman 1984."
Roku has also managed to lay claim to an enviable portion of the advertising dollars that are beginning to get redirected from cable networks toward digital viewing. That's because of The Roku Channel, a free, ad-supported service where viewers can watch everything from old seasons of "24" and "Hoarders," to movies such as "Armageddon" to, coming soon, programming that Roku recently acquired from the now-defunct Quibi. While the streaming wars have focused on premium subscription services, there is a sizable audience for free viewing. And after testing out other services, Roku is one of the better-designed platforms.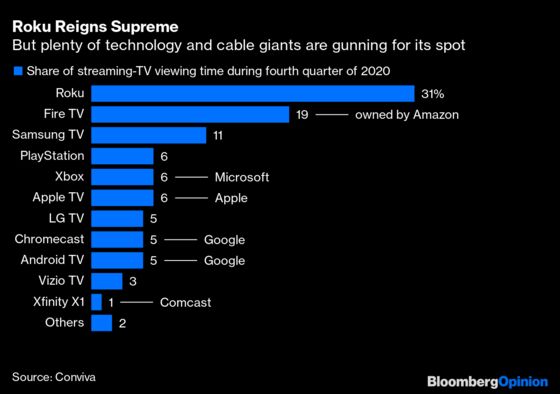 Roku is one of the biggest success stories to come out of the evolution of broadband internet and online video. How many others can you name that didn't wind up divisions of a powerful conglomerate? All that said, the company's continued to success is predicated on an awful lot of "ifs."
Although the company grew to this point in essence as a consumer-electronics and software provider, it appears to be staking its future growth on advertising. That's where the outlook starts to become hazy. Ads will absolutely play a large role in streaming, even if the leading services — Netflix and Disney+ — are abstaining for now. But Roku's market opportunity would seem to be capped by how many people use the Roku platform or buy Roku TVs, as well as how many ads a viewer accustomed to ad-free streaming will tolerate. It has plenty of competition in the ad-supported streaming space, including some of the quirky names mentioned in the first paragraph. For example, I use ViacomCBS Inc.'s Pluto because it came preloaded on my LG smart TV's home screen. Convenience and quality of programming will win the day in streaming, which is why Netflix Inc. was able to raise prices. 
Persuading more people to choose The Roku Channel over an equally free Pluto or a superior Netflix menu means spending a lot of money on desirable shows and informing users of them. Hulu shows how can it can work: It generates an attractive $10 a month of revenue per subscriber from its partially ad-supported subscription tier. Roku itself reported average revenue per user of $28.76 in 2020, but a chunk of that likely represents revenue-sharing deals with rival apps situated on its platform. On a monthly per-user basis, ads may instead account for just $1.20, according to an estimate by Michael Pachter, an analyst for Wedbush Securities.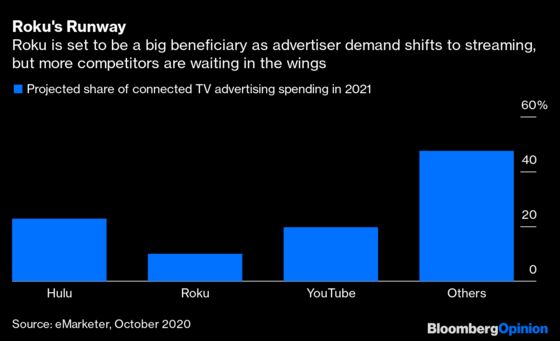 Then consider this: Roku is valued at more than 20 times estimated revenue for this year, and more than 300 times Ebitda. Put another way, investors are giving an 18-year-old company credit for several centuries of profits. The bullish thesis is that Roku's Ebitda will actually increase fivefold to more than $1 billion by 2024, putting its valuation back at a level that doesn't require a telescope. Still, it's not a given; analysts' share-price estimates range from $150 to $650 for a stock that ended last week at $467. 
Roku has dominated the market for streaming tools, but now its profit potential hinges on the highly competitive future of ad-interrupted digital viewing. For that it will have to be aggressive, as Amazon, AT&T, Comcast Corp., Walt Disney Co. and many others are all vying for pieces of the same pie. 
This column does not necessarily reflect the opinion of the editorial board or Bloomberg LP and its owners.
Tara Lachapelle is a Bloomberg Opinion columnist covering the business of entertainment and telecommunications, as well as broader deals. She previously wrote an M&A column for Bloomberg News.