Rokos's Investors Sign Up for a Wild Hedge Fund Ride
(Bloomberg Opinion) -- Handing $1 billion to a hedge fund manager who lost a record 26% last year might seem like the ultimate example of throwing good money after bad. But the customers bankrolling an expansion of the $12 billion firm run by billionaire Chris Rokos presumably know exactly what they're doing — backing an investor who swings for the fences in the expectation that the good years will overcompensate for the bad.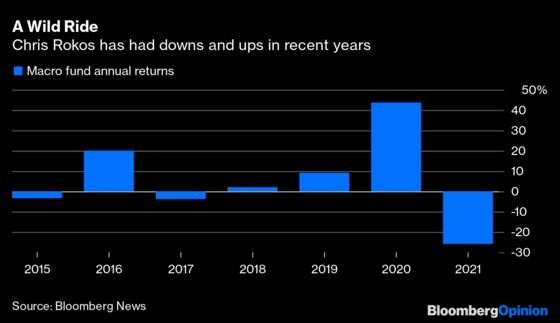 Rokos, who was a founding partner of Brevan Howard Asset Management LLP in 2002, has a proven track record of making money in the past quarter of a century. Documents filed as part of a lawsuit he initiated in 2014 to annul restrictions on him setting up his own shop revealed he generated $165 million for Goldman Sachs Group Inc. between 1995 and 1997. He then joined Credit Suisse Group AG, producing $340 million between 1999 and 2001.
During his tenure at Brevan Howard, Rokos delivered almost $4 billion in profit – in spite of a loss of $383 million in 2012.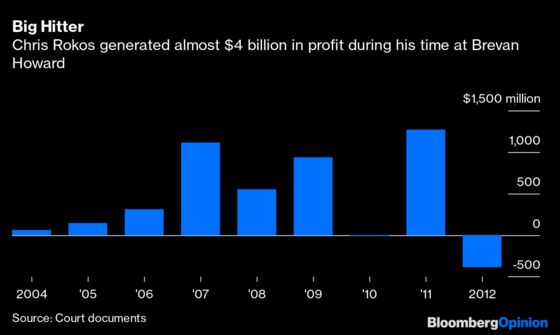 While no investor wants to see a fund to which they've allocated capital lose 26%, as Rokos's macro fund did last year, that's arguably the risk you have to take if you want to enjoy the 44% of alpha it delivered in 2020. That kind of volatility isn't for everyone, and you still have to have a lot of luck in choosing a portfolio manager who can bounce back from a loss-making period and regain their mojo. But for those who can stomach the downs, Rokos is the archetypal hedge fund manager offering a swashbuckling alternative to the fifty shades of grey available in index-tracking investment products.
This column does not necessarily reflect the opinion of the editorial board or Bloomberg LP and its owners.
Mark Gilbert is a Bloomberg Opinion columnist covering asset management. He previously was the London bureau chief for Bloomberg News. He is also the author of "Complicit: How Greed and Collusion Made the Credit Crisis Unstoppable."