Roblox Is Overdue a Reckoning With Screen Time
(Bloomberg Opinion) -- If there's one attribute that anxious parents associate with Roblox Corp., it's safety. 
The immersive, gamified kids' social network, worth as much as $44 billion after a direct listing last week, is proud of its sweet, child-friendly image and invests substantial sums maintaining it. With 54% of its users younger than 13 — the minimum age for most other social platforms and massively multiplayer online role-playing games, or MMORPGs, such as World of Warcraft — it cherishes its reputation as a walled garden, protected from the darker side of the internet. 
Its 1,700-person external trust and safety team comprises twice as many people as Roblox's own headcount of 830. Over the first nine months of 2020, team members personally reviewed 68 million image and audio files, the San Mateo, California-based company wrote in its share prospectus last year. 
"We aspire to build a safe and civil online society," it said. "Safety and civility systems are built into our platform and apply to every experience."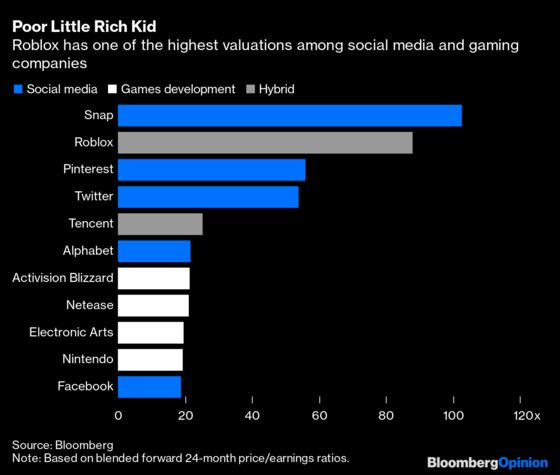 The charming detail shouldn't distract from the big picture, though. While Roblox is assiduous about protecting its users from obscene or criminal material, that's not the only way that apps can cause problems for their users. In particular, parents already worried about their own overuse of social media might want to reflect on what it means when the same attention-monopolizing techniques are applied to their children.
The core of Roblox's business is maximizing engagement — the amount of time and interaction users devote to the platform. Unlike Facebook Inc. and Alphabet Inc., it doesn't (yet ) depend on advertising. Revenues come from getting players to acquire virtual items and by selling subscriptions, which hand out discounted in-game currency that can in turn be exchanged for digital goods.
This largely free-to-play model is fundamentally different from that of traditional gaming companies in the mold of Nintendo Co. or Activision Blizzard Inc. There, the object is to come up with scenarios so compelling that consumers are happy to part with substantial sums upfront, and not worry too much about maximizing play time. Even an exceptionally sprawling storyline like Nintendo's "The Legend of Zelda: Breath of the Wild" is pretty much used up after 180 hours.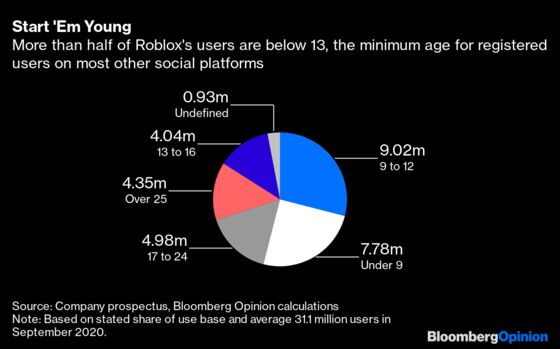 Extracting money from free-to-play users, on the other hand, takes time. Traditional gamers spend an average of 7.1 hours a week, or one hour a day, playing across all devices, with the bulk spent on mobile phones, according to a 2019 report by content delivery company Limelight Networks Inc. A study the same year by the U.K. government found children aged 5-15 spent 9.5 hours a week playing online games. Roblox users spend twice as long online, averaging 2.6 hours per day last year — more akin to the social media platforms and MMORPGs that it resembles.
That's a significant difference — especially when you consider how many of Roblox's 37.1 million users will be playing for significantly more than the average hours per day, and how motivated the business and its third-party developers are to boost users' involvement further. "Our business performance will be driven in part by our ability to increase hours engaged" per daily active user, the company wrote in its prospectus.
How much time is too much? One article published in the journal Addictive Behaviors Reports in December cited other studies finding the cutoff between normal and pathological social media use only a little bit higher than Roblox's current metrics, at around three to four hours per day.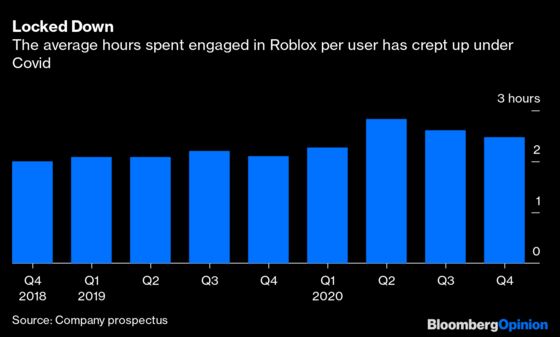 People who spent more than four hours a day on social media were 5.3 times more likely to be problem gamers or addicts, the study found. That group comprised 6.5% of the 2,075 people surveyed. If prevalence is similar among Roblox's user base, that would represent more than 2 million people, roughly two-thirds of them children.
There is, to be sure, a difference between gaming engagement and addiction, best measured by how much one's offline life suffers as a result of time spent online. That dividing line is still an emerging and contested field, though. Roblox's corporate blog offers tips on "managing your digital well-being", but in general its public statements (in common with those of other social media companies) evince little interest in better understanding how healthy and unhealthy online behavior relate to each other. A spokesperson for Roblox declined to comment for this article.
That's hardly surprising. After all, as with the alcohol, tobacco and casino industries, it's often the most obsessive users that drive earnings. "We rely on a very small percentage of our total users for a significant majority of our revenue and bookings," as the prospectus warns. On its developer site, the company encourages third-party games designers to use notification alerts, leader-boards, and rewards to drive engagement — techniques similar to those honed by slot machines and social networks to keep users chasing the next dopamine hit.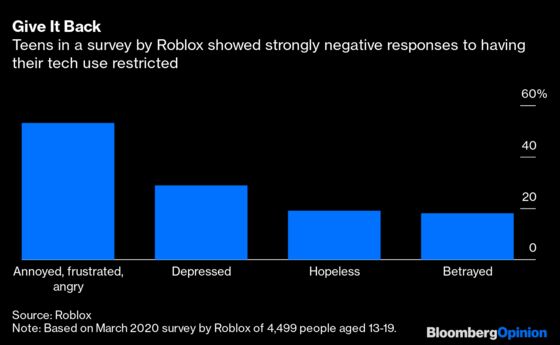 For much of the past year, such issues have been well down most families' list of concerns. Simply keeping sane amid a pandemic and lockdown has meant that online distractions can feel more a blessing than a curse. As my colleague Michelle Leder has written, Roblox users' online diet of socializing, innocuous games and learning to code seems "almost old-fashioned and endearing." 
As alternative means of keeping children entertained open up in coming months, however, it's likely people will become less wedded to their devices, as my colleague Tae Kim has outlined. "Highly engaged" users who resist that change most strongly are likely to raise concerns among their families, and society at large. Almost the only place that addiction is mentioned in Roblox's prospectus is in the section where potential risks to the business are detailed: "Ongoing academic, political and regulatory discussions" may change the nature of the experiences it's allowed to provide and the costs of running the platform, the company points out.
If Roblox doesn't want to end up with the sort of tarnished reputation that's attached itself to Facebook Inc., there are steps it could take now to get ahead of the discussion.
First would be giving more control to parents. Roblox's platform doesn't have its own screen-time limits, leaving it dependent on pre-installed or third-party time-limiters that are notoriously buggy.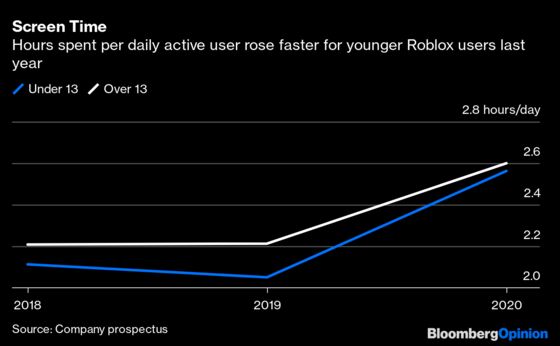 Open information would also help. The vast majority of online gamers play responsibly, but if social platforms want to be trusted they need to be frank about how they're used. Publishing detailed data about how many users spend long periods online — and what share of revenues results from their spending — would help investors understand how much of Roblox's business depends on problematic gamers, in a way that raw averages can obscure. Breaking down key data to more detailed age cohorts, rather than the current division into "under 13" and "over 13" buckets, would help, too.
That's a lesson Roblox could apply more broadly. A platform that's done so well trading on a responsible image should be trying to leverage its mass of user data to look for tell-tale signs of gaming disorder and other problem behaviors and nip them in the bud.
In the short term, all that might seem counterproductive. As with Facebook's attempts to deal with misinformation, the sweet spot for revenues is probably just short of the line where content should be shut down altogether. That's a strong incentive for the platform and its developers to sail as close to the wind as possible. 
In the long term, however, Roblox needs parents to keep faith in its vision of a safe, creative and sociable space for children to explore. That trust can't be taken for granted. Instead, it must be earned. 
"We expect to work with leading brands to build unique marketing opportunities" on the platform, according to the prospectus, although to date that hasn't led to "meaningful monetization."
This column does not necessarily reflect the opinion of the editorial board or Bloomberg LP and its owners.
David Fickling is a Bloomberg Opinion columnist covering commodities, as well as industrial and consumer companies. He has been a reporter for Bloomberg News, Dow Jones, the Wall Street Journal, the Financial Times and the Guardian.