And the Littlest State Shall Lead the Way on Covid-19
(Bloomberg Opinion) -- Sometimes, when I'm particularly discouraged about how the U.S. is losing the battle against the coronavirus, I daydream about how much better off we'd be if Gina Raimondo, the hard-charging two-term governor of Rhode Island, were the one leading the nation's response to the pandemic instead of Mike Pence. She has wrestled Covid-19 to the ground in her state and demonstrated ideas and resolve that could help guide the rest of the country in moving forward.
As a native Rhode Islander, I had long admired her penchant for solving difficult problems. Raimondo, the co-founder of Rhode Island's first venture capital firm, entered politics in 2010 when she ran for state treasurer. Why treasurer? Because, she once told me, she felt that her negotiating and business skills might allow her help fix the public employee pension system, which was both woefully underfunded and taking an increasing portion of the state's budget. She was right. In 2012, her pension-reform plan passed the legislature with bipartisan support and helped pave the way to her run for governor.
The coronavirus crisis wasn't exactly something Raimondo — or any other governor — planned for. But it very much played to her strengths. She believes that you gather good information wherever you can find it; "not invented here" is not in her vocabulary.
Thus she studied countries such as South Korea and New Zealand, which had early successes against the coronavirus, and adopted their strategies as her own. If she had been in charge of a national effort, the country would already have a much better testing system. 
 "I had this moment of clarity very early on, at 2 a.m. when I was working in my home alone," she told Politico last week. "There's no way you can outrun this thing. You have to stay a step ahead. That's when we said we need aggressive testing, very aggressive contact tracing and social distancing. We came to the realization earlier than some other places, because it seemed like the only way to keep a lid on the virus."
Then she would have — and these are her words, describing what the president should have done — "immediately gotten CEOs into the Oval Office early in the year, and used the Defense Production Act to mobilize all the best of what America has to offer — innovation, testing, PPE, medical products." But with the White House missing in action, she had to figure out how to mobilize with the resources available to her.
April was rough for Rhode Island, just as it was for other Northeastern states like Connecticut, Massachusetts and New York. New positive cases peaked on April 27, with 430, with a 7-day average of 15 deaths a day. By then, she recognized the importance that private industry can play in combating the pandemic. 
She persuaded CVS, the state's largest employer, to partner with Rhode Island in making tests widely available. She employed the National Guard to set up drive-through test sites across the state. (Rhode Island has tested 25% of its population.)
Then she did something else that showed her willingness to come up with bold solutions to combat the pandemic. She  reached out to Marc Benioff, the chief executive officer of Salesforce.com Inc., a man she'd never met before. Raimondo realized that Salesforce's bread and butter — customer relationship management software — could be adapted easily to conduct significant contact tracing. One Friday night in April, she cold-called Benioff.
"God bless him," she told Politico, "they sent a whole team of people to Rhode Island, virtually, for free, and helped us build software for our contact tracers." She added, "I'm comfortable with calling business leaders and asking them to pitch in, and I knew technology was going to be vital."
Benioff told me that he's never met a politician like Raimondo before. "This is not a hands-off executive," he told me. "She was in the middle of everything — supervising the technology, constantly calling and texting me to tell me what needed to be changed." He added, "She had a lot of clarity. The software was her inspiration."
"So she helped design the contact tracing tool?" I asked him. "No," he replied with a laugh. "She designed it." Salesforce has since commercialized the technology and launched Work.com, a platform designed to help companies and other institutions mitigate the spread of the virus when offices begin to reopen. 
"I was at a school yesterday," Benioff said. "Schools are going to have to use this tool. What happens when someone in the school tests positive? You need to know where that person was yesterday and who they were in contact with." In other words, the governor of Rhode Island has been instrumental in developing a piece of software that is going to play a vital role in helping the U.S. get back on its feet. And you wonder why I imagine where we would be now if she had been the country's lead pandemic-fighter? 
In the Politico interview, Raimondo talked about how important it was not be swayed by criticism that, for instance, she was violating freedoms by insisting that people wear masks. "I felt so responsible to minimize the loss of life," she said. "So the criticism never had any impact on me. I knew how bad this could get." 
Geographically, of course, Little Rhody is the smallest state in the U.S. Its population is a hair over 1 million. One could argue that it was easier to contain the pandemic in Rhode Island than in other parts of the country. But remember, all the nearby states were getting clobbered. And Raimondo couldn't stop people from other states from coming to Rhode Island, the way Jacinda Ardern could temporarily seal New Zealand's borders. (Remember Raimondo's dust-up with Governor Andrew Cuomo of New York when she threatened to quarantine anybody coming from New York? Raimondo backed down.)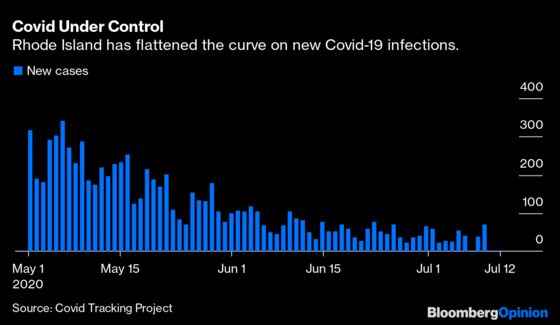 Besides, there are other states with as few or fewer residents than Rhode Island — Alaska, North Dakota, Delaware — that are experiencing a surge in positive cases now. Meanwhile, the 7-day average for Covid-19 deaths in Rhode Island has dropped to two. There are currently 4 people in ICU beds. Raimondo has now turned her attention to the next big task: making sure that the state's public schools can open safely in the fall. 
"It's a lot of detail-oriented issues, a lot more testing and tracing, mask wearing for older kids, a lot of creativity around transportation, a lot more Plexiglas," she said. She is devoting $50 million to the effort. Other states with brewing battles among parents, teachers and politicians about plans to open schools could do worse than look to how Raimondo is handling it.
Raimondo is said to be among the women Joe Biden is considering as his running mate. (George Will is among those promoting her candidacy.) In terms of star power or geography, she wouldn't add much to the ticket. But she has something the country truly needs now — something that it's yearning for as it muddles through this crisis. She is supremely competent. And competence is what it's going to take to finally beat this virus.
This column does not necessarily reflect the opinion of the editorial board or Bloomberg LP and its owners.
Joe Nocera is a Bloomberg Opinion columnist covering business. He has written business columns for Esquire, GQ and the New York Times, and is the former editorial director of Fortune. His latest project is the Bloomberg-Wondery podcast "The Shrink Next Door."