How to Psych Yourself Up for a Return to the Office
(Bloomberg Opinion) -- Most surveys show a majority of U.S. workers would like to be in the office two or three days a week … eventually. But aside from a few notable Wall Street firms, there seems to be no rush to return. In fact, there's still a fair amount of squeamishness about hustling back to the cube farm — a sizable cohort of workers who aren't "anti-office" so much as "office hesitant."
This return-to-office anxiety, which is part of a well-documented broader social anxiety about resuming pre-pandemic life, is entirely understandable. And there are well-documented ways to cope with it. The main piece of advice, according to Alice Boyes, author of "The Anxiety Toolkit" and a former clinical psychologist: "Be patient with yourself."
Fifteen months of isolation can lead to a lot of social phobia. "Any kind of avoidance increases anxiety," says Boyes. And then, because people feel anxious, they assume there must be a good reason why — even when there isn't.
Anxiety about coworkers not being vaccinated, for example, is both widespread and unwarranted. About 65% of employees say they'd only be willing to return to the office once all of their coworkers are immunized, according to a poll taken in late May. This number has held steady since the middle of January, even as the evidence on vaccine efficacy has gotten more heartening. U.S. Covid cases are now almost entirely driven by unvaccinated adults mingling with other unvaccinated adults. Those who are fully vaccinated don't need to worry so much about whether their colleagues are.
"We have spent the last year and a half basically making ourselves phobic," and for good reason, says Gianpiero Petriglieri, a professor at INSEAD and trained psychiatrist. We can't just flip a switch and go back to normal. Instead, he says, we need to approach returning to the office gradually, like an athlete coming back from an injury.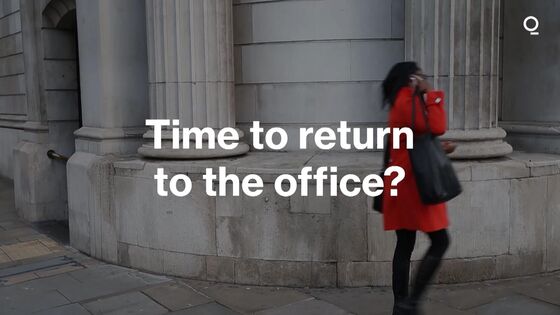 Even so, those first few days and weeks back at work will be exhausting. During meetings, you'll have to make sustained eye contact rather than checking your phone or your email; you'll have to look professional not only from the neck up, but also from the neck down; you'll have to wear shoes. All day!
Harvard Business School professor Tsedal Neeley, author of "Remote Work Revolution," calls this the shift from a TV environment to a theater environment. On television (or Zoom), you exercise almost total control. Theater is much more unpredictable, and you're more aware of the physicality of the actors and audience members — their size, sounds, even smells.
The upshot is that you may feel especially unproductive and distracted when you first return to the office. This will be frustrating. But remember what the office is for: strengthening social ties, some of which may have gotten overly transactional over the past year. Relationships, like parking meters, need to be fed.
Neeley also reports another unpleasant discovery awaiting some returnees: Their home office is better than their work office.
As one of the lucky few with a pretty idyllic home office, here's how I'm thinking about it: For the last 15 months, I've had the privilege of working in a bookshelf-lined sanctuary while essential workers risked Covid, working parents managed stir-crazy kids, and studio apartment-dwellers struggled to stay sane. For 15 months, they had it rough while people like me had it easier. If that situation is about to reverse, we're not allowed to whine about it.
By contrast, people should feel free to whine about their soul-destroying commutes, which are another major reason the office-hesitant aren't eager to return. Before the pandemic, the average American spent about 54 minutes commuting, or 27 minutes each way. Working from home claws that time back. Indeed, researchers examining time-use diaries found that in 2020, nonmanagerial remote employees gained more than an hour of personal time. (Managers gained only 23 minutes, in part because their workdays got longer.) Other surveys show that workers used this reclaimed time to cook, exercise, read, nap or hang out with pets.
This divide helps explain why bosses might be keen to get workers back to the office: Managerial jobs got more demanding as employees worked remotely. It's also obvious why employees might resist: In many cases, remote work made their lives easier.
This is one reason so many employers — outside of the financial sector, anyway — are embracing hybrid work. A hybrid approach will let bosses coordinate more easily on in-person days, and let employees retain the flexibility that enables some semblance of work-life balance.
Even so, expect the return to be bumpy. "It's almost like going back to work is like a new job," Boyes says. "Expect to feel more fragile."
"I don't think we have a handle on the amount of little and big traumas we have suffered in the last 18 months," says Petriglieri. "People just put their heads down and kept going. Going back to the office will in some way give us permission to feel whatever it is that we are feeling."
This column does not necessarily reflect the opinion of the editorial board or Bloomberg LP and its owners.
Sarah Green Carmichael is an editor with Bloomberg Opinion. She was previously managing editor of ideas and commentary at Barron's, and an executive editor at Harvard Business Review, where she hosted the HBR Ideacast.