Tourist Season's Extended But Don't Let Your Guard Down
(Bloomberg Opinion) -- It's not too late for that holiday to Ibiza after all.
After another lost summer for the British travel industry, the U.K. government on Friday announced a shake-up of the rules for England.
From early next month, the much-maligned classification of red, amber and green destinations, with its differing levels of restrictions, will be ditched. That "traffic light" system will be replaced with a simple list of red countries to which people should not travel. If they do venture into that zone, they must quarantine in a hotel. Later this week, tourists will be able to visit Turkey and the Maldives without the need for quarantine.
With the relaxation of rules, travelers with two vaccine doses and flying from nations that aren't high risk will be exempt from a pre-departure test. From the end of October, screening on arrival will be downgraded to a cheaper lateral flow test instead of a more expensive PCR. People without a double jab must continue to test and will have to self-isolate at home.
It's good news for the hard hit travel industry. According to TUI AG, the world's largest package tour operator, and EasyJet Plc, the patchwork of rules had held back holiday bookings in the usually busy English market. Thomas Cook, now reborn as an online business, is seeing September bookings keeping pace with August. It would usually expect them to be down at least 30-40%. October half-term sales have also spiked 200% from August. That offers some hope that the traditional summer season will be extended. But airlines and tour operators won't get back the sales they've lost in the busiest months of July and August.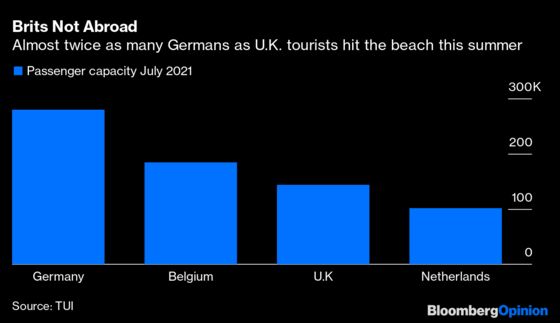 The new system should remove some of the previous confusion, while a less onerous testing regime should cut costs. It is not just holidaymakers who have suffered, but workers, students and those separated from family.
The changes, however, don't open up travel completely, leaving some uncertainty for consumers. For example, it doesn't remove the possibility of a destination deemed safe being moved to the don't travel list if cases surge. That may still get in the way of customers booking trips for next summer.
One of the problems with the traffic lights was just how easily restrictions could be ratcheted up at short notice. This was most pronounced in the case of Portugal, which badly damaged sentiment. But it's hard to see how curbs on movement could be completely eradicated.  While data show that the number of vaccinated people testing positive for coronavirus when returning to the U.K. is very low, relaxing the restrictions isn't without risk. 
There needs to be a mechanism whereby countries' status can be quickly changed if cases spike in a particular region or a new variant of concern emerges. The government is keeping data from all countries under review, and will look again at the arrangements for international travel early next year. It is reassuring that fully vaccinated people who test positive in a lateral flow test will be offered a free PCR test, which can be screened for variants. They'd have to self-isolate in that case.
Research from YouGov shows that more than half of the U.K. adults it surveyed thought there should still be some curbs on travel.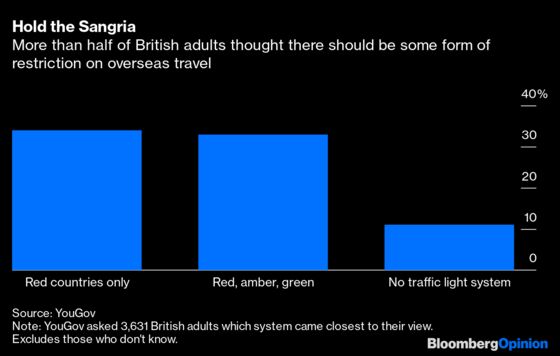 In a separate poll, almost half thought fully vaccinated people returning or arriving from non-red list countries should take both a pre-departure and a post-arrival Covid test.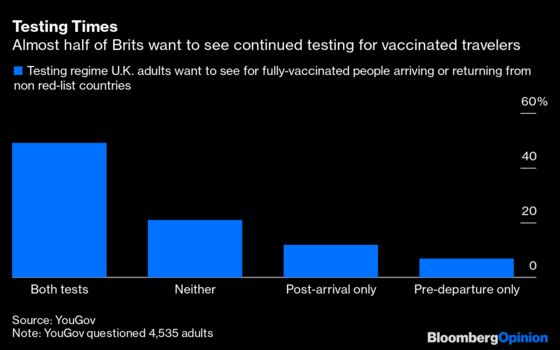 Vaccinations weren't available a year ago. But lawmakers will have memories of last autumn, when cases began to rise. That coincided with many holiday-makers returning from trips.
The government is walking a tightrope between saving a devastated industry and preventing more virus flare-ups. With Prime Minister Boris Johnson warning of face mask mandates, and work-from-home guidance if the outbreak worsens over the winter, there must to be enough wiggle room to rein in all that sun and sangria if circumstances dictate.
This column does not necessarily reflect the opinion of the editorial board or Bloomberg LP and its owners.
Andrea Felsted is a Bloomberg Opinion columnist covering the consumer and retail industries. She previously worked at the Financial Times.