Treasury Pain Is Starting to Hurt Europe
(Bloomberg Opinion) -- The reflation trade that's driven benchmark 10-year Treasury yields to their highest level in a year is causing real pain in European bond markets. With the risk that higher borrowing costs will hinder efforts to rehabilitate the pandemic-stricken economy, verbal intervention by the European Central Bank has thus far proven ineffective in capping levels. More explicit action may be required.
The jump in government borrowing costs is making central bankers nervous. "We will purchase flexibly according to market conditions and with a view to preventing a tightening of financing conditions," ECB Chief Economist Philip Lane said on Thursday. Higher borrowing costs "could jeopardize the economic recovery," executive board member Isabel Schnabel said on Wednesday.
But the bond market isn't listening. France's 10-year yield has climbed by about 40 basis points this year, and just turned positive for the first time since June.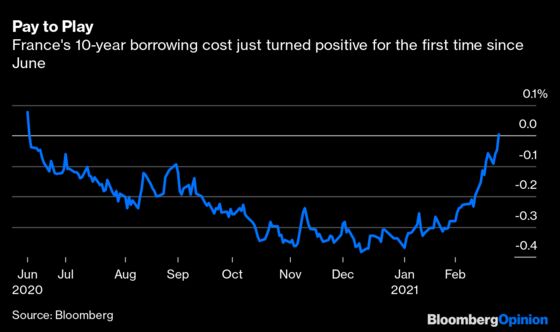 Peripheral euro zone markets are suffering even worse. Greece's 10-year yield has almost doubled in the past seven weeks, climbing above 1.1%. Italy's benchmark borrowing cost, which had plunged after the appointment of Mario Draghi as the nation's prime minister, has erased that move. At its current level of 0.76%, the differential with Germany is back above 100 basis points.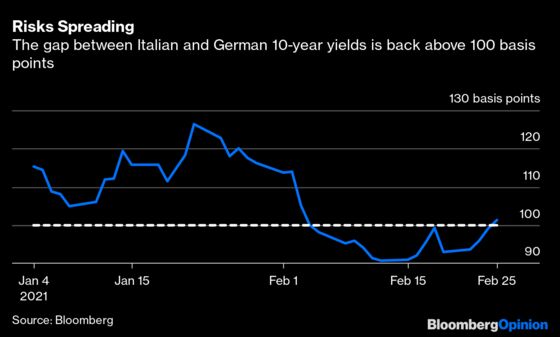 And longer-dated bonds, which are more sensitive to changes in yield, are taking even more of a beating. Investors who bought Austria's 100-year bond when it went on sale in June have seen its value drop below face value this week.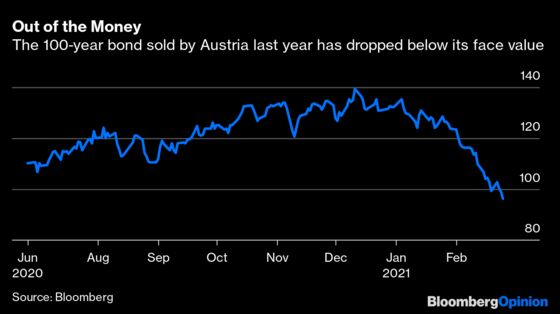 It is not just individual sovereign yields that are hurting. The violent rise in borrowing costs also threatens to increase the cost of funding the pandemic support program.
The European Union is set to issue a lot of debt later this year to kickstart the 750 billion-euro ($920 billion) Recovery Fund agreed to last summer. It is already much more active in the debt capital markets, with financing for its separate 100 billion-euro SURE job support program. It issued a request for proposal to investment banks on a possible 15-year bond this week, though that could change to taps on existing bonds, following a successful two-tranche deal last month. But the mood music that's playing in the background of its debt sales has changed with its 15-year yield now 50 basis points higher since mid-December.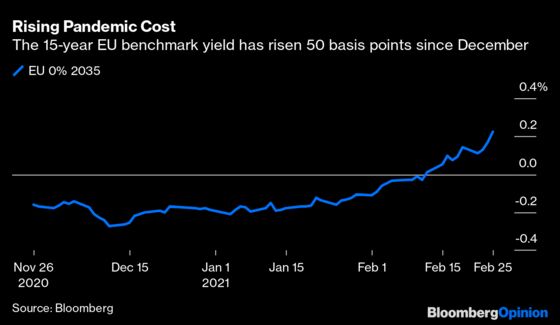 The ECB's own 750 billion-euro Pandemic Emergency Purchase Programme stands ready to intervene. Its bond buying "will be conducted to preserve favorable financing conditions over the pandemic period," Lane said on Thursday. The pace of purchases will need to accelerate rapidly if the current bond market rout worsens. 
Lane's comments made him the fourth ECB policy maker in as many days to remark on the debt markets, with President Christine Lagarde and Francois Villeroy de Galhau both saying earlier in the week they were monitoring levels "closely." But it looks increasingly likely that central bankers will have to put more money where their mouths are to prevent yields from breaching more key levels and making the pandemic recovery more expensive.
This column does not necessarily reflect the opinion of the editorial board or Bloomberg LP and its owners.
Mark Gilbert is a Bloomberg Opinion columnist covering asset management. He previously was the London bureau chief for Bloomberg News. He is also the author of "Complicit: How Greed and Collusion Made the Credit Crisis Unstoppable."
Marcus Ashworth is a Bloomberg Opinion columnist covering European markets. He spent three decades in the banking industry, most recently as chief markets strategist at Haitong Securities in London.