Reddit Traders Book American Airlines Flight to Nowhere
(Bloomberg Opinion) -- American Airlines Group Inc. CEO Doug Parker warned on Thursday that "we don't know" when demand will rebound from the Covid slump and forecast at least a 60% drop in first-quarter revenue. That's neither an upbeat nor a surprising outlook; it's still a pandemic after all. And yet shares of the airline jumped as much as 87% in early trading after gaining the attention of Reddit's WallStreetBets forum.
"AAL the next GME?" said Reddit user u/cardiffgiantthe1st on Wednesday, referring to the stock tickers of American Airlines and GameStop Corp., whose meteoric rise in recent days has made it the centerpiece of crowd-sourced rallies in heavily shorted stocks with dubious business prospects.
My colleague Matt Levine has offered several theories about GameStop, including comparing it to a literal game — "because it's a little comical to pump the stock of a chain of mall video-game stores during a pandemic, or because a lot of professional investors are short GameStop and they thought it'd be funny to mess with them." My other colleague John Authers has explained the phenomenon as anger against the establishment. But considering American's pre-Reddit market value was more than $9 billion and the company generated nearly $20 billion of revenue even in a pandemic, we're talking about more than just casino chips here. While American was the most-shorted of major U.S. airline stocks, it's an established corporate stalwart that traces its roots back to the 1920s — not quite of the same ilk as a GameStop or even AMC Entertainment Holdings Inc., which has seen its own Reddit-driven rise.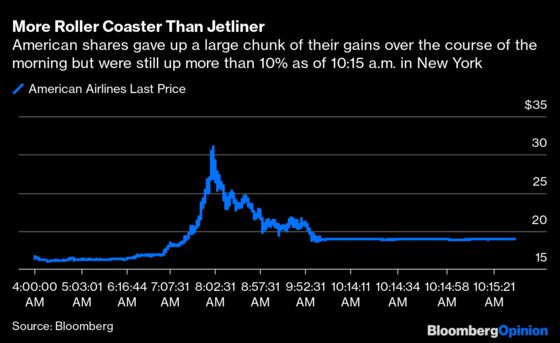 To American's credit, its long-term future is certainly brighter than GameStop's. Eventually, air travel will rebound and the early wave of post-pandemic flight activity  could end up being stronger than currently expected, given the level of pent-up demand. But American executives would be the first to tell you that the path to this ultimate recovery is not going to be linear and that there is significant opportunity for setbacks over the next few months with coronavirus cases still at high levels. There's been a "little bit" of a rise in summer bookings, but it's difficult for airlines to come up with an accurate forecast because people are buying tickets much closer to their travel dates, Parker told CNBC on Thursday morning.
Also, the reason that American is the most-shorted of the major U.S. carriers is that it has the most debt — more than $40 billion as of the end of 2020. That means a higher portion of American's future earnings and cash flow will need to be earmarked for interest payments and debt paydown relative to its rivals. In other words, even when the recovery does come, investors will have to share that benefit with bondholders. Indeed, Cowen analyst Helane Becker was already asking on Thursday whether the rise in the stock might create an opportunity for American to do another equity raise to help chip away at the debt burden. The company warned in its earnings filing that it intends to issue additional debt and equity securities or enter into credit facilities, the timing of which may be "near term" and the nature of which may be "material." Of all the ways to bet on the recovery in air travel, American carries more risk than most.
This column does not necessarily reflect the opinion of the editorial board or Bloomberg LP and its owners.
Brooke Sutherland is a Bloomberg Opinion columnist covering deals and industrial companies. She previously wrote an M&A column for Bloomberg News.