Ray Dalio Makes Sense But He's Talking His Own Book
(Bloomberg Opinion) -- The investor Ray Dalio has given us the benefit of his new world view in a LinkedIn post that takes a baseball bat to the idea of safety in holding bonds — or anything, really, in dollars. While much of his logic is undeniable it does suit a recent shift in where his firm Bridgewater Associates has been winning mandates, namely in China.
The trouble with Cassandras portending the end of empires is in the timing. His negative dollar view is popular right now, and one I share albeit for different reasons. But with the new Biden administration successfully getting its $1.9 trillion stimulus package passed, the short-term dynamic looks more favorable for the greenback. The OECD expects the U.S. economy to grow 6.5% this year, which will outperform global growth expectations of 5.6%. It won't be easy to shift investment dollars away from the world's superpower when its economy is running hotter than many emerging markets.
Dalio largely built his reputation as an equity investor, albeit with a sophisticated derivative overlay, so his belief that share-price valuations are also overstretched has more resonance than most. 
Equally, super-low bond yields have caused the investment world to question the sanity of holding assets with below-inflation returns — and which in some cases return less than the principal. Warren Buffett, another sage, has also repeated recently a long-held view that holding bonds is dangerous.
However, while Dalio and others are right to say that bond prices (which rise as yields fall) must be close to their upper limits, there is no real sign that central banks are going to stop buying them. With a world awash in quantitative easing, there's the undeniable fact that there's still $13.68 trillion worth of negative-yielding bonds globally. And the reasons behind that — augmented by post-pandemic economic stimulus — haven't evaporated. Indeed, as European nations such as Italy enter new lockdowns, the need for recovery funds is increasing.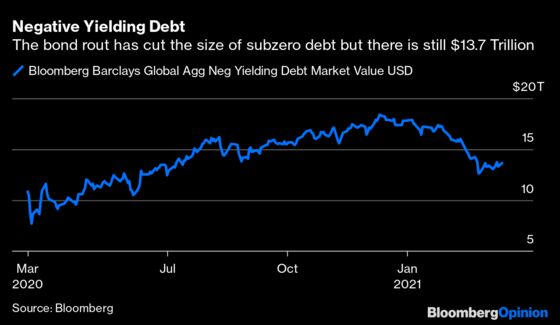 The U.S. Federal reserve is still adding $120 billion of bond buying every month, and the rest of the major central banks have similar programs. The recent correction to ever lower fixed-income yields was clearly necessary as global growth and inflation expectations have shifted higher, but don't count bonds out yet. There are powerful forces at play and the deflationary drivers of globalization and technological change remain very much among us. 
Perhaps it is smarter to look at what Dalio's bond-market equivalent thinks. Jeff Gundlach of DoubleLine Capital is a revered fixed-income investor and in a March 9 webcast, covered by Bloomberg's TopLive, he reckoned longer maturity Treasury bonds had been oversold. While he broadly agrees that the natural route for bond yields is to head higher over time, he doesn't think that time is now. Gundlach wisely cautions about more possible Fed asset purchases, or even yield-curve control, which will restrict how far bonds sell off.
Dalio's big-picture argument that China will supersede the U.S. is a fascinating theme that he riffs on frequently, but he never seems to address the rule of law problem. Chinese government bonds do yield considerably more than U.S. Treasuries, let alone European or Japanese sovereign debt, but there's a good reason for that. How certain can foreign investors be that there will be a frictionless return of capital? Those sort of trades are for people looking for outsize returns who can handle the commensurate risk. 
Moreover, the dollar remains overwhelmingly the world's reserve currency, despite repeated omens of its demise. It's steady rise in value this year shows its continued attractiveness. Dalio is always worth listening to but his views come with a sprinkle of caveats.  
This column does not necessarily reflect the opinion of the editorial board or Bloomberg LP and its owners.
Marcus Ashworth is a Bloomberg Opinion columnist covering European markets. He spent three decades in the banking industry, most recently as chief markets strategist at Haitong Securities in London.