Ray Dalio Was Right About Going In on China's Untamed Markets
(Bloomberg Opinion) -- As the U.S. economy roars back, is there still an investment case to be made for Chinese assets? Its economy is staging a record recovery and foreign hot money is still pouring in. But Beijing is using this rosy period to carry out large-scale economic reforms, the kind that give investors the shivers. 
Giant tech companies are getting fined billions of dollars for antitrust violations. Enormous state-owned enterprises are on the brink of bankruptcy as the government insists on market discipline. Along the way, bond and stock investors are nursing their wounds from the travails of a wide range of companies, from e-commerce giant Alibaba Group Holding Ltd. to China's largest distressed debt manager China Huarong Asset Management Co. 
Because of all that, hot money may just be rushing back to American shores. Indeed, the growth differential between the world's two largest economies has narrowed, thanks to President Joe Biden's fast vaccination rollout.
But a funny thing may have happened to China to lower investment risks.
Ray Dalio, founder of Bridgewater Associates LP, has long been an advocate for China. Last year, though his flagship Pure Alpha II fund nursed heavily losses  — contributing to Bridgewater's $12.1 billion loss for investors — his All Weather China strategy fund boasted a handsome 22% annualized return in the 22 months ending last July. Bridgewater has become one of the biggest foreign hedge fund players in the People's Republic. 
Ten months ago, I wrote that risk parity trades, pioneered by Dalio, were starting to show promising green shoots in China. In its simplest form, this strategy assumes that government bonds rally when stocks fall. As a result, macro funds can hedge their equity risk by owning government bonds on leverage, hoping that a diversified portfolio will weather most storms. 
One year on, this negative relationship — seen in most developed markets (except Japan, which practices yield curve control) — is taking hold in China. The correlation between China's benchmark stock index and its government bond yield is now in line with the U.S. market. This is helpful for foreign investors:  If China markets behaves like those in the developed world, western macro funds can simply transfer the strategies they've successfully used elsewhere with just a few tweaks.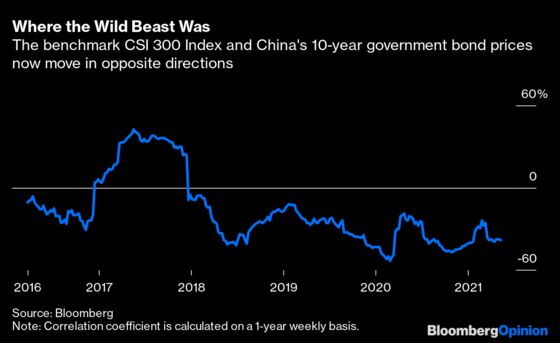 This is all the more remarkable considering that as recently as 2017, bonds and stocks in China were positively correlated. Back then, you either had a bull market or a bear run in every asset class. There was nowhere to hide and no way to hedge. The China market is finally growing up. 
Before deciding to buy Chinese assets, foreigners must still consider where the yuan is heading. After all, if Beijing uses its currency as a geopolitical weapon against the U.S., capital gain from Chinese assets would be eroded once converted into the greenback.  
However, the yuan is no longer likely to be used as a beggar-thy-neighbor weapon. Since 2018 — to President Donald Trump's credit — the yuan started to be seen by Chinese investors as the barometer of China's geopolitical risk with the U.S. If the yuan weakens, Chinese stocks come down as well — a sharp reversal from less than a decade earlier, when a weaker yuan was linked to stronger exports and better stock market performance. In other words, if Beijing wanted to manipulate the yuan, it would also have to live with the likelihood of a stock bear.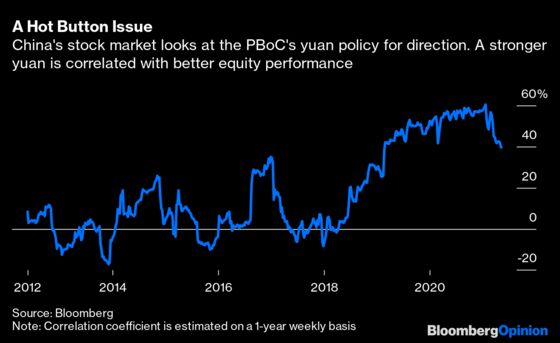 Dalio has been advocating his buy China thesis ever more loudly as more of the developed world's bond yields turn negative, a dangerous shift for macro hedge funds like Bridgewater. While the U.S. economic rebound brought the bond world back from that brink, there are nonetheless still $12.4 trillion bonds out there with negative yields. That means well-diversified funds have to hold their nose and look at China. Fortunately for them, that untamed beast of a market is starting to mature. 
This column does not necessarily reflect the opinion of the editorial board or Bloomberg LP and its owners.
Shuli Ren is a Bloomberg Opinion columnist covering Asian markets. She previously wrote on markets for Barron's, following a career as an investment banker, and is a CFA charterholder.