Kominers's Conundrums: Major Martian to Ground Control
The Martians seemed to be impressed, too — or at least that was the early conclusion of our crack team of alien-life experts here at Conundrums. But there's a problem: Our newfound friends are having trouble figuring out how human languages work.
Luckily, our analysts Jiafeng Chen, Suproteem Sarkar and Franklyn Wang managed to transcribe their message, though we'll need more than a Rosetta Stone to make sense of it. (Unfortunately, Google Translate has yet to roll out a Martian option.)
Can you figure out what the Martians were saying?
billet, roosterbrood, ugandaganda, Zeit, tietulli, buis, dzisiaj;

sombrero, lykkelig, passatempo, hjerte, remény, randonnée, tanaga, saluton;

atak, Eichel, pomme, abrikoos, oltár, tutti, manteli, astronaŭtoj;

herbata, lämpötila, lanzar, smag, singkamas, könny, tartaruga;

wieloryb, pastèque, hjul, szárny, aceno, lobo, fluitjie;

boosheid, huhtikuu, dyr, après, és, himpapawid, sztuka;

marinheiro, magdaya, autoscatto, sneeuwscooter, nyereg, Seife, jakkara, alsendota;

feu, dwingen, nadama, gyümölcs, dedo, piede, tehdas;

wildsbokke, hangyász, aloès, asteroide, Voliere, ukwatapheya, jezen;

rozijn, pesukarhu, conejo, plutôt, Seil, vagtplan, verkeersirkel, ruĝa;

kruszec, avata, rendelés, vecchio, olie, altetende, chêne;

Urano, einzigartig, yksisarvinen, sansinukob, parapluie, begrijpen, podzemlje;

verskriklike, Geschmack, tafel, tradicion, szalag, brisača, ubuchwepheshe, Tesloj!
Oh, and an important note: Most of the Martians were so excited to meet the rover that they ended up talking more or less at once. But through the cacophony we noticed that one of them had a better sense of how to create interplanetary understanding than the others. He sometimes chimed in just after everyone else and seemed to have something more specific on his mind. Once you've decoded the main dispatch, you can try to sort this Martian out from the rest of the community of speakers, and figure out what he is hoping for.
If you manage to make sense of these Martian missives — or if you even make partial progress — please let us know at skpuzzles@bloomberg.net before midnight New York time on Thursday, February 25.
If you get stuck, there'll be hints announced on Twitter and in Bloomberg Opinion Today. To be counted in the solver list, please include your name with your answer.
Previously in Kominers's Conundrums…
Our Valentine's Day Conundrum was word puzzle by Eric Berlin, creator of the book and Web site Puzzlesnacks. We provided two columns of words; each word on the left could be "married" to a word on the right to produce a clued word or phrase. However, it was up to solvers to figure out how word marriages worked.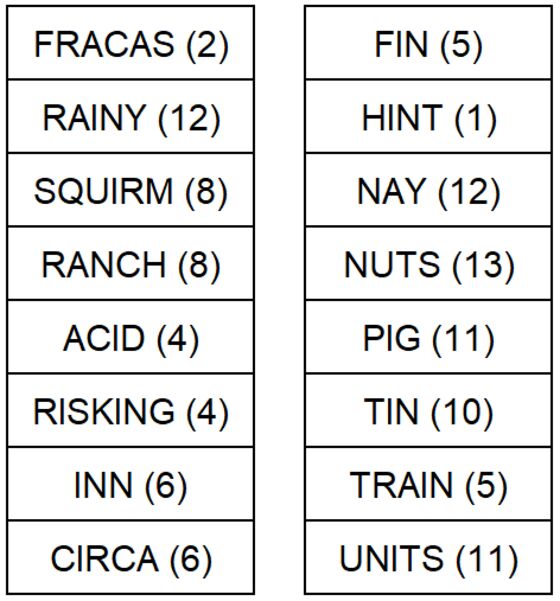 A clue like "Top of one's class" suggested the word "VALEDICTORIAN." But at first glance, it wasn't obvious how we might get that from the words in the columns, since none of them even contained the letters "V," "L," "E," or "O."
But how do you marry words? Of course, you add LOVE! Taking the letters from "ACID" and "TRAIN"; adding in the letters "L," "O," "V," and "E"; and anagramming the result gives "VALEDICTORIAN," as desired.
Similar word marriages solved the rest of the clues as follows:
Ability to see the future: CLAIRVOYANCE = CIRCA + LOVE + NAY;
Hardly an extrovert (2 words): SHRINKING VIOLET = RISKING + LOVE + HINT;
How many medicines are administered: INTRAVENOUSLY = RAINY + LOVE + NUTS;
Lieutenant, captain, admiral, etc. (2 words): NAVAL OFFICERS = FRACAS + LOVE + FIN;
Obsessive person's flaw (2 words): TUNNEL VISION = INN + LOVE + UNITS;
Top of one's class: VALEDICTORIAN = ACID + LOVE + TRAIN;
Watchmen is a notable one (2 words): GRAPHIC NOVEL = RANCH + LOVE + PIG;
What Jeff Dunham is known for: VENTRILOQUISM = SQUIRM + LOVE + TIN.
After figuring that out, ordering the solution words by the first column and looking at the letters we had indicated spelled out the final answer, which we had hinted should be "music to your ears:" "ALL YOU NEED IS LOVE," both a Beatles song and a reference to Cupid's wordplaying ways.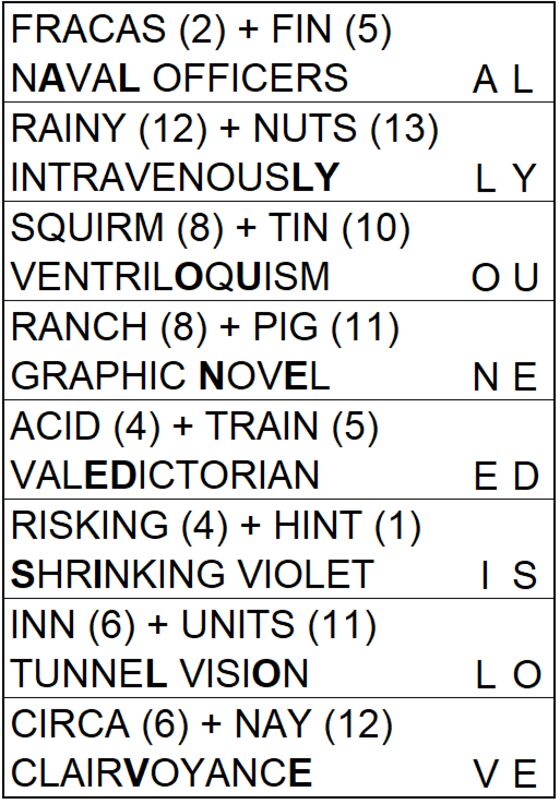 Zoz solved first, followed by Dan Rubin & Jennifer Walsh, Lazar Ilic, Zarin Pathan and Noam D. Elkies. The other solvers were Scott Beveridge, Darren Fink & Dina Teodoro, Craig Harman, Maya Kaczorowski, MaStErJaCk, Charlotte Sall, Eric Sall, Michael Thaler, Barbara & Nathaniel Ver Steeg, Matt Walsh, John L. Wilson and Ryan Yu. Special props to Thaler, who submitted his answer in the shape of a heart.
If you didn't see the live stream, it's worth checking out the replay. Also, the rover has a Twitter feed.
Fun fact: What edition of Conundrums is this? 42! (See, it really is the answer to everything.)
You could almost read out the answer by putting together the indicated letters in the order they appeared, but as Eric Sall and Ryan Yu noted, in the row that contained "IS," you had to read the fourth letter before the first.
This column does not necessarily reflect the opinion of the editorial board or Bloomberg LP and its owners.
Scott Duke Kominers is the MBA Class of 1960 Associate Professor of Business Administration at Harvard Business School, and a faculty affiliate of the Harvard Department of Economics. Previously, he was a junior fellow at the Harvard Society of Fellows and the inaugural research scholar at the Becker Friedman Institute for Research in Economics at the University of Chicago.