Not Everyone Can Copy Procter & Gamble's Price Hikes
(Bloomberg Opinion) -- Get ready to pay more for some of the most utilitarian items on your shopping list.
Consumer-products giant Procter & Gamble Co., maker of Pampers diapers and Tampax tampons, said on Tuesday that  it would hike prices on items in its baby-care, feminine-care and adult-incontinence divisions to cushion the blow of rising costs for raw materials such as pulp. The announcement comes just weeks after Kimberly-Clark Corp., a competitor that offers brands such as Huggies diapers and Scott toilet tissue, said it plans price increases for the same reason. Both companies said customers should expect mid- to high-single-digit percentage increases.
P&G shares were little changed on Tuesday, which partly reflects that there's little chance these moves will backfire. Because the new price tags are a response to an increase in commodity costs that is roiling the entire industry, it is likely that cheaper store brands will end up making similar adjustments. Plus, the items affected by this decision are ones that are true household essentials; you can't just put off buying diapers for your baby until you see a price tag to your liking. 
That said, these actions still serve as breadcrumbs for economy watchers looking for signs of inflation. They are also an important signal for other corporate behemoths about what kind of backdrop they are going to face when trying to get a piece of shoppers' spending in the coming months.
As I noted earlier this year, consumer brands have been flexing pricing power throughout the pandemic on everything from shoes to peanut butter. Shoppers have not shown much resistance because amid the public-health crisis there was a perception of scarcity of certain items, and many people were prioritizing safety and convenience over getting the best deal. The result is that the packaged-goods industry has already benefited significantly from reduced discounting and a willingness by shoppers to spring for fancier items. In the four weeks ended March 21, market research firm IRI reports there was a 5.1% increase from 2019 levels in edible items sold in stores and online. But sales revenue was up 16.6% from 2019, reflecting price increases and trade-ups. It's a similar picture in nonedible consumer product categories: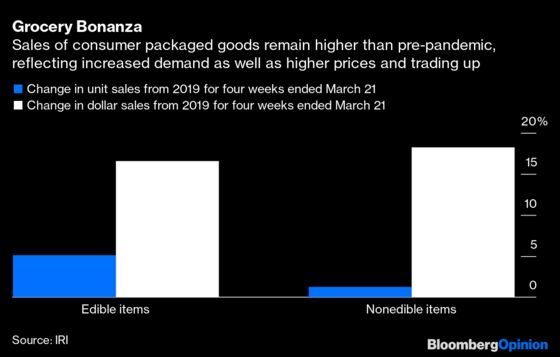 P&G itself has already benefited from these dynamics. In the quarterly results it reported Tuesday, all of its increase in organic sales, a measure that strips out currency swings and other factors, came from pricing and mix. Volume in the quarter was flat relative to the same period a year ago. That's hardly worrisome for P&G given that the comparable quarter last year included the rush of early pandemic stockpiling. But it shows that consumers have already been paying more for some basics even before this fresh round of increases. That makes me wonder how much more room the industry has to pass on price increases before consumers balk.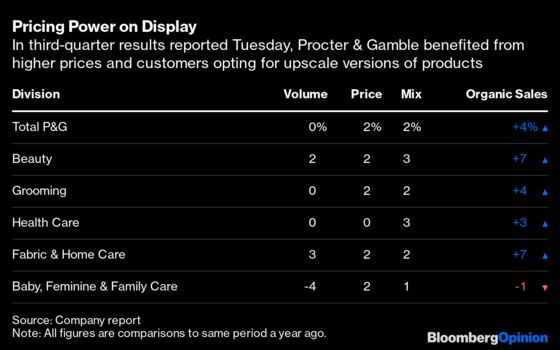 This should be a warning for brands and retailers of more discretionary consumer goods. They might be itching to drop discounts, too, or bump up price tags because of supply chain woes. Port congestion and the global shipping container shortage will linger as factors weighing on their logistics costs, and increased adoption of e-commerce could add strain as retailers foot the bill for last-mile delivery. Despite those issues, companies must keep in mind that they'll be trying to raise price for consumers who are already shouldering hefty grocery bills and, as the year wears on, are not armed with stimulus checks. Shoppers will also likely divert more of their budgets to services rather than goods as vaccinations make them feel safer about returning to restaurants and taking vacations.
Just because P&G can raise prices doesn't mean the rest of the consumer world can easily follow suit. Any brand considering such a change must be careful to consider just how much pressure, from several different directions, will soon be applied to shoppers' wallets.
This column does not necessarily reflect the opinion of the editorial board or Bloomberg LP and its owners.
Sarah Halzack is a Bloomberg Opinion columnist covering the consumer and retail industries. She was previously a national retail reporter for the Washington Post.