The Great British Corporate Dumpster Dive
(Bloomberg Opinion) -- Those who want to deter bidders targeting U.K. stocks should beware what they wish for. A common feature of the London-listed companies caught up in the recent takeover frenzy is the generally dire performance of their shares before the bidders pounced.
Never mind that the U.K.'s FTSE-250 index of mid-cap stocks has been touching all-time highs. Bidders have been going for the has-beens and left-behinds, whose forlorn shareholders are more easily tempted to sell out.
Look at the prominent U.K. deals of the last year and most were trading at least 10% below their three-year high before attracting a takeover, according to Bloomberg data. On average, these bid targets were changing hands roughly 30% below that benchmark before talks to be acquired became public.
Seemingly generous takeover deals can erase much or all those paper losses. The prices offered for Aggreko Plc, John Laing Group Plc, RSA Insurance Group and Avast Plc were almost bang-on the shares' three-year high. Meanwhile, the auction for grocer Wm Morrison Supermarkets Plc recently went through that hurdle.
It's one of the tenets of behavioral finance that recent highs can be a psychological "anchor" for shareholders — a pricing benchmark that has no relation to fundamental value but is nevertheless meaningful. So a takeover offer that comes close to, matches or exceeds the last high watermark is going to have a powerful pull. Such offers enable everyone who bought in recent history to sell without making a loss. At the very least, they are made whole.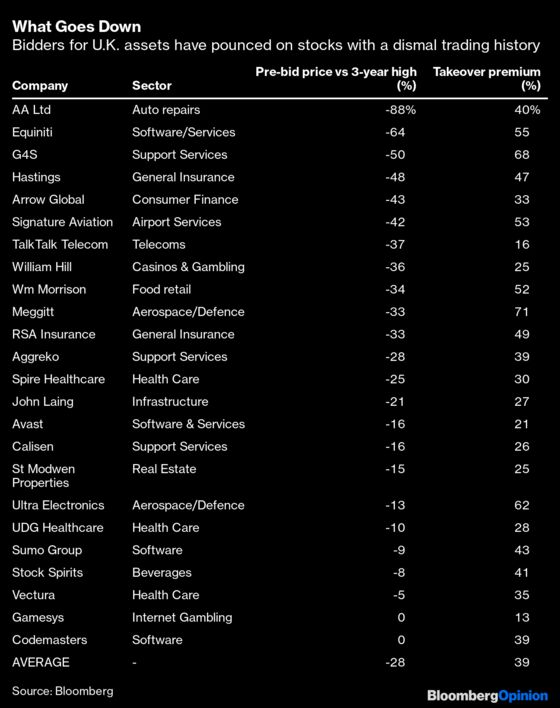 A mathematically-related outcome is that the deals have typically been priced at comfortably more than 30% above where the shares were trading before the bidder's interest became public — the top-up percentage generally regarded as good enough for surrender. The majority of the high-profile U.K. deals in the last year had bid premiums exceeding this level; the average uplift was almost 40%. 
Of course, takeover activity isn't driven purely by psychology and round numbers. Private-equity buyers need deals that will generate sufficient cash generation to pay down the debt typically used to fund the transaction, or that contain assets that can be sold off for the same purpose. Corporate bidders must justify acquisitions to their shareholders based on strategic logic and financial returns.
As for the target company's shareholders, they will compare the price being dangled with the firm's fundamental worth based on their estimated value of its future cash flows.
But the fact remains there's a divergence of views towards the U.K.'s listed laggards. Bidders may be seeing turnaround potential in these firms that could take several years to materialize, while stock-market investors, benchmarked on quarterly relative performance, don't look beyond current weak trading or balk at the capital expenditure required to fix things. Whatever the reason, the FTSE-250 has a large cohort of poor-performing stocks in the sectors that have been seeing M&A activity — such as gambling, food, support services and defense — and yet investors remain averse.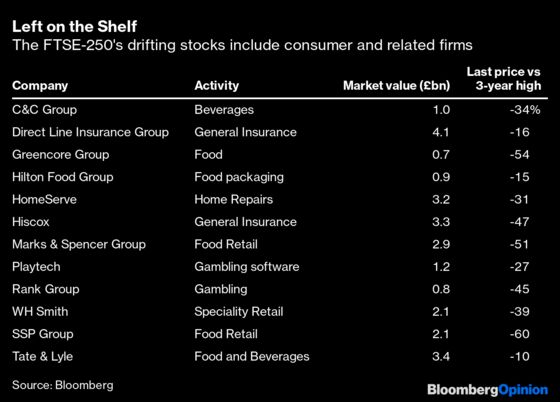 Take Marks & Spencer Group Plc, which has a partnership with online peer Ocado Group Plc. Shares in the storied U.K. grocer have rallied in recent weeks but are still around 50% off their three-year high and are trading below their level in June when takeover interest in rival Morrison emerged. "The complexity of a business with domestic clothing and food operations alongside an international business and a joint venture with Ocado just puts investors off," says Mark Hiley, founder of research boutique The Analyst. As a result, M&S gets lumped in with other forgotten mid-cap stocks large global investors don't care about, he adds.
Any bidder who believes in the revival of the office economy can pick from a throng of U.K. commercial real-estate firms as well as businesses that make, package and sell sandwiches and snacks.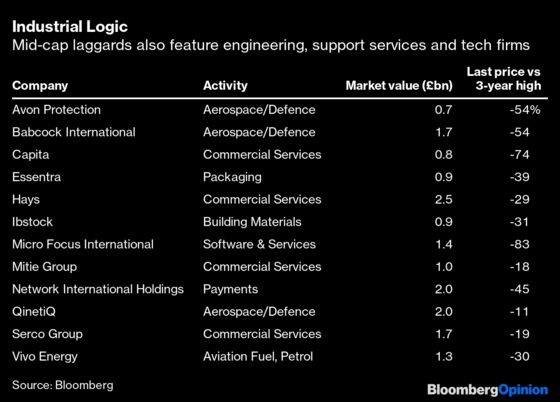 Stocks that have fallen a lot have usually done so for a reason — serious strategic or operational issues, or painfully high borrowings. While private equity firms warm to tricky situations, not every struggling company will get a bid, and can always slide further. Avon Protection Plc, a maker of gasmasks, dived 28% on Friday, citing supply-chain challenges. Poor-performing stocks are a hardy perennial of analysts' M&A hitlists.  
But shareholders in fallen U.K. stocks should beware their cognitive biases. A bid may look tempting because it hits or just clears a high that it seemed would never be regained, or because the premium seems better-than-average. Investors should put history aside and just push the buyer to the pain barrier.
This column does not necessarily reflect the opinion of the editorial board or Bloomberg LP and its owners.
Chris Hughes is a Bloomberg Opinion columnist covering deals. He previously worked for Reuters Breakingviews, as well as the Financial Times and the Independent newspaper.