Private Equity Frees Golf Cart From Sand Trap
(Bloomberg Opinion) -- Ingersoll Rand Inc. is finally getting out of the golf-cart business. 
Just one day after Japan's Hideki Matsuyama made history as the first Asian-born man to win the Masters tournament on the biggest weekend of the year for golf, Ingersoll Rand announced it was selling its Club Car division to private equity firm Platinum Equity for $1.68 billion. More casual observers of the company might wonder what in the world Ingersoll Rand — which sells air compressors, power tools and industrial-strength lifting equipment — was doing in the golf-cart business in the first place.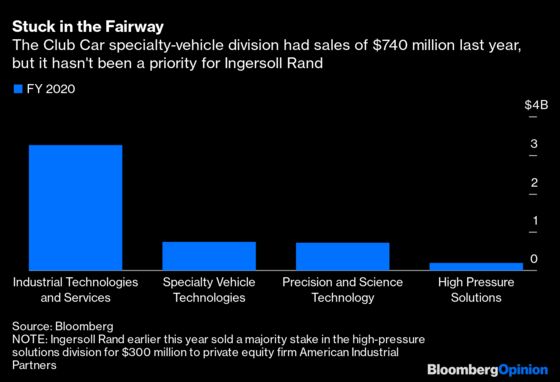 Ingersoll Rand acquired Club Car, which is based in Augusta, Georgia, where the Masters takes place (sorry, no golf carts allowed on the course at the tournament), as part of the $1.5 billion takeover of Clark Equipment Co. in 1995. It was a time when conglomerates were more in vogue, and the various divisions cobbled together by consolidation needed only the most tenuous of connections to make sense under the same big umbrella. 
In the intervening years, as hodgepodge amalgamations of assets fell out of favor, Club Car stood out like a sore thumb. But it still stuck around. While the activist investor Nelson Peltz's Trian Fund Management pushed for a three-way breakup of Ingersoll Rand in 2012, the company only partly complied by spinning off its security-products division. It wasn't until last year that the legacy Ingersoll Rand parted with Club Car; the business was part of a package of industrial assets it divested to Gardner Denver. The merged entity retained the Ingersoll Rand name and has continued pruning the portfolio, inking a deal earlier this year to divest a majority stake in a high-pressure pump business that caters to the oil and gas industry. 
"Today's announcement to divest Club Car demonstrates swift progression on our transformation journey," Ingersoll Rand CEO Vicente Reynal said in a statement. 
Masters weekend enthusiasm notwithstanding, it's as good a time as any to sell a golf-cart business. Interest in the sport climbed last year amid the Covid-19 pandemic, given its outdoor setting. Overall play during 2020 was up about 14% in the U.S. compared with 2019 for a total of about 500 million rounds, according to Golf Datatech, via the National Golf Foundation. Retail sales of golf equipment surpassed $1 billion in the third quarter, the first time that's happened in any quarter since 2008, when Tiger Woods won the U.S. Open in a playoff at the peak of his popularity and helped broaden the appeal of the sport. 
It's unclear whether that increased enthusiasm for chipping and putting will last once vaccines bring the pandemic under control and other sports — not to mention concerts and other entertainment — become safer. But with a push to electrify everything from delivery vans to speedboats and lawn and garden equipment, there's an opportunity to be a leader in turning the golf-cart industry green. While Ingersoll Rand offers electric versions of golf carts, a private equity owner may be in a better position to capitalize on this trend than a company that views the assets as non-core. Platinum Equity is paying about 12 times the Club Car division's 2020 Ebitda, about in line with the median for large, non-aerospace industrial targets in the past five years, according to data compiled by Bloomberg. 
Club Car, which also sells turf-maintenance and carry-all utility vehicles as well as street-legal versions of its golf carts, was one of the last oddball industrial company assets after a spate of divestitures in recent years. These include Honeywell International Inc.'s decision earlier this year to part with a business that sold rain boots, among other things. Eaton Corp., however, still sells Golf Pride golf-club grips. So there may be one more golf-related industrial divestiture yet to come. 
The remaining air conditioner and super freezer parent company now calls itself Trane Technologies Plc.
This column does not necessarily reflect the opinion of the editorial board or Bloomberg LP and its owners.
Brooke Sutherland is a Bloomberg Opinion columnist covering deals and industrial companies. She previously wrote an M&A column for Bloomberg News.