What's Next for Next Doesn't Bode Well for the Rest
(Bloomberg Opinion) -- Omichristmas wasn't so bad after all.
Despite the rampage of the variant in the weeks before the holiday, Next Plc reported a better than expected 20% increase in full-price sales at its U.K. stores in the eight weeks to Dec. 25, compared with 2019. Shoppers splashed out on glamorous outfits as they continued to socialize with friends and family to compensate for the dismal holiday season in 2020.
But Christmas 2021 could prove to the last hurrah for retailers. There are some big risks coming down the tracks — primarily inflation —  that Next expects to be far from transitory. Chief Executive Officer Simon Wolfson has already warned that if consumers have to spend more on things they need like food and fuel, there will be less left over for the things they simply want, such as a new dress.
Now he's adding another peril: the impact of Next's own prices having to increase significantly in 2022 because of freight rates staying high for longer. Prices could rise by 3.7% on spring and summer garments, and 6% when autumn and winter ranges hit the shops. That would be the biggest escalation in clothing prices for a decade.
It is not yet clear how demand will be affected by paying more for apparel and home furnishings. The increases also come against the backdrop of higher costs for essentials. Take food for example. Aside from the period early in the pandemic, prices are rising at their highest rate in almost four years. Grocery inflation reached 3.5% in December, adding nearly 15 pounds ($20.24) to shoppers' bills, consumer research group Kantar said on Wednesday.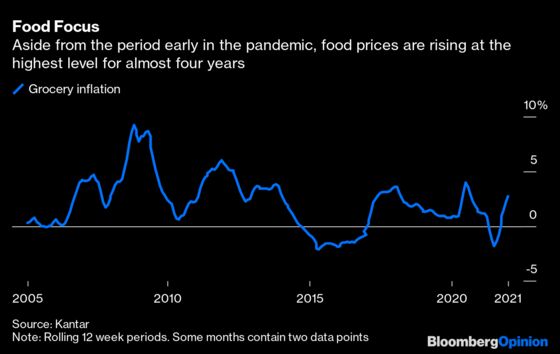 Although wage growth is still outpacing inflation, the gap is narrowing. If food and energy costs escalate further in 2022, earnings could start to lag price rises. When that happened a decade ago, consumers tightened their purse strings.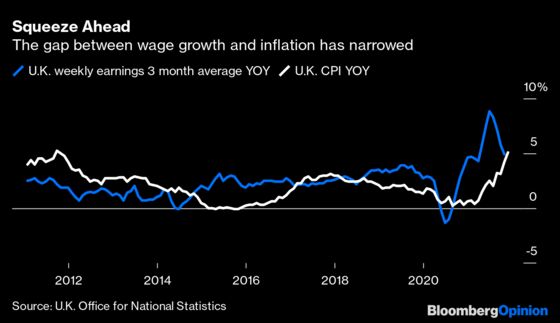 Add in the first interest rate increase in three years —and higher taxes from an increase in the rate of National Insurance — and life could get tougher. Next is forecasting a 7% increase in full-price sales in the year to January 2023, and a modest 4.6% uplift in group profit before tax to 860 million pounds. The shares fell by about 1% in early trading.
Against the more uncertain backdrop, Next's stable management, strong cash generation, muscular online presence and smart looking stores should put it in good stead. But if it is concerned about 2022, lesser retailers or those in the middle of turnaround plans, such as rival Marks & Spencer Group Plc, should have even more to worry about.
More From This Writer and Others at Bloomberg Opinion:
This column does not necessarily reflect the opinion of the editorial board or Bloomberg LP and its owners.
Andrea Felsted is a Bloomberg Opinion columnist covering the consumer and retail industries. She previously worked at the Financial Times.