PG&E's Wildfire Plan: 10,000-Mile Trench Warfare
(Bloomberg Opinion) -- When you've been stuck in the bunker as long as PG&E has, going underground is second nature.
The California utility just touted a stunning proposal to fix its wildfire problem: Bury 10,000 miles of wires where the trees, lightning and Santa Ana winds can't touch them. It's not stunning in terms of the method. It's the cost, with the $20 billion figure the company speaks of looking rather optimistic.
To put that figure in context, the rate base of PG&E Corp.'s regulated subsidiary, Pacific Gas & Electric, is about $47 billion. Even at the optimistic end of the scale, therefore, this project would boost that by more than 40%. Given how such giant endeavors tend to go in a state like California, the cost could end up being more like $30-40 billion, which would be getting close to doubling the rate base. Assuming it's a decade-long undertaking, that's annual growth of 4-8% at a utility already projected to grow its rate base faster than the U.S. average.
Utilities love an expanding rate base because that's how they increase earnings. In this case, however, it's tough to see the California Public Utilities Commission just signing off on that.
Even without allowing a regulated return — with PG&E permitted to recover costs only — the impact on bills could be enormous. My rough calculation suggests that, even if the final cost came in at $25 billion — close to the optimistic end of the scale — that might mean an extra $17-29, or 13-22% of current costs, added to the average monthly residential bill for 20 years.
And PG&E projects those bills rising by more than 4% a year through 2026 as it is. Beyond the back of my envelope, there are other considerations, such as dealing with the telco lines that utilize PG&E's poles and managing the ongoing risk of the overhead network during the multiple wildfire seasons it would take to bury it.
That PG&E's stock hasn't spiked on this potential growth miracle perhaps reflects skepticism about any of it being rate-based or even happening, at least at anything like that scale. Instead, with PG&E indicating its lines may have started the Dixie Fire  — more than 91,000 acres burned and 15% contained as of Wednesday — its discount to the rest of the utilities remains yawning.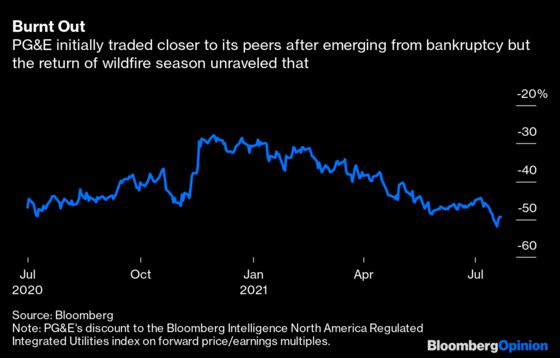 Indeed, one wonders if this is less of an undergrounding project and more of an underground rebellion.
We aren't even through July yet and PG&E is potentially culpable for one significant wildfire already (and unhelpfully close to what remains of Paradise, the town burned to the ground in the Camp Fire that tipped PG&E into chapter 11). The severe drought across the West means August and September could bring more fires and potential pre-emptive blackouts. It does not take a genius to see who will be blamed.
So as unrealistic as a 10,000 mile trench might seem, PG&E may just be trying to get ahead of that with a plan it knows the CPUC will likely slap down. At least then PG&E could say it had offered a long-term solution but regulators blocked it, like getting its retaliation in first.
That's just my speculation. For its part, the CPUC would at the very least have to consider what else might be done for $20 billion or more. At even higher levels, it has to be asked: Even though PG&E exists, would you reinvent it?
In any case, PG&E's announcement serves the useful, if disheartening, purpose of reminding California that the interplay of old power lines, overgrown forests and climate change leave it with an unavoidable, and expensive, job of overhauling its energy infrastructure.
The peculiar PG&E bankruptcy left it still saddled with big debts and, via the state's inverse condemnation clause, exposure to rising wildfire risk. The vaunted state fund set up to defray that has perhaps $10 billion of capacity today for the entire state, according to CreditSights, versus roughly $50 billion of damage that was done during the wildfires in 2017 and 2018. The question that has loomed over California since then is how to share the burden of a new and significant cost suddenly thrust into the mix.
Whatever PG&E's motivations, the big headline number shows that cost hasn't gone away, and dealing with it while keeping a lid on power bills is the toughest of circles to square. Maybe Governor Gavin Newsom is the real audience here. Last I heard, he had $38 billion to spare.
A lot of assumptions here. Estimated project cost of $25 billion financed by a 20-year amortizing bond at 4.5%, with annual interest and principal of $1.9 billion. That cost apportiuoned as per residential share of PG&E's electricity distribution revenue of 45%, average monthly power consumption of 473 kilowatt-hours and average monthly bill at 2021 rates of $$129 for non-CARE customers, as per PG&E's latest rate base proposal, filed June 2021. Total PG&E residential power sales of 14.4 terawatt-hours (Energy Information Administration data for 2019). Implied cost per kilowatt-hour is 6 cents, or $29 per month for the average customer.If unamortized, annual cost is about $1.1 billion, which translates to $17 on the bill, although this doesn't factor in credit impacts.
This column does not necessarily reflect the opinion of the editorial board or Bloomberg LP and its owners.
Liam Denning is a Bloomberg Opinion columnist covering energy, mining and commodities. He previously was editor of the Wall Street Journal's Heard on the Street column and wrote for the Financial Times' Lex column. He was also an investment banker.