U.K. House Prices Haven't Stopped Rising Yet
(Bloomberg Opinion) -- Double-digit surges in house prices normally lead to screams of a "bubble." But if the latest numbers from the U.K. are any guide, there's still momentum for this upswing. Demand for property drastically outstrips the country's available supply.
Annual U.K. house-price growth has reached its highest level in nearly seven years at 10.9%, according to the Nationwide Building Society, which conducts the broadest survey, and index gains will likely head even higher. That's a stark contrast to last June when year-on-year growth briefly turned negative. This boom in prices isn't confined to high-end central London either — it's spreading across the whole economy. There's been a widespread uplift in home renovations too.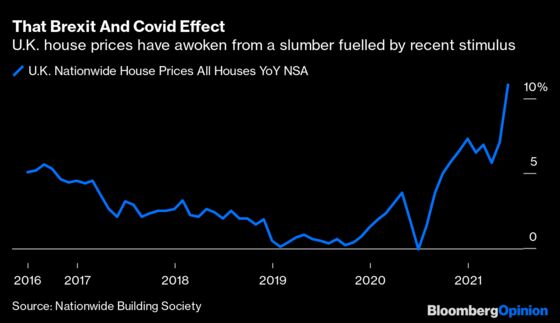 For buyers, conditions are near-perfect: Mortgage lenders are actively competing to offer some of the lowest-cost housing loans, with two-year fixed-rate mortgages even below 1%; the government's stamp duty holiday (a tax break for residential purchases) remains in place until September for properties up to 250,000 pounds ($353,050); and a resurgent economy is quickly restoring consumer confidence. The U.K. is expected to be the fastest-growing economy in the G7 this year, and quite possibly next year as well.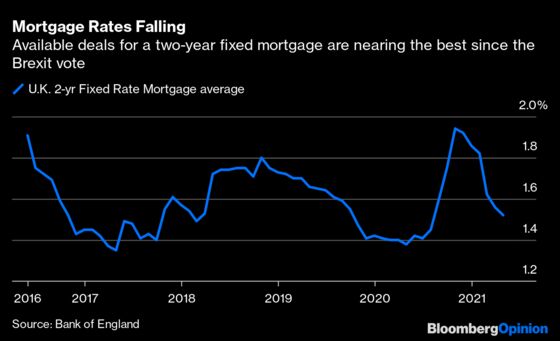 The surge is causing rumblings from the Bank of England. Deputy Governor David Ramsden made clear in a Guardian article that the monetary policy committee is keeping a close eye on housing. He emphasized, however, that it's only one of several real-time indicators they're monitoring. Ensuring a wider economic recovery depends on a lot more than the housing market.
Besides, there is little that monetary authorities can do to contain house price gains other than using the blunt instrument of an interest rate hike. And that is certainly not on the table this year or perhaps even next. Interest rates are near-zero for a reason. Raising them too soon would likely stop the nascent recovery in its tracks.
There's not much more arm-twisting to impose on lenders either. The Prudential Regulation Authority arm of the BOE has been laser-focused on keeping corporate and consumer lending in check throughout the pandemic, so there is little to no overhang of bad debts to worry about. Household savings are still at record highs. As long as the property rally continues to be broad-based and prices don't get too unhinged, this boom can be beneficial.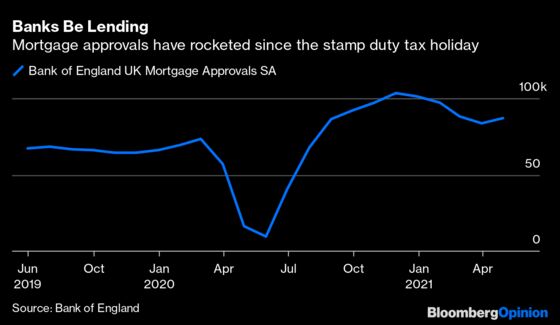 After several long years of Brexit negotiations and then the pandemic, there is a great deal of pent-up demand for property. Meanwhile, lack of supply is built into the system. 
What is noticeable now, according to Andrew Harvey, a Nationwide senior economist, is that price gains are recovering most in more affordable rural areas and in smaller towns and cities. Interest in country homes broadened away from just the most desirable spots, as people got used to working from home during lockdown. It's progress in terms of "leveling up" the country, at least for those fortunate enough to get on the ever-rising property ladder.
Yet it is not all bad news for the major conurbations, where, although there's greater supply, prices seem to be sluggishly picking up. The market has further room to go. Take Scotland as an example: Despite a less generous tax break ending in March, there's been little sign of a drop in demand for homes. 
In short, U.K. house prices haven't hit their ceiling yet. The BOE would be wise to avoid reacting until the stamp duty holiday ends and the rush to complete purchases dies down, although tapering QE Gilt purchases sometime this summer might not be a bad idea for signaling caution to money markets.
This is a small island with lots of people and too many planning restrictions — that dynamic can't be solved in a hurry. So in the meantime there is only one real way for prices to go.
This column does not necessarily reflect the opinion of the editorial board or Bloomberg LP and its owners.
Marcus Ashworth is a Bloomberg Opinion columnist covering European markets. He spent three decades in the banking industry, most recently as chief markets strategist at Haitong Securities in London.