Even Goldman Sachs Is Jumping Aboard Buy Now, Pay Later
(Bloomberg Opinion) -- People can be just the worst borrowers, failing to pay what they owe especially if defaulting doesn't cost them their house or their car. That's why credit cards charge eye-watering interest rates and late fees. It's also why cards and other unsecured consumer debt cause the biggest losses for banks during major downturns — and why central banks assume that consumer defaults bring the most pain in financial stress tests.
So it's a bit of mystery why "Buy Now Pay Later" apps — which let users pay for purchases next month of in a few installments, without charging interest and often no late fees either — are the hottest thing in fintech. Investors have been throwing money at firms like Sweden's Klarna and Australia's Afterpay, driving valuations to dizzying heights. Goldman Sachs Group Inc. and PayPal Holdings Inc. have also jumped into the fray, each striking $2 billion-plus takeovers this month. 
It's still too early to assess the true credit risks in these new technology-driven firms. But there are reasons to suspect that in tough times bad debts could bite hard.
Apps like Klarna and Afterpay mostly offer very short-term, interest-free loans for fashion and beauty products. The loans are interest-free because the shop pays a fee of a few percent to get its money straight away and to cover payment processing. Retailers like Yoox or Net-A-Porter are also willing to pay because the apps draw in customers and encourage them to spend.
Use of the apps has been growing fast, especially during the pandemic. European transactions are up almost 100% in the past year and Klarna's U.S. volumes jumped more than 300% in the first half of 2021.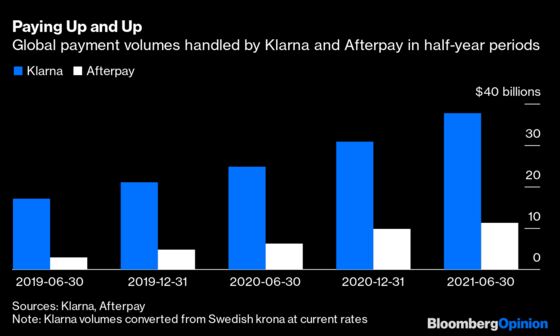 Investors are flocking in. In Europe, Buy Now Pay Later firms have raised more than $2 billion from venture capital and private equity this year alone, according to Morgan Stanley.
This is pushing valuations to staggering levels. Mostly, they're quoted as multiples of revenue because many of these firms don't turn a profit. For example, Sweden-based Klarna was valued at $46 billion after it raised more venture capital funding this summer, according to Bloomberg Intelligence. That is 30-times its last 12 months' revenue. U.S.-listed Affirm Holdings Inc. trades at an even steeper 36-times revenue, while Australia's Afterpay, which is being bought by Square Inc., now trades at nearly 40-times revenue. These are huge premiums on firms when the risk of big default losses is still highly uncertain. 
Established finance companies are jumping in too. This month PayPal struck a $2.7 billion deal for a small Japanese Buy Now Pay Later firm called Paidy. And last week, Goldman said it would pay $2.2 billion for a home-improvement lender called GreenSky in its quest to conquer Main Street. To be fair, though, GreenSky lends to homeowners in a slightly more traditional way, providing bigger loans over longer periods, and with interest, for things like new bathrooms or windows and doors. Also, Goldman is paying about 30-times earnings over the past 12-months, according to Bloomberg data, as opposed to 30-times its revenue. 
Most Buy Now Pay Later apps offer what looks like credit-card lending, but with smaller loans of up to a couple of hundred dollars on average, depending on the country. The question is whether the credit risks are any different.
Klarna and peers argue they are. Users can only increase the amounts they borrow slowly based on good behavior. They have to repay when the money is due, usually after just 30 days, or in installments over a couple of months. Afterpay makes new customers pay a quarter of any purchase upfront until they have a track record. If you don't repay when you're meant to, you get stopped from using the app, which should mean less risk for investors.
Credit cards, on the other hand, will give you a limit of, say, $2,500 straight away — an invitation to splurge. Customers can keep spending until they hit their limit, and the bank will just charge late fees for failure to repay, on top of hefty interest.
But banks do a thorough credit check before giving out a card. Buy Now Pay Later firms generally don't, which might make them more risky, according to Morgan Stanley analysts. 
The bigger risk, however, is that a high portion of these small loans go bad at the same time. Not only are many of the borrowers young — typically half are under 45 years old; at Klarna the average age is 33 — but the consequences of failing to pay are minimal. No interest and often no late fees means it'll be easy to let the payment slide, especially if you're in a pinch. 
Unexpectedly high correlations among defaulters have caught lenders out before: Think of mortgages in 2008, especially in the U.S.
When the next recession comes, and there isn't the kind of income support people have had during the pandemic, on-trend investors might find they're the ones who have to pay later.
This column does not necessarily reflect the opinion of the editorial board or Bloomberg LP and its owners.
Paul J. Davies is a Bloomberg Opinion columnist covering banking and finance. He previously worked for the Wall Street Journal and the Financial Times.