If 60/40 Recipe Sours, Maybe Stir in Some Bitcoin
(Bloomberg Opinion) -- The 60/40 portfolio has been a mainstay of investing for years. After all, it's been a winning defensive strategy — allocate the bulk of a fund to riskier equities with the remainder seeking the relative safety of fixed income. But with stratospheric stock markets sparking talk of a bubble, the bond side of the trade risks failing in its role of cushioning returns. Investors need to consider alternative buffers.
If the tide is turning, it would undermine a useful method for navigating markets. Returns by funds from Vanguard Group Inc., BlackRock Inc. and Dimensional Fund Advisors LP that use a 60/40 strategy were protected from a decline in global stocks in 2018 by their bond holdings.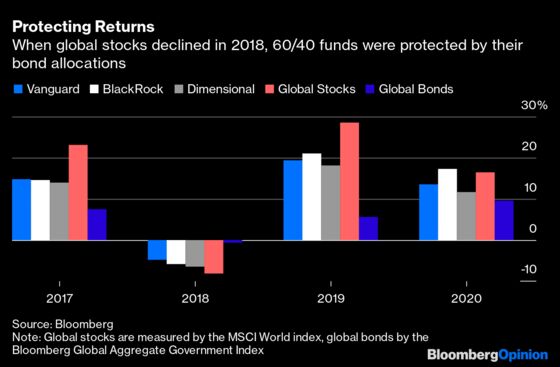 This week two of the world's biggest sovereign wealth funds, Australia's Future Fund and Singapore's GIC Pte, warned that as a four-decade rally in bonds peters out, returns will be harder to generate in the years ahead. Globally, bonds have had their worst start to the year in at least a decade. Once again, the 60/40 strategy is under fire.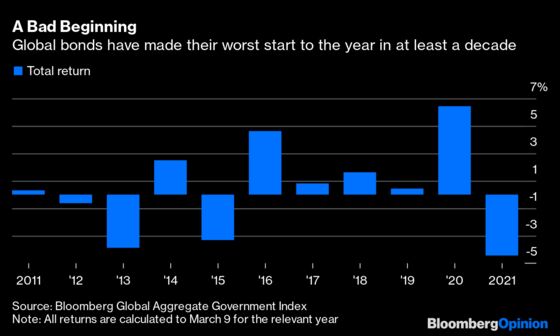 The sovereign funds aren't alone in predicting harder times. AQR Asset Management LLC in January trimmed its expectations for the likely annual return on a 60/40 portfolio of U.S. stocks and bonds. The quant hedge fund expects the strategy to deliver just 1.4% after inflation in the next five to ten years, down from a forecast last year of 2.4% and a 2019 prediction of 2.9%.
With the reflation trade trashing government bonds, here are some suggestions for alternative securities that can be added into the mix and still offer some uncorrelated protection against a drop in stocks.
In recent years, the foreign exchange market has become a bit boring, with swings damped by central banks everywhere pursuing similar ultra-low interest rate policies. Apart from a spike a year ago as the pandemic roiled markets, currency volatility has been steadily decreasing, according to an index compiled by Deutsche Bank AG.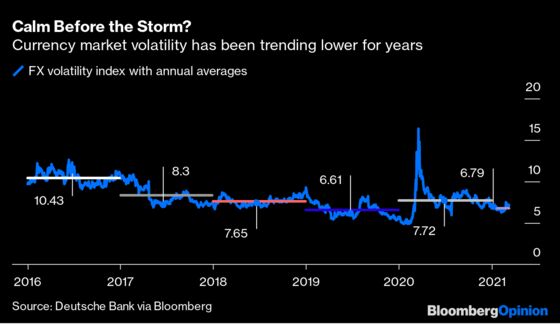 That might be about to change. The European Union's fiscal response to the health crisis has been lackluster compared with the aid packages from the U.S. and U.K. governments. As traders start to anticipate asymmetrical monetary policy responses to contrasting post-Covid economic outcomes, opportunities to profit from corresponding currency shifts may become more widespread.
Owning government debt has become riskier this year as the recovery prospects stoke concern about faster inflation. But other varieties of fixed income may prove more resistant to any acceleration in consumer prices, though investors may have to be willing and able to accept lower ratings to boost returns.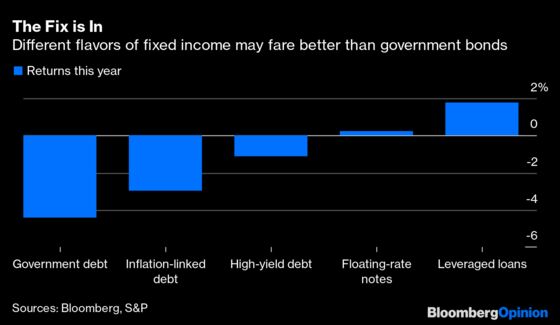 Inflation-linked government bonds around the world have fared better than their plain vanilla peers this year. Global high-yield debt has also proven less vulnerable, with a brighter economic outlook seen improving the creditworthiness of junk-rated borrowers. And U.S. floating-rate notes, whose interest payments fluctuate with short-term borrowing costs, have eked out gains.
But U.S. leveraged loans, which also have floating coupons, have been the stellar performer, based on figures compiled by S&P Global Inc. Sales of the securities, a favored source of financing in the private equity market, have reached $230 billion so far this year, a 15% increase on the year-ago period. And demand is surging along with supply. By the middle of last week, inflows into leveraged loan funds had surpassed $8.8 billion, according to data compiled by Refinitiv Lipper. For investors able to take on the additional credit risk, leveraged loans may offer a market-beating alternative to government debt.
Given what's undermining the bond component of the 60/40 strategy is concern about faster inflation, investors could turn to the traditional hedge: gold.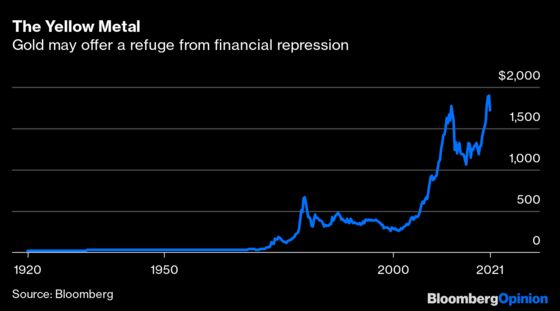 Last year, Ray Dalio's Bridgewater Associates LP bought gold, along with inflation-linked bonds, for its All Weather risk parity portfolio. The firm had issued a report in July saying that "bonds can provide neither returns nor risk reduction."
One way to think about gold is as a non-investment. The precious metal provides a way of standing on the sidelines of markets that are increasingly at the mercy of central bank interventions and subject to financial repression. As a hedge against market ructions, its outsider status could come in handy.
I'm reluctant to give digital currencies the oxygen of yet more publicity. But given that Bitcoin should be untethered from the economic forces that drive stocks and bonds, with its value determined by how many are mined by server farms and how enthusiastic its fan base is, there's an argument that it's an ideal portfolio diversifier.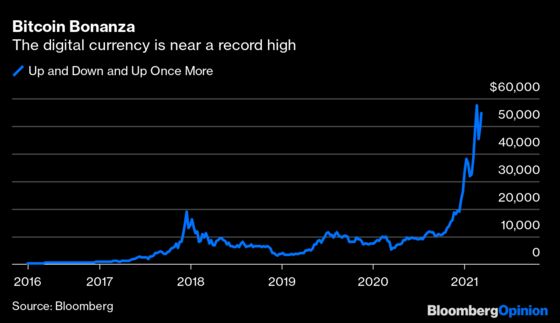 Evidence for whether institutional investors are ready to embrace cryptocurrencies remains sketchy at best. But Goldman Sachs Group Inc. found 40% of almost 300 clients said they had some exposure to crypto. If portfolio managers can stomach the volatility, Bitcoin could play a role as an uncorrelated hedge against equity market downturns.
To be sure, none of the above is an ideal replacement for government debt. All are likely to add volatility, market risk and credit risk to a portfolio. And rumors of the death of both the bond market rally and the 60/40 strategy have been greatly exaggerated before. But for funds that need to deliver long-term returns for their customers, it's time to get creative.
This column does not necessarily reflect the opinion of the editorial board or Bloomberg LP and its owners.
Mark Gilbert is a Bloomberg Opinion columnist covering asset management. He previously was the London bureau chief for Bloomberg News. He is also the author of "Complicit: How Greed and Collusion Made the Credit Crisis Unstoppable."