Goldman's Online Bank Loses Its Advantage Over Bonds
(Bloomberg Opinion) -- The recent sell-off in short-term U.S. Treasuries has created an opportunity for savvy savers unseen in more than two years.
I've written before about so-called high-yield savings accounts, offered primarily by online institutions like Goldman Sachs Group Inc.'s consumer bank Marcus, Ally Bank, Barclays Plc and others. Historically, these vehicles and accompanying certificates of deposit have more or less tracked short-term Treasuries with a lag — they were slower to offer higher yields when the Federal Reserve was raising interest rates in 2017 and 2018 while more gradually scaling back rates lower during 2019's cuts.
The Covid-19 pandemic, however, created a predicament for Marcus and other online banks. The Fed pinned its benchmark rate near zero, while two-year Treasury yields spent a full 12 months below 20 basis points. Just how low could they take rates on these "high-yield" accounts without betraying the name?
At Marcus, at least, the magic number has long been 0.5% for its savings account. The bank's two-year CD currently offers 0.55%. For much of this year, that looked like a great deal when compared with market rates on similar-maturity Treasuries.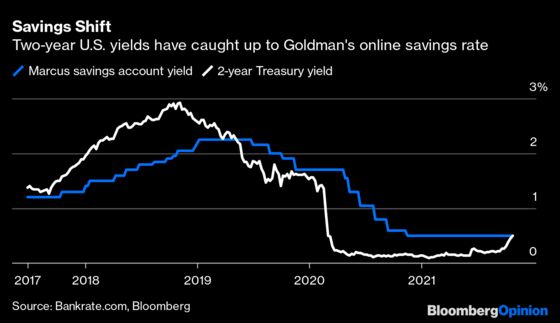 That's not the case anymore. The two-year Treasury yield touched as high as 0.56% on Oct. 28, the highest since March 2020, as investors globally dumped short-dated government debt. Anyone who bought at that moment would have locked in a better yield than they could get with a Marcus CD of the same maturity. Two-year yields are higher than the savings account rate for the first time since May 2019.
These short-term rates may not be nearly enough to refute Ray Dalio's oft-repeated line that "cash is trash," but they're at least showing signs that they won't stay near zero forever at a time of rising inflation. Around the world, bond traders are betting that central banks will spring into action and begin slowly but surely tightening monetary policy to combat price pressures.
Of course, even assuming the jump in Treasury yields will last, it's not at all clear that the move will be enough to jolt savings rates much higher. Longer-term bond yields remain stuck in a range, and the Fed appears likely to hold its lending benchmark near zero through at least the first half of next year and hope that inflation will recede so it can stay accommodative to support its maximum employment goal. Obviously, bond traders are betting it won't play out that way, but until the central bank acts, Marcus and its peers will likely be inclined to leave their rates alone, especially when their competition at the biggest U.S. banks offer virtually no interest at all.
Goldman economists, for their part, abruptly pulled forward their expectations for the Fed's first rate increase by a full year, to next July. In a report to clients last week, Jan Hatzius and others said the central bank would raise the fed funds rate almost immediately after ending its bond-buying program and would increase it again in November 2022. Inflation persistently above the Fed's 2% target "will make a seamless move from tapering to rate hikes the path of least resistance," they said in the report, which forecasts two interest-rate increases in 2023 as well.
If that outlook comes to pass, two-year Treasury yields have room to rise much further. For now, though, the front end of the world's biggest bond market has caught up to some of the best interest rates available among ultra-safe savings vehicles. For individuals looking for a place to sock away cash for a short period, Goldman's online bank no longer has the clear advantage it held through most of the pandemic.
This column does not necessarily reflect the opinion of the editorial board or Bloomberg LP and its owners.
Brian Chappatta is a Bloomberg Opinion columnist covering debt markets. He previously covered bonds for Bloomberg News. He is also a CFA charterholder.