Amazon and Other Tech Giants Buck the Empire Trap
(Bloomberg Opinion) -- Amazon.com Inc.'s announcement last week that it will acquire entertainment company MGM Holdings raises long-standing questions about whether  shareholders benefit when companies acquire other businesses or invest in future growth. The answer depends on how the money is spent, and tech giants seem to have landed on the right formula so far.
Companies can essentially do two things with their capital: invest in growth or pay it out to shareholders. In an ideal world, executives would choose the path that is expected to result in the highest payoff to shareholders. But as economists have long recognized, executives have strong incentives to hoard cash and grow their companies beyond what is optimal. More cash means more resources and less reliance on capital markets and their scrutiny. And running a bigger, more sprawling and complex company carries greater prestige and potential earning power. 
Those incentives have no doubt contributed to empire builders' unflattering history. Most mergers and acquisitions fall apart, perhaps as many as 70% to 90% of them. The corporate graveyard is littered with conglomerates that stretched themselves too thin across too many businesses to keep everything running smoothly and profitably. Investors haven't helped, often enabling executives by bidding up share prices in anticipation that their grand ambitions will pay off, only to watch share prices wither when reality sets in. Numerous studies have shown that the more companies invest their capital, the worse shareholders fare.
Against that backdrop, Amazon's $8.45 billion purchase of MGM might seem unwise, but it's also the latest in a long line of acquisitions by tech behemoths. Microsoft Corp., Apple Inc., Amazon, Alphabet Inc. and Facebook Inc. have acquired hundreds of companies among them over the past decade. They also collectively sit on a mountain of cash and offer meager payouts to shareholders. All the elements of disappointing stock returns appear to be in place, and yet their shares have been among the best performers in recent years.
So why are shares of big tech companies soaring when those of countless others have sagged under similar circumstances? Some of it may be that their near monopolies, carefully cultivated in part by acquiring competitors before they become a threat, have more than compensated for what would otherwise be costly decisions. It may also be too soon to judge — perhaps their empires will eventually decline, too.
But there may be a better, if wonkier, explanation. Much of the research around capital investment and subsequent stock performance, also known as the investment factor, measures tangible investment, typically property, plant and equipment, or PPE. That makes sense because until relatively recently, PPE accounted for most of the assets that companies owned.
The investment factor looks at how much companies spend on tangible assets, either by purchasing them directly or acquiring other companies, and how their stocks perform afterward. According to numbers compiled by financial economists Kewei Hou, Chen Xue and Lu Zhang, shares of large companies with the highest investment in tangible assets trailed those with the lowest investment by 2.1 percentage points a year from 1967 to 2020, including dividends.
The gap was even wider among small companies — 4.5 percentage points a year in favor of companies with the lowest investment over the same time. In other words, shareholders appear to do much better when companies rein in investment.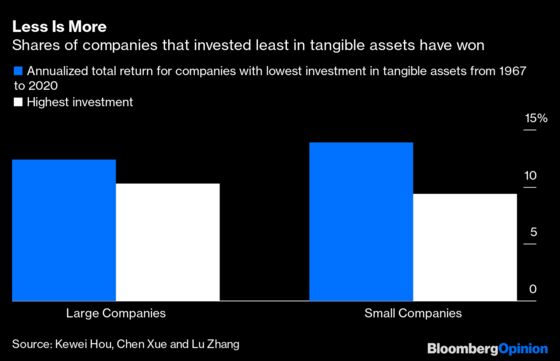 Amazon and the other tech giants are not investing in PPE, however. They spend their money mostly on intangible assets such as research and development, software, licenses, patents and other intellectual property. Amazon's purchase of MGM's movie and television catalog is a classic example. And when it comes to capital investment, the distinction between tangible and intangible assets has made all the difference.  
Hou and the other authors have also compiled numbers on what they call the "expected growth" factor (not to be confused with growth investing, which is the other side of value). Unlike the investment factor, which mostly measures investment in tangible assets, the expected growth factor captures investment in intangibles, and the results are just the opposite. Shares of large companies with the highest investment in intangible assets outpaced those with the lowest investment by 8.5 percentage points a year from 1967 to 2020. Here again, the difference among small companies was even greater — an astounding 14.6 percentage points a year in favor of companies that invested most aggressively in intangible assets over that time.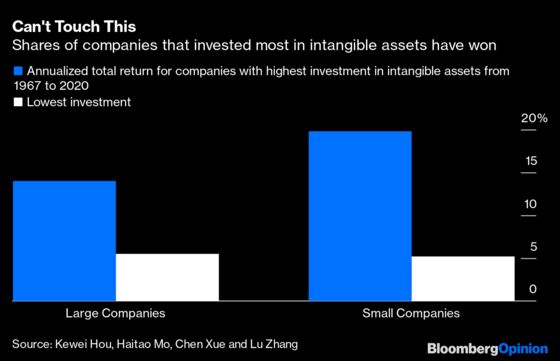 Why does investment in intangible assets seem to pay more than investment in tangible assets? It may simply be that intangible assets are better tools for making money. In economic terms, "High tangible investment is associated with a lower cost of capital and therefore lower expected returns," Zhang told me, "whereas high intangible investment boosts expected growth through innovation, greater customer retention and expansion, which raises expected returns." Facebook's acquisitions of Instagram and WhatsApp, to take two real world examples, boosted the social network's growth more than any tangible asset ever could.
There are good reasons to worry about big tech's massive and growing reach, but its relentless investment in growth has clearly paid off for shareholders so far. Companies earned a reputation for bungling their finances when corporate investment meant buying land, factories and big machinery. Today's empire builders are playing a whole other game, and that could make all the difference. 
This column does not necessarily reflect the opinion of the editorial board or Bloomberg LP and its owners.
Nir Kaissar is a Bloomberg Opinion columnist covering the markets. He is the founder of Unison Advisors, an asset management firm. He has worked as a lawyer at Sullivan & Cromwell and a consultant at Ernst & Young.