PayPal Will Let You Use Bitcoin. But Why Would You?
(Bloomberg Opinion) -- Are Bitcoin and other cryptocurrencies truly currency?
I'm hardly the first person to ask this question, but it looks increasingly likely that the world will get answers soon. PayPal Holdings Inc. on Tuesday announced a new service called "Checkout with Crypto," which promises to allow customers to select either Bitcoin, Litecoin, Ethereum or Bitcoin Cash as a payment method to buy goods from millions of merchants worldwide. Once the purchase is confirmed, PayPal will convert the cryptocurrency to fiat on behalf of the customer, who will receive both a receipt and a record of the crypto sale. Chief Executive Officer Dan Schulman demonstrated the service in a video that showed him buying ostrich cowboy boots. The company says the new feature "expands the utility of cryptocurrency" and follows Elon Musk's announcement that Tesla Inc. will accept Bitcoin for cars.
This strikes at the heart of a key question surrounding Bitcoin: Can it serve both as store of value and a medium of exchange? Or, put in a way that doesn't sound like an economics textbook: Can a cryptocurrency that has appreciated by more than 700% over the past year, in no small part because of true believers who preach the virtues of HODLing (read: holding) because they're convinced it's the future of payments and the price will go higher, suddenly transform into a stable way to transact?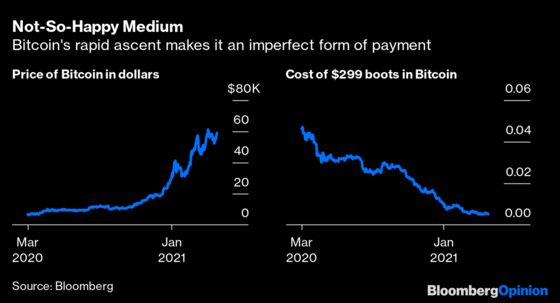 It's not clear who among the crypto crowd has been champing at the bit to offload some of their Bitcoin through PayPal to buy stuff that they could otherwise get with dollars, euros or yen. For one thing, it's not as if there are any tax savings: PayPal notes in its lengthy terms and conditions that "sales of Crypto Assets via Checkout with Crypto are taxable just like all other sales of Crypto Assets." This type of transaction is also different from Visa Inc.'s announcement earlier this week that its payments network will use a stablecoin backed by the U.S. dollar to settle transactions, which is more of a vote of confidence in blockchain technology. It's hard to see choosing to use Bitcoin, rather than fiat currency, to buy goods as anything other than a tacit acknowledgment that the top is close at hand — blasphemy, in other words. 
Consider the view of Laszlo Hanyecz, who went through with the first known commercial transaction of cryptocurrency in 2010 when he paid 10,000 Bitcoins (almost $600 million at today's price) for two pizzas. He told Bloomberg News's Olga Kharif in February that he's not too interested in Tesla because "if you give it five years, I think the Bitcoin you'd spend will be more valuable than the car." Or as Eleesa Dadiani, a London-based entrepreneur and crypto broker, put it to Bloomberg's Charlie Wells: "Buy Tesla in the money that's soon going to be extinct."
While I certainly don't subscribe to that line of thinking on the imminent demise of fiat currency, I can't help but sympathize at least in part with Dadiani's view. The inherent value of Bitcoin seems like anyone's guess, though the $400,000 level floated by Scott Minerd of Guggenheim Investments late last year seems extreme, to say the least. Still, it stands to reason that those who own it today expect the price to continue to climb in the coming years.
Meanwhile, the Federal Reserve's new policy framework dictates that the central bank should aim for inflation greater than 2% to make up for years of undershooting its target. That shift won't suddenly cause the dollar to lose its status as the world's reserve currency, but it will likely serve to gradually erode purchasing power — unless of course you're all-in on assets that increase in price even faster. Those could be cryptocurrencies or they could be stocks, but no one is floating the idea of buying goods by converting a portion of 401(k) plans or Robinhood accounts to fiat.
Nevertheless, Bitcoin gained as much as 3.8% on Tuesday to $59,388.52. In the video of Schulman, the CEO, he's seen transacting for the on-sale $299 boots when the digital currency was valued more than $4,000 lower than that. He obviously would have been better off waiting awhile longer. 
That gripping fear of missing out on a further rally and the HODL mantra seem likely to limit the use of PayPal's new feature beyond its C-suite. It wouldn't be a ringing endorsement for Bitcoin's prospects as a medium of exchange, but that's hardly what the crypto community has been emphasizing anyway. Sure, enthusiasts will point to these payment options as a sign that the digital currency is gaining institutional adoption, but that's simply used as justification for why Bitcoin's price should go higher and they're holding their positions. What you don't hear is the excitement around cashing in crypto for their own pair of ostrich boots. 
This column does not necessarily reflect the opinion of the editorial board or Bloomberg LP and its owners.
Brian Chappatta is a Bloomberg Opinion columnist covering debt markets. He previously covered bonds for Bloomberg News. He is also a CFA charterholder.