Phew! Opendoor Didn't Mess up iBuying Like Zillow
(Bloomberg Opinion) -- Few people can have seriously expected Opendoor Technologies Inc. to suffer the sort of calamity that real estate listings giant Zillow Group Inc. experienced recently at its so-called iBuying unit. The housing market has cooled a little but it's still a great time to be flipping homes, providing you don't mess up the basics.
Still, there was understandable relief on Wednesday when Opendoor reported strong results for the July to September quarter. That demonstrated that its home-buying algorithms are working broadly as they should. Opendoor's home purchases have soared but, unlike Zillow, it's still managing to sell those properties for more than it paid for them.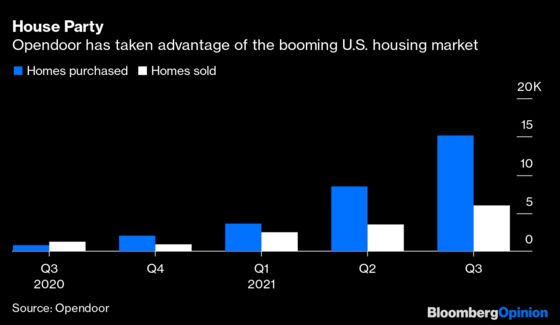 While Opendoor booked a $32 million housing inventory impairment this quarter, that's pretty modest compared to the $6.3 billion of real estate it owns. And it's a fraction of the roughly $570 million that Zillow will have to write down on its disastrous home-flipping experiment.
No wonder the shares surged 17% in Thursday's pre-market which, if sustained, would push Opendoor's market value towards $14 billion. Smaller iBuying rival Offerpad Solutions Inc. also reported decent results.
Yes, to a point. Opendoor is executing well, and customers seem to appreciate the low-hassle, digital service it provides. Sensibly it plans to slow home purchases this quarter to ensure it doesn't suffer Zillow-like labor issues. However, the San Francisco-based group still loses money once an assortment of other expenses are included. The real test will be how it copes if house prices one day decline for a sustained period.
Opendoor benefited a lot from rising home prices this year. By the time it came to selling an acquired property — typically after around 85 days — the house was worth much more than the company paid for it. Opendoor hasn't quantified the uplift to profit margins, though some analysts have tried and it's probably a lot.
This tailwind is now fading and Opendoor is guiding investors to expect a further moderation in its contribution margin — the money left over after accounting for selling and holding costs. The figure is expected to decline to somewhere around 5% in the fourth quarter , compared to 7.5% this past quarter and 10.8% in the April to June period. It's a reminder that iBuying is usually a low-margin business, which requires massive scale and therefore huge amounts of capital to make decent money.
One reason Zillow founder Rich Barton pulled the plug on iBuying was he feared what might happen if the algorithms malfunctioned when his company was buying tens of thousands of homes yearly, instead of just a few thousand.
When you include group-wide costs like technology development and marketing, Opendoor still loses heaps: This quarter's $57 million net loss would have been even bigger but for a roughly $50 million fair value adjustment on an equity investment. All-in, Opendoor lost close to half a billion dollars so far this year, chiefly due to massive stock-based compensation costs (which though non-cash, still dilute shareholders). It expects losses to continue "for the foreseeable future."
In fairness, iBuyers like Opendoor say they're not trying to make a lot money guessing the direction of the housing market. They're market-makers and chiefly look to make a return via the fees they levy on property purchases and by offering related services. "Our model really works in upmarkets, it's going to work in flat markets, it's going to work in downmarkets," chief financial officer Carrie Wheeler told analysts on Wednesday's call.
In theory, if Opendoor keeps expanding and charging customers for additional services like mortgages, it will be able to amortize its large cost base over much higher revenues, gaining what's called operating leverage. Indeed, if the company keeps executing well, shareholders probably won't worry too much about its bloated valuation: The shares are priced at around 10 times next year's estimated gross profit (a figure that better reflects the cost of purchasing the homes it sells).
Still, it can't afford any slip-ups: Zillow is exiting the market but memories of its epic failure will linger. 
at the mid-point of the range
This column does not necessarily reflect the opinion of the editorial board or Bloomberg LP and its owners.
Chris Bryant is a Bloomberg Opinion columnist covering industrial companies. He previously worked for the Financial Times.