OPEC+ Is Pushed To The Brink Again
(Bloomberg Opinion) -- It all seemed to be going so well and then, suddenly, it wasn't. The OPEC+ group of oil producers is facing an existential crisis, as key member the United Arab Emirates again demands a higher production target for itself and Saudi Arabia digs in its heels.
On Thursday, it appeared the bones of an output deal covering the rest of 2021 had come together. It just needed full ratification from the alliance's oil ministers, who have been working tirelessly to adjust the targets for months now.
Producers would add 2 million barrels a day to oil supplies between August and December at a rate of 400,000 barrels a day each month. That's less than the market wants, but ought to keep oil prices from spiking as economies reopen. Worried about the outlook for supply and demand next year, the group would also extend its output deal through the end of next year, rather than letting it expire as planned at the end of April.
The problem is, the mooted agreement seems to have been cobbled together by Saudi Arabia and Russia with little other input. That proved too much for the UAE, the OPEC+ group's fourth-biggest producer. The Persian Gulf country has chafed under an output target that it feels is unduly restrictive when compared to other members. It's time the alliance find a sustainable solution to the UAE's demands, because they clearly aren't going away. The future of the alliance depends on it.
The problem lies in the starting points adopted as a baseline for the cuts agreed in April 2020. They were (loosely) tied to 2018 production levels, with some exceptions — most notably for Russia, which got a baseline some 600,000 barrels a day above its maximum production level.
At that time, the UAE was in a phase of rapid expansion, with new projects raising its crude production capacity from around 3 million barrels a day to near 4 million barrels. As a result, it is now sitting on more idle capacity than any other member, measured in percentage terms.
This isn't the first time the UAE has balked at its contribution to the OPEC+ cuts. It raised exactly the same grievance late last year, even hinting it might reconsider its membership in the Organization of Petroleum Exporting Countries.
The UAE feels aggrieved that it is making deeper cuts than everyone else, a complaint it supports by comparing the country's output target with its production in April 2020, the month the deal was hammered out.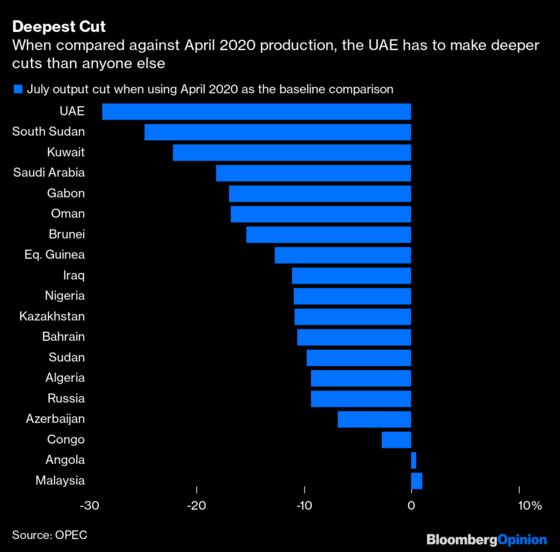 The UAE was placated last time around with a renewed drive to get countries that hadn't complied fully with their output promises to make deeper compensatory cuts. Although pledges were made, little has actually been delivered by the laggards and the biggest over-producer, Russia, hasn't even been asked to contribute.
By failing to deal with the underlying issue, it's arisen again. Finding a resolution won't be easy.
Under the new quota it's seeking, the UAE wants to be able to boost its output by almost 700,000 barrels a day.
It's hard to see Saudi Arabia agreeing to that. It was already reluctant to raise production targets for the rest of this year going into this week's meeting. Its price for agreeing to support that policy — championed by Russia — was to extend their cooperation through the whole of 2022. 
That's when it appears the UAE refused to support the extension without being granted a higher starting point for its own contribution. Saudi Arabia seems to be saying that it won't support output increases for the rest of 2021 without the extension. It's a catch-22.
Revising baselines isn't easy, but it has been done before. Iran secured a new quota for itself in 1998, but for most of the 1990s and until 2006 any changes to the OPEC output quotas were simply applied on a pro-rata basis to existing individual targets.
If neither Saudi Arabia nor the UAE budges, the current targets will stay in place until April next year — assuming the OPEC+ coalition itself survives. With oil demand forecast to rise strongly in the second half of 2021, that would send oil prices soaring, stoking inflation.
If the coalition falls apart, the entire deal could collapse — and most likely oil prices with it. Last time we were in that situation, Saudi Arabia boosted production to 11.6 million barrels a day, sending oil into a slump that eventually saw WTI crude trading at negative prices.
Of course, the UAE could always back down, accept its target and then just pump what it wants. That's the traditional OPEC way of doing things. But when it did that last summer its oil minister was hauled to Riyadh for a public dressing down. It wasn't pretty and has probably only served to stoke tensions.
Resolving this issue in a way that prevents it from resurfacing in another six months will require cool heads. In the 100-degree heat of the Persian Gulf summer, they may be hard to find.
This column does not necessarily reflect the opinion of the editorial board or Bloomberg LP and its owners.
Julian Lee is an oil strategist for Bloomberg. Previously he worked as a senior analyst at the Centre for Global Energy Studies.