Singapore's Travelers Face Omicron Chaos
(Bloomberg Opinion) -- On Wednesday, Singapore announced new travel restrictions to manage the spread of omicron. The latest move comes as the government's approach to pandemic management, once strict and orderly, has become increasingly inconsistent and chaotic.
Residents who have returned this month from travel abroad are describing situations where they have been forced from their homes, ordered to share quarantine facilities with complete strangers, told to hand their unsupervised children off to authorities, and urged to abandon their pets. Some now face hefty hospital bills because of problems with their insurance.
This treatment is a far cry from what travelers expected of the quarantine-free program for vaccinated passengers from countries including the U.S., U.K., France, South Korea and India, which had been announced with great fanfare this fall. The setback also will dent Singapore's status as a smoothly functioning financial center.
Here are some recent stories from quarantine, which can last almost three weeks:
A European national tested positive for Covid and began self-isolating at home. Two days later, he received a call that authorities suspected he had omicron and an ambulance would be coming to pick him up. He was still watching Netflix, bare-chested and in shorts, when a pair of medical workers arrived at his home in full protective gear, wearing gowns, face shields, masks and goggles. He barely had time to shove his devices, chargers and clothing into a bag, forgetting his toothbrush, before getting whisked into a van without air conditioning. When he arrived at the quarantine hotel, he was told that he would be sharing a room with a stranger from a different flight. He was never presented with an official test result.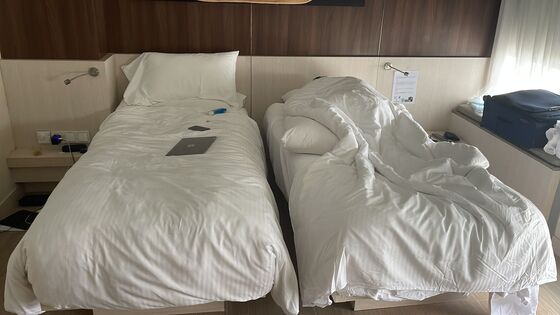 His wife said authorities have tried several times to take their child, who is under 10 and also tested positive, to a hospital alone or to an individual hotel room. She has refused to comply, acknowledging that her decision could mean fines or imprisonment. "The thought that you're in your home and you have to pack and leave? In this country? I don't have the right to refuse to be hospitalized," she said.
A British citizen tested positive after returning from the U.K. She received dozens of calls and WhatsApp messages from several different people at the Ministry of Health, each giving conflicting information about what her next steps should be. Some said she could isolate at home, while others said she would have to move into quarantine. When she eventually was picked up by an ambulance, authorities wouldn't tell her husband where they were taking her.
After arriving at the National Centre for Infectious Diseases, a hospital, she was shuttled into a room, where she sat alone for hours. She alerted the staff that she hadn't had dinner and was given three slices of white bread and butter. It wasn't until reading a local newspaper report the next day that she found out she had tested positive for omicron. Despite having bought travel insurance, she's now on the hook for thousands of dollars in hospital bills.
Her husband, who tested positive, was also taken to NCID and then transferred to a quarantine hotel. When they struggled to make arrangements for care of their two dogs and cat during their 10-day absence, authorities said the couple would have to "find a solution." 
A Singaporean who lives and works in the U.S. was returning home for the first time in four years. He tested negative upon arrival, and started going out to meet friends and family for meals. The next day, he got a call that he had been identified as a close contact of someone who had tested positive for omicron on his flight. He was picked up by an ambulance the following day.
This traveler says he's confused about what qualifies as "close," given that he had been sitting in business class, far from others on the plane. His last communication from Singapore Airlines Ltd. before boarding doesn't specify, leaving passengers guessing whether whole planes will be put into quarantine if one person tests positive, regardless of individual test results. Most of his trip will now be spent in quarantine. "I would not have come back if I knew this would happen," he said. Other travelers, he says, have returned to attend weddings and funerals, only to miss them entirely.
After introducing the latest travel curbs, the Ministry of Health said, "Our border measures will help buy us time to study and understand the omicron variant, and to strengthen our defenses, including enhancing our healthcare capacity and getting more people vaccinated and boosted."
The good news is that we are starting to learn more about omicron. Researchers suggest that, despite its high degree of infectiousness, this strain may be less severe than delta. But even when there was little information about the variant, we knew that one would arrive. You don't need to have all the facts to prepare for an emergency.
Strict rules are core to Singapore's style of governance: Most everyone who lives here or visits accepts that. The trouble is combining stringent regulations with haphazard communication and high stakes for noncompliance. "If I had been mentally prepared, I wouldn't have suffered half as much as I did," the Briton told me.
Some people I spoke with are now planning to leave Singapore for good. Expats will come and go. The problem for the government isn't a few disrupted Christmas holidays, but rebuilding trust in regional business travel, particularly among employment-pass holders who aren't guaranteed re-entry. Early in the pandemic, many expat families were split up for months because one parent had been traveling abroad when Singapore closed its borders. Who will get on a plane and chance that outcome today? What business will want to foot the bill for an employee's indeterminate hotel stay if borders shut suddenly? Singapore may be proudly risk averse, but it seems all too willing to gamble its carefully managed reputation away.

More From Other Writers at Bloomberg Opinion:
This column does not necessarily reflect the opinion of the editorial board or Bloomberg LP and its owners.
Rachel Rosenthal is an editor with Bloomberg Opinion. Previously, she was a markets reporter and editor at the Wall Street Journal in Hong Kong.