Oil Frackers Best Be Boring on Earnings Calls
(Bloomberg Opinion) -- Energy stocks have enjoyed a great start to 2021.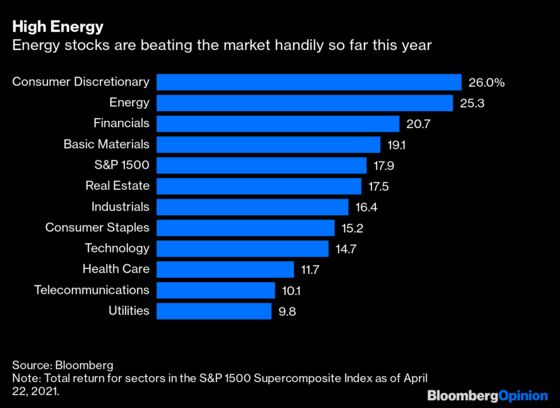 Granted, after a catastrophic 2020 — capping off a dismal decade — plaudits for a months-old rebound may seem a tad premature. Yet with earnings season about to kick off, the exploration and production sector has a decent chance of this run continuing — provided the companies don't talk themselves out of it on those earnings calls. 
Despite the rally so far, valuations do not look particularly stretched.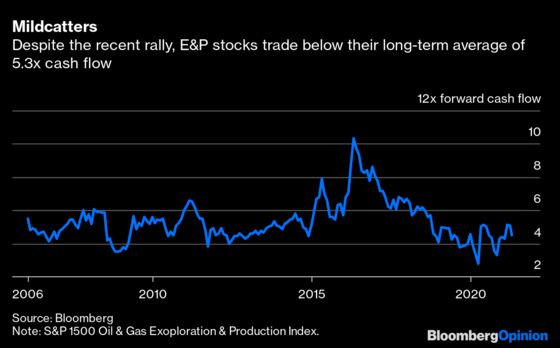 They look even more sedate when you compare them to the broader market after its curiously sprightly plague year: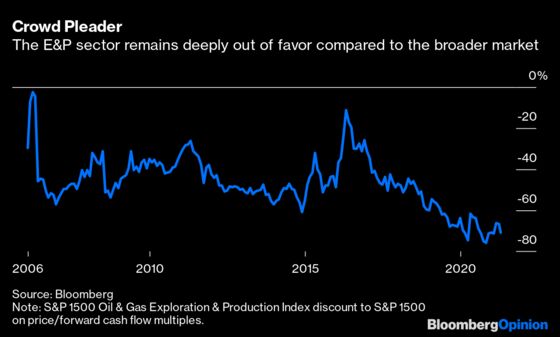 There are good reasons for the frackers' relative unpopularity, namely a history of burning cash and a future clouded by climate change. But there are signs of companies addressing the former, with drilling only making a cautious return as oil prices have recovered from Covid-19 (at least among listed E&P companies).
This week marks the one-year anniversary of Nymex oil futures closing in the red for the first time ever. The great thing about hitting rock bottom — or even drilling beneath rock bottom — is the eventual year-over-year comparisons: Oil's up roughly $100 a barrel since that day in April 2020. Consensus E&P earnings forecasts for 2021 have doubled since early January.
And while Covid-19 still stalks us — especially in critical markets such as India — the likelihood is that oil prices will strengthen further in the second half of the year provided OPEC+ hangs together.
First-quarter earnings themselves may be noisy, with February's Texas freeze likely impacting earnings and hedges inflicting losses on some as oil prices have rallied. More important than this, however, will be what the companies say.
For the rally to continue, either multiples need to expand or earnings expectations need to rise further. The former aren't stretched but also aren't deeply discounted. There is room for improvement with the latter, however. Forecasts are likely to be priced off the crude oil futures strip, about $59 a barrel. As oil demand likely strengthens through the summer, higher prices should feed through to earnings upgrades, lifting stocks.
What could work against that is any sign of companies taking strength in oil prices as a signal to spend more. This is a market that wants E&P capital preserved or paid out. The most recent attempt to bring some in, the IPO of Vine Energy Inc. in March, was not exactly met with open arms. Any sign of reverting to type is liable to feed through to a lower multiple.
At these levels, just a half-turn less on cash flow would wipe out the benefit of a 12% increase in cash flow forecasts, all else equal. So when executives start taking questions next week, they would be well advised to stick to a script heavy on discipline, deleveraging and dividends; not so much on drilling.
There was a good portent of that earlier this week in the form of Halliburton Co.'s earnings call. CEO Jeff Miller's comment that "there is a lot of discipline around production" in the U.S. wasn't helpful for his own company's stock, which fell almost 4% on the day. Halliburton, along with other oilfield services contractors, tends to do better when the frackers are in a froth. Its lack of pricing power is a sign E&P companies are staying cautious. Do that long enough, and not only will earnings rise — they might tempt back enough investors to juice those multiples too.
This column does not necessarily reflect the opinion of the editorial board or Bloomberg LP and its owners.
Liam Denning is a Bloomberg Opinion columnist covering energy, mining and commodities. He previously was editor of the Wall Street Journal's Heard on the Street column and wrote for the Financial Times' Lex column. He was also an investment banker.