Oatly Brings $10 Billion Vegan Milk to Market
(Bloomberg Opinion) -- Oatly Group AB is looking like the cat that got the non-dairy cream.
The Swedish oat-milk maker, which counts Oprah Winfrey and Jay-Z among its backers, priced its initial public offering on Wednesday at the top of its range at $17 per share. This gives the company a market value of about $10 billion, according to Bloomberg News. It's expected to go public in the U.S. on Thursday.
Even as consumer interest in plant-based diets is growing, the valuation looks as frothy as an oat-milk cappuccino.
Assuming that Oatly keeps up its recent rate of growth and doubles sales again this year, to bring in $843 million, its valuation would be broadly in line with Beyond Meat's 11.5 times, based on the Bloomberg consensus of analysts' expectations.
But as Bloomberg Intelligence's Jennifer Bartashus notes, Beyond Meat went public at a much less demanding 6 times forward sales in 2019. And the packaged food industry generally trades on about 1.7 times, adds Bartashus. The plant-based food industry is reaching well beyond this.
Oatly's financials are similar to Beyond Meat's: Both generated sales of about $400 million in 2020. Although Oatly is growing faster, it posted a bigger net loss.
Nevertheless, Oatly offers investors the only way to get into the fast-growing plant-based milks category without being encumbered by a non-vegan portfolio. Food giants Danone SA and Nestle have non-dairy offerings — and meat substitutes in the case of Nestle — but shareholders still mostly own a portfolio of conventional food products.
In Nestle's case, that's no bad thing: The group has outperformed thanks to canny mergers and acquisitions by Chief Executive Officer Mark Schneider. But Danone has struggled, and faces challenges in nearly all of its businesses, including its traditional dairy operation.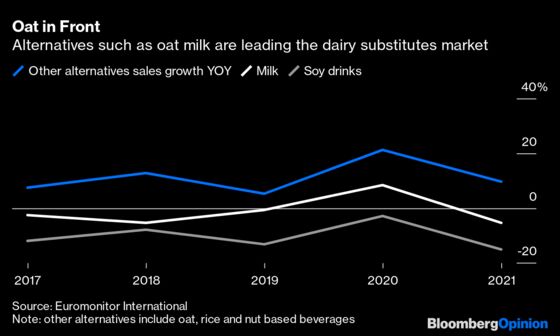 Oatly, meanwhile, is in tune with consumers' shifting tastes and has opportunities to expand geographically and in its product range.
There is scope to roll out its oat-based beverages, yogurts and ice creams in more U.S. stores and cafes, and also in China, where it has an e-commerce partnership with Alibaba Group Holding Ltd's Tmall and an exclusive branded tie-up with Starbucks Corp. Asia accounted for just 13% of 2020 sales, according to the company's prospectus. Even in Europe Oatly is only at an early stage of development in the big dairy-consuming markets of France, Spain and Italy.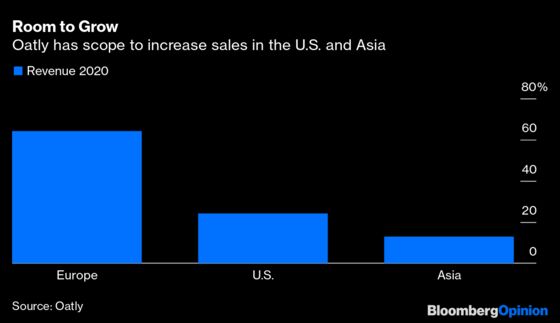 Plus there's room for Oatly to move beyond beverages and into other dairy alternatives. According to Euromonitor International, vegan cheese, cream and sour milk products could be the next big things.
But the plant-based aisle is becoming increasingly crowded. Nestle, the world's biggest food company, recently launched a pea-based milk alternative, called Wunda to compete with Oatly, and Danone already has its Alpro range. Other companies are also muscling in, such as Los Angeles-based Califia Farms and the U.K.'s Minor Figures. Supermarkets are stepping up their innovation in dairy substitutes too, with private labels accounting for almost 20% of sales, according to Bartashus.
Food fads within the vegan market are another danger. First, consumers seeking to ditch cow's milk switched to soya. Then they moved on to almond drinks. Now oat is the go-to category. The risk is that another beverage comes along and steals oat's crown.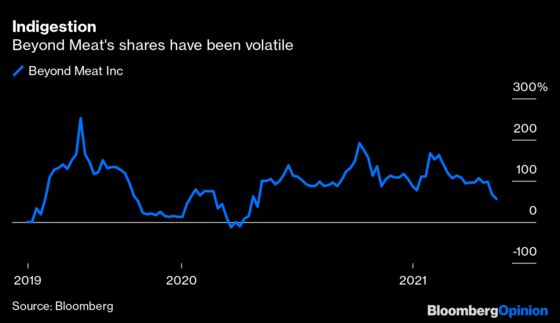 The top of the range pricing indicates optimism that investors will favor Oatly's rarity value over the potential challenges, as was the case with Beyond Meat. But the vegan burger maker's stock has been volatile this year as restaurant sales have been hurt by the pandemic. Oatly must show it is can overcome its potential pitfalls, and a choppy stock market, if it wants to avoid the same fate.
This column does not necessarily reflect the opinion of the editorial board or Bloomberg LP and its owners.
Andrea Felsted is a Bloomberg Opinion columnist covering the consumer and retail industries. She previously worked at the Financial Times.