New York's Full Reopening Goal Has a Subway Problem
(Bloomberg Opinion) -- New York City Mayor Bill de Blasio rocked the Big Apple on Thursday by declaring that he sees the city fully reopening on July 1. "This is going to be the summer of New York City," he said during an interview on MSNBC.
De Blasio certainly has reason for optimism when looking at vaccination trends. About 3.5 million of the city's more than 8 million residents have received at least one dose of a Covid-19 vaccine and almost 2.5 million are fully vaccinated, government data show. The mayor is aiming to have 5 million city dwellers fully vaccinated by the end of June, by which point city officials hope that most everything except for school buildings and shows at Broadway theaters can return in full force. New York Governor Andrew Cuomo, not to be outdone, said later on Thursday that he'd like the city to reopen even earlier than July.
But if the mayor and governor truly want New York to return to its pre-pandemic glory in a hurry, they are going to need to do something about the stubborn lack of riders on the city's subways.
The Metropolitan Transportation Authority, whose finances have been ravaged by the Covid-19 pandemic, compiles statistics on daily subway ridership. While the figures are improving on the margin, they remain grim. The 50-day moving average, which smooths out the sharp declines during weekends, reached 1.7 million as of April 27. The good news: That's the highest since the start of the health crisis. The bad news: That's less than one-third of the 5.5 million people who took the subway in early March 2020.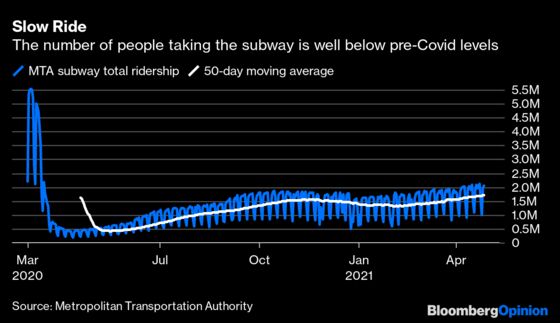 Perhaps most worrisome is that judging by vaccinations alone, now should be about the time that subway ridership increases. The city opened up vaccines to those 30 and over on March 30 and residents 16 and above on April 6, giving these age groups ample time to schedule their shots. As the city's own data show, more than half of adult New Yorkers now have at least one dose. That's a big deal: According to a study from the Centers for Disease Control and Prevention last month, even just the first shot of the Moderna Inc. or Pfizer Inc. vaccine was 80% effective in preventing coronavirus infections starting after two weeks.
If people understand this, a simple look at the calendar suggests they should be on the move and subway ridership should be up. The slow grind suggests at least two elements at play: Continuing concern about subway safety and the hesitance of large employers in Manhattan mandating a return to the office.
MTA officials are well aware of the need to fight crime and rehabilitate the subway's image as a safe, cost-effective way to get around at all hours of the day. Bloomberg News's Michelle Kaske reported last week that an MTA survey found 72% of active customers are very concerned with crime and harassment, which is a larger share than those worried about health safety. This suggests the issue isn't simply a chicken-and-egg problem (which comes first, the subway riders or the city's reopening?); it also involves deeper behavioral and psychological issues. Data show that both bike sales and car registrations rose in New York City over the past year.
"The next three to six months are critical in terms of getting ridership back and we've got to get this into a better place," Sarah Feinberg, interim president of MTA's New York City Transit, said at the agency's April board meeting. "If we can't get them back in the next couple of months, I believe it's going to be harder and take longer in the future." Pat Foye, the MTA's chief executive officer, said the agency added almost 1,000 cameras to the subway system last year, the most ever, and intends to install even more in 2021. And it's restarting a $51.5 billion capital plan that Foye says will bring the 117-year-old subway system into the 21st century.
As for the return-to-office call, de Blasio is getting a helping hand for his July 1 goal from none other than Jamie Dimon, JPMorgan Chase & Co.'s chief executive officer. The largest U.S. bank sent a memo to staff Tuesday that it "would fully expect that by early July, all U.S.-based employees will be in the office on a consistent rotational schedule." Citigroup Inc. has also said it will start inviting more workers into the office beginning in July, but it was JPMorgan's more forceful push that caused office landlords and New York business community advocates to cheer. "It was either going to be a big bang, or people easing in," Sandy Warner, JPMorgan's former chairman, told Bloomberg about the bank's return-to-office plans. "This is the big bang."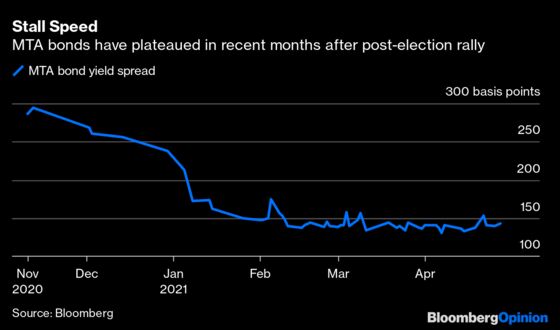 If the bond market is any guide, investors aren't entirely convinced additional subway cameras or JPMorgan's push will solve the MTA's problems. The agency's most-traded bond over the past month, which matures in 2049, has shown virtually no yield spread improvement since early February, when it rode a massive rally after Democrats swept both U.S. Senate runoff elections in Georgia, locking in a narrow majority and paving the way for billions of dollars of federal aid to flow to the MTA. That it hasn't continued to rally, even as municipal junk-bond funds have seen record inflows, is hardly a vote of confidence in the long-term trajectory of the agency, which itself forecasts that its 2024 headcount will still be just 86% of what it was before the pandemic. There wasn't enough trading on Thursday to suggest whether de Blasio's full reopening plan moved the needle.
For the sake of the agency's finances and for "the summer of New York City," more people need to start passing through the turnstiles and hopping aboard the subway trains like in the pre-Covid times. Until New Yorkers feel good about moving around like they used to, the City That Never Sleeps might remain in a drowsy state.
For this analysis, I narrowed it down to longer-term, fixed-rate MTA securities.
This column does not necessarily reflect the opinion of the editorial board or Bloomberg LP and its owners.
Brian Chappatta is a Bloomberg Opinion columnist covering debt markets. He previously covered bonds for Bloomberg News. He is also a CFA charterholder.