A German Bitcoin Sensation Takes a Very Bad Trip
(Bloomberg Opinion) -- In the wake of the collapse of Wirecard AG, Germany's financial regulators were criticized for failing to promptly police the fintech's financial shenanigans. A humbled BaFin isn't sitting on its hands anymore.
The regulator has filed a complaint with Frankfurt prosecutors about potentially misleading financial disclosures by another big German technology hope: Northern Data AG, which owns infrastructure for Bitcoin mining and other data-heavy applications. The company's shares tumbled more than 20% on Friday. It was unable to comment when I reached a representative on Monday. Not a promising sign for a business mulling a Nasdaq listing to increase investor transparency. "We reject the allegations made therein, in particular of market manipulation. We are confident that we will clarify the matter in full cooperation with the authorities," the company said in a statement on Tuesday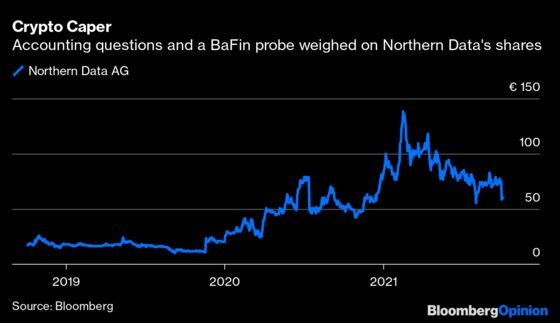 Valued at more than 2 billion euros ($2.3 billion) at its peak in February, and championed by billionaire tech investor Christian Angermayer (he of magic mushrooms fame), Northern Data had already come under pressure after failing to promptly file audited 2020 accounts. It still hasn't received a sign-off from auditor KPMG, but late last week gave investors a hint of what to expect.
Those preliminary numbers were ugly. And they came with an unsettling strategy pivot: In a video message, chief executive Aroosh Thillainathan explained the company will now mine Bitcoin and Ethereum itself, rather than just hosting those activities and earning a cut of the mining profits. These events are a reminder that, however exciting cryptocurrencies may seem, basic accounting and clear communication remain vital. 
In December, Northern Data had advised investors it would close the 2020 financial year with revenues of around 130 million euros and earnings before interest, taxation, depreciation and amortization of around 52.5 million euros (both at the midpoint of the specified range).
In fact, it will report revenues of just 16 million euros and an Ebitda loss of around 12 million euros for that year.
Its 2021 financial guidance also proved unreliable: instead of around 305 million euros of revenue (again at the mid-point range), it now expects around 200 million euros. The 2021 Ebitda is still expected to be around 112.5 million, as previously advised, though that's largely thanks to profits from recently acquired crypto activities.  
BaFin is concerned about a potentially misleading press release published in November 2019. This was around the time the company (then called Northern Bitcoin) merged with Whinstone US Inc., which was developing a Texas Bitcoin mining site. That facility was recently sold to U.S.-listed Riot Blockchain Inc. "The value and significance of the [2019] deal may have been overstated," the Financial Times reported. In its Tuesday statement, Northern Data said, "The recent sale of Whinstone has proven the high value of the acquisition."
The revenue shortfalls compared to guidance may relate to acquisition-bookkeeping rules and the first-time application of IFRS-15 accounting rules (the initial forecasts were made using German accounting and Northern Data had previously advised there would be "not insignificant deviations"). Still, investors hoping for a comprehensive unpacking of these confusing events were left disappointed. The company said it was unable to recognize revenue from two crypto mining customers, Bitfield NV and Decentric Europe BV, despite having struck "material agreements" with them at the end of last year.
The good news is Northern Data now holds more than 300 million euros of cash, thanks to the Texas asset sale (Northern Data received Riot shares, most of which it has sold already). That sum could increase as it expands its new mining activities.
Aiding that mission is precisely why Northern Data acquired Bitfield and Decentric Europe, paying a total of 765 million euros. The company financed those deals via a mixture of cash and its since devalued stock. Decentric was acquired from Block.one, the blockchain software business backed by Peter Thiel. Block.one is itself a Northern Data shareholder (it now owns about 18%). It didn't immediately respond to a request for comment.
Angermayer, who controls stakes in Northern Data and Block.one, doesn't seem bothered. "Northern Data's business is strong and I'm sure management will clarify the situation," he told Handelsblatt, adding he'd even consider increasing his holding, which is currently around 13%.
I doubt other Northern Data investors will be as quick to move on. Alphavalue analyst Zeineb Rourou said the long-delayed financial data did not meet "basic expectations in terms of depth, timeliness and comments" and "does not fulfil the confidence contract that innovative firms need to build with the market." Quite.
That stake is held via his blockchain investment holding Cryptology Asset Group Plc
This column does not necessarily reflect the opinion of the editorial board or Bloomberg LP and its owners.
Chris Bryant is a Bloomberg Opinion columnist covering industrial companies. He previously worked for the Financial Times.