Pandemic Fatigue Shows Up in Nintendo's Numbers
(Bloomberg Opinion) -- Nintendo Co. raised its forecasts for full-year sales, profit and unit-shipments after a record quarter for its Switch gaming console. The new figures, however, are a mere catchup to street estimates and warn of disappointment ahead.
More than 11.5 million units of Switch were sold and almost 78 million copies of game software shipped during the December quarter, according to my calculations based on data reported Monday. Both surpassed previous records set in the same period a year earlier, a time when Christmas shopping drives demand.

On the back of this, Nintendo raised net income guidance for the year ending March 31 by one-third, to 400 billion yen ($3.8 billion). That sounds nice, yet it barely meets the bullish mean estimate of analysts and in fact falls below the median of 412 billion yen — that is, the midpoint of all guesses. 
Further, the revised outlook points to shipments of as few as 2.4 million Switch devices and 25.3 million units of software this quarter. Both figures would be the lowest since June 2019.
As it's wont to do, Nintendo could very well be sandbagging the outlook in order to offer room for an upside surprise when it closes out the fiscal year. But even accounting for this wiggle room, we're still looking at a severe slowdown.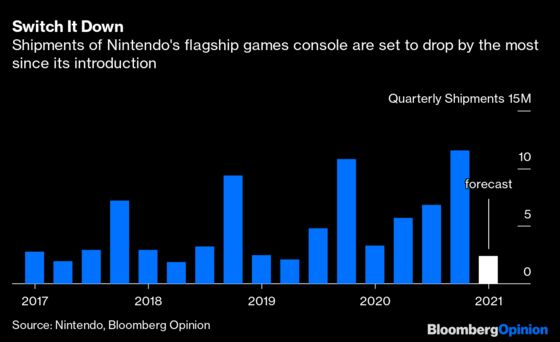 Switch sales remained strong, even after the holidays, Bloomberg News cited President Shuntaro Furukawa as saying after the earnings were released. Yet the Christmas quarter wasn't actually that robust. Sure, the company sold 7% more Switch units than a year prior, which isn't bad for a console released in 2017. But we're in the middle of a global pandemic, where families aren't going on vacation and are instead hunkered down at home spending a lot of time on games. Nintendo's star should be shining much brighter than this.
It's quite possible that Sony Corp. stole some thunder with the release late last year of its new PlayStation 5. But that machine was troubled by a shortage of components that forced the company to trim its own full-year outlook. Consumer spending may have been diverted to new smartphones, too, such as Apple Inc.'s iPhone 12.
There's also another very real possibility: The Covid-19 boom is fading. Restrictions on travel and recreation caused by the outbreak brought a surge in at-home work and entertainment that helped subscription-driven companies like Netflix Inc. and Zoom Video Communications Inc. But now those who were interested in single-purchase products such as a Switch may have already bought one.
It's time for investors to brace for the likelihood that pandemic fatigue has arrived. With the world heading into the second year of the coronavirus, most households have stocked up on what they need to get through it.  
This column does not necessarily reflect the opinion of the editorial board or Bloomberg LP and its owners.
Tim Culpan is a Bloomberg Opinion columnist covering technology. He previously covered technology for Bloomberg News.