Europe's Covid Debt Party Just Keeps Raging On
(Bloomberg Opinion) -- It's tricky following up a smashing success. But the European Union faced no such problems with its dual-tranche 15 billion-euro ($18 billion) five-year and 30-year bond sale Tuesday.
After a barnstorming opener in mid-June for the NextGenerationEU recovery fund, with a blowout sale of 20 billion euros of 10-year bonds, the scale of demand for the follow-up was just as stratospheric. This time, there was more than 130 billion euros of orders for the capped 15 billion-euro fundraising — a proportionally stronger outcome than the first sale. This is also particularly impressive for a 30-year maturity. The pricing overall was much closer to the existing curve of outstanding EU issues than the generous new issue premium indicated initially for the 10-year.
Although the yield on the EU five-year tranche is less than -0.3%, it is still more than 20 basis points higher than that of the comparable German government-issued debt. The 30-year tranche at over 0.7% is attractive for investors looking for longer duration with a pickup of 40 basis points over the German equivalent.
The issuance schedule for the EU's multi-year 800 billion-euro Covid recovery program is settling into a smooth groove, with strong demand remaining across the whole yield curve. It helps that the European Central Bank can buy up to half of each issue into its quantitative easing bond-buying programs, but investor interest is so great right now that the extra liquidity provided by a higher-yielding alternative to the German benchmark is widely appreciated.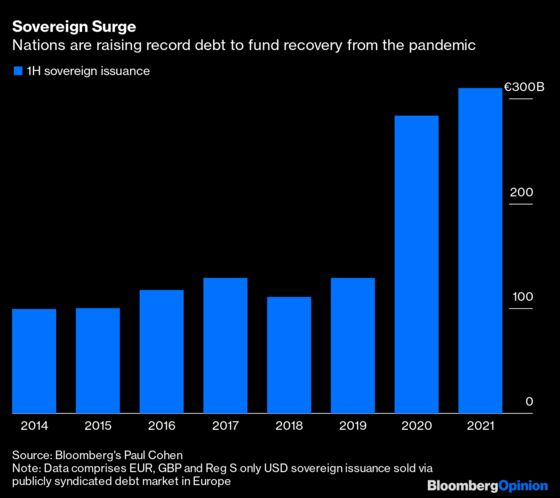 Investor interest is mightily important if the euro-area recovery is to pick up speed. There is lot of financing to raise, and not just for the EU as newly-issuing entity.
In the first half of this year, there's been 310 billion euros of sovereign debt raised by the syndicated method (where investment banks handle the investor demand rather than via a regular auction process) — about 10% more than last year and nearly treble the pace of 2019. Sovereigns compromise 30% of all debt sold in Europe this year.
Although this is not yet crowding out corporate issuers, such a whale does clear the agenda somewhat: Only four corporates braved the new issue market on Tuesday. Nonetheless, supply will reappear soon enough once the water has settled from the EU behemoth's splash.
It's good to see the European Commission has also put to rest its gripes with several investment banks over past breaches of pricing collusion. Having been excluded from the inaugural NextGen deal, Credit Agricole SA, Deutsche Bank AG, JPMorgan Chase & Co. and UniCredit SpA were all on the roster for this one.
With no time to waste in starting the EU's first collective fiscal stimulus push, it won't be a quiet summer for Europe's sovereigns. Investors are happy and willing to join in.  
This column does not necessarily reflect the opinion of the editorial board or Bloomberg LP and its owners.
Marcus Ashworth is a Bloomberg Opinion columnist covering European markets. He spent three decades in the banking industry, most recently as chief markets strategist at Haitong Securities in London.