Supply-Chain Issues Stretch Into Sweatpants and Sofas
(Bloomberg Opinion) -- Now supply-chain snarl-ups are coming for your lockdown staples.
Next Plc, the British store and online retailer, warned on Wednesday that input inflation was feeding into higher prices for clothing and home furnishings.
But Chief Executive Officer Simon Wolfson also pointed to light at the end of the tunnel for the supply-chain crisis. He's known for his insights into consumer trends and the economy, so retailers in Europe and the U.S. should take note. If he's right, then inflation won't hang around for too long.
Next upgraded its full-year pre-tax profit forecast to 800 million pounds ($1.1 billion). It said it was insulated from the worst of the escalation in freight rates, as it had purchased most of its shipping requirements in advance. But it did get hurt by higher costs on about 15% of shipments — these increases added about 2% to average current selling prices, with home furnishings seeing the biggest rise.
These pressures are poised to continue into the first half of 2022, the company says, with its costs increasing by 2.5%. This would mean clothing prices rising 1% and home furnishings 6%. The impact is biggest on items such as furniture because they are large and fewer units can be fitted into a container.
Next's inventory levels are currently down about 12% compared with two years ago, due to a stronger-than-expected rebound in consumer demand compounding the difficulties of getting products to warehouses.
But Wolfson provided the first crumbs of comfort that the current crisis is easing. He said supply chains were steadily improving, as shipping backlogs clear and factories return to more normal levels of operation. Prices for shipping journeys in the future were already beginning to fall, he noted. Consequently, cost inflation would "rumble on" through 2022, but at a more moderate level.
Meanwhile, Next expects stocks of clothing and home furnishings to return to more normal levels as it goes into December. That should relieve fears of a lost Christmas.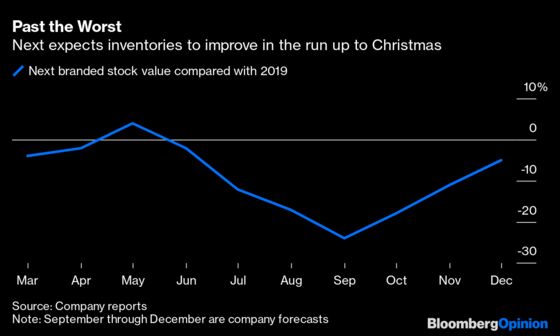 Many consumers who worked from home and amassed savings have so far been able to absorb higher prices. As they begin to use up those financial reserves, and face more expensive energy and food, some of that resilience might diminish. But because domestic labor shortages have driven up many workers' pay, the U.K. is far from the situation a decade ago when inflation outstripped wage growth and curbed people's ability to spend on things they needed.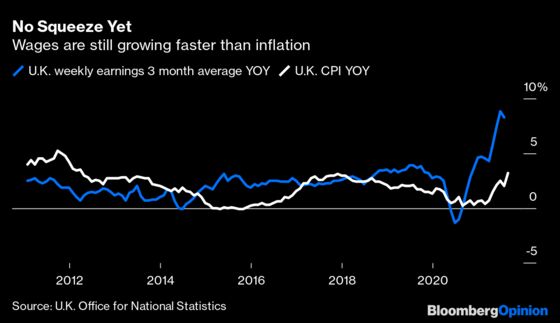 With the price of everything from cardigans to cucumbers set to rise as we go into 2022, however, any cost pressure is worth watching.
This column does not necessarily reflect the opinion of the editorial board or Bloomberg LP and its owners.
Andrea Felsted is a Bloomberg Opinion columnist covering the consumer and retail industries. She previously worked at the Financial Times.