Inflation Means We'll Be Buying Less of What We Want
(Bloomberg Opinion) -- Simon Wolfson has put the consumer sector on watch.
The chief executive officer of British retailer Next Plc has warned that price increases for essential goods, such as fuel, may moderate demand for more discretionary purchases. Think fashion, big-name food brands and that mid-week takeout.
Wolfson is worth listening to. Evidence is mounting that retailers and consumer goods companies are about to see their sales growth slow as inflation takes a bite out of their customers' spending power. The post-lockdown surge in shopping is coming to an end.
First, the demand picture: Next said that although full price sales in the past five weeks were better than expected, the growth in sales had slowed, as the effect of pent-up demand begins to diminish. It expects this to continue, though it left its forecast for full-year pre-tax profit at 800 million pounds ($1.1 billion). 
Then there's supply: Stock availability has improved, but it remains a headache, with shipping delays compounded by labor shortages in U.K. transport and warehousing networks.
But the biggest concern, as Wolfson flags, is inflation.
Fuel prices are rising, and the effect may have been exacerbated by the bulk-buying in September. Food prices are also increasing. As people spend more of their money on the things they need, they have less left over for the things they simply want, like a new pair of chunky Chelsea boots, a holiday or a meal out.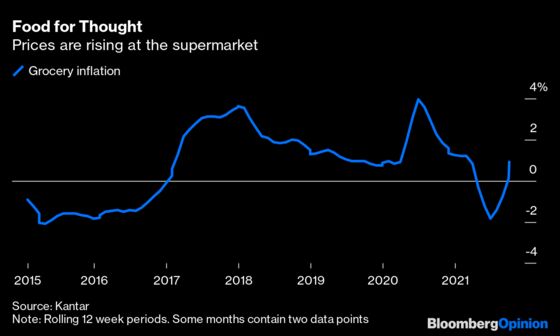 Households' finances are still in good shape. It is also likely that consumers in the U.K. and U.S. will go all out to celebrate Christmas, having largely missed out on the festivities last year. Meanwhile, given tight stock levels across the retail industry, bargains are likely to be scarce, meaning that people will end up spending more.
But 2022 could be particularly painful. The crunch point will come in the new year, which is always a tricky time for the consumer sector, when credit card bills land on door mats.
Not only will higher fuel and food prices begin to hit, but by then, we could see the first increase in interest rates since 2018. Although mortgage rates remain near historic lows, and about 80% of loans outstanding are on fixed terms, the rise in rates will inevitably bring some pain. There might be a psychological effect too, as consumers adjust to higher borrowing costs again.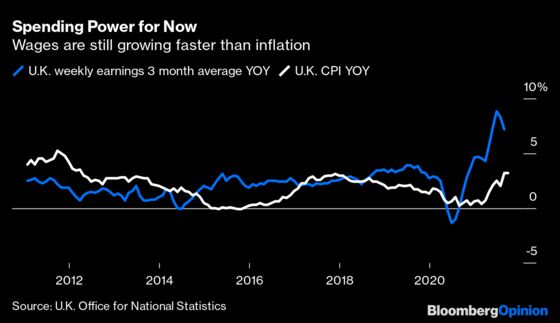 Although wage growth may help — pay is still expanding ahead of inflation for now — the overall picture looks like potentially weaker spending power. That's a worry for consumer goods groups trying to push through price increases, but also retailers such as Next and rival Marks and Spencer Group Plc.
Stores and brands catering to the very wealthy should be able to withstand the pressures, while the bargain end of the market may be boosted by people trading down. It's all those companies in the middle that should be preparing for discomfort ahead.
This column does not necessarily reflect the opinion of the editorial board or Bloomberg LP and its owners.
Andrea Felsted is a Bloomberg Opinion columnist covering the consumer and retail industries. She previously worked at the Financial Times.