New Zealand Abandons Covid Zero. Here Come Interest-Rate Hikes
(Bloomberg Opinion) -- Living with Covid-19 means embracing interest-rate increases. The more of the latter, the better.
That's the view from New Zealand, whose central bank proceeded Wednesday with a widely anticipated hike in its benchmark rate to 0.5%, the first nudge higher in seven years. The Reserve Bank made it clear the move is unlikely to be the last. Inflation is above the RBNZ's target and the local labor market is robust.
The climb in borrowing costs is important because officials were on the brink of moving in August, but blinked after a single coronavirus case led to a national lockdown. It seems ludicrous that one infection would lead to a major countrywide disruption. That was when New Zealand prided itself on having had no cases since early in the year, but with vaccination rates low, there was significant potential for trouble. The RBNZ worried about the optics of tightening. 
Now that New Zealand has abandoned its zero-tolerance strategy and the government says it accepts the virus isn't going anywhere, the central bank is free of the messaging challenges that constrained it two months ago. "Elimination was important because we didn't have vaccines,'' Prime Minister Jacinda Ardern said Monday. "Now we do, so we can begin to change the way we do things.'' 
While the central bank sets monetary policy independently, the political shift has helped the bank get off the dime. There will less chance of finger-pointing and perhaps fewer awkward questions next time RBNZ top brass testify before parliament. You can almost hear Governor Adrian Orr exhale in Wednesday's statement. "The current Covid-19-related restrictions have not materially changed the medium-term outlook for inflation and employment since the August statement. Capacity pressures remain evident in the economy, particularly in the labor market."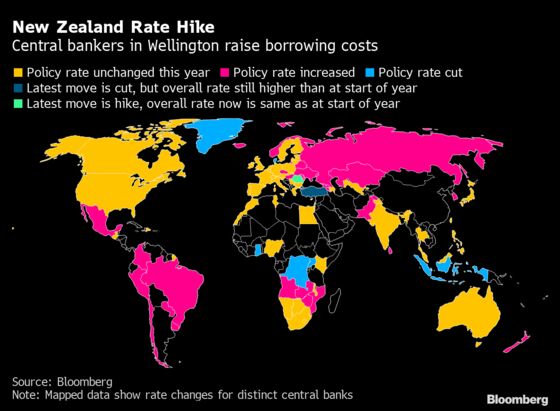 The increase puts New Zealand in the vanguard of countries that aren't waiting for the Federal Reserve — the most powerful central bank — to scale back stimulus. Rate hikes have already begun in advanced economies like Norway and South Korea. People in New Zealand will likely embrace membership of this club; the country's early adoption of an inflation target three decades ago is often worn as a badge of honor.
Is this a good thing? New Zealand has in the past moved aggressively early to crack down on price increases, only to overshoot and scramble to recalibrate. When the RBNZ began raising rates in 2014, it did so quickly and sounded comfortable being an outlier. The following year, officials had to backtrack. Rates came down rapidly when inflation didn't materialize as anticipated. It didn't take a rocket scientist to figure that out — the world's most consequential central banks were keeping rates rock bottom, worried that inflation was too low and might remain so.
There are some encouraging signs that New Zealand has learned the virtues of nimbleness. While the bank flagged further removal of stimulus, it said that would transpire "over time.'' Supply-chain disruptions will likely add to inflation pressures. The bank also acknowledged the hit to business from lockdowns. "There will be longer-term implications for economic activity both domestically and internationally from the pandemic," the bank said.
A broader note of caution for New Zealand. Declarations about the worthiness of living with Covid-19 don't mean a sure-fire return to pre-pandemic conditions. Singapore provides a sobering example. A high vaccination rate — in excess of 80% — did mean some loosening of curbs. It also meant a surge in cases that had authorities backtracking on some relaxations. Further steps to reopen have been put on ice. After a brief return to offices, work from home is again the default, vaccinated or not. New Zealand isn't close to Singapore's level of vaccination. 
That probably heralds a problem for the future. Wednesday is a day for celebrating in New Zealand. Interest rates are going up. Maybe normality is in sight, for a while.  
This column does not necessarily reflect the opinion of the editorial board or Bloomberg LP and its owners.
Daniel Moss is a Bloomberg Opinion columnist covering Asian economies. Previously he was executive editor of Bloomberg News for global economics, and has led teams in Asia, Europe and North America.