New York City Doesn't Work Without the Subway
(Bloomberg Opinion) -- The pedal-assist electric bikes available since early last year at Citi Bike stations around New York City have transformed my morning commute, now that I'm heading into the office again most mornings. I biked to work occasionally before their arrival, but generally avoided doing so if the temperature was much above 60 degrees (about 16 degrees Celsius) because that meant getting to the office soaked in sweat. Now I can make the trip even on sweltering mornings as I conquer the hills of Central Park with only modest exertion. E-bikes effectively transform New Amsterdam's topography into Amsterdam's, and you know how popular bikes are in Amsterdam. What's more, any bike allows one to travel through the crowded city without sharing an enclosed space with others, which has its attractions in a pandemic or post-pandemic or whatever it is we're living through right now.
Still, there are limits to this mobility revolution. If I want to be confident of finding one of these e-bikes anywhere near my apartment on a weekday morning, I have to be out the door before 7:15. To be sure of getting one to ride home, I'd need to leave work not long after 4. Getting an e-bike isn't such a priority for the evening commute, since I'm generally OK with arriving home soaked in sweat, but wait long enough and there aren't Citi Bikes of any sort left in Midtown Manhattan. Here's the view from the app at 6:30 one evening last month. I took the subway.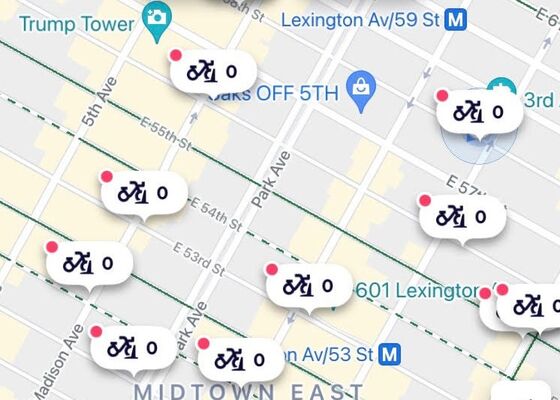 This is a weakness of bike sharing. If most people use it for errand-running and excursions to dispersed destinations throughout the day, it works great. If most use it to commute from a residential neighborhood to an office-filled business district and back, its capacity is quite limited. The five Citi Bike stations within a third of a mile (half a kilometer) of my apartment can hold a maximum of 169 bikes. In 2019, an average of 26,603 people boarded trains each weekday at the two subway stations within that distance.
I could, of course, just buy my own e-bike, and probably will one of these days. But there are hassles to that not present with shared bikes or public transportation (parking, the risk of theft, having to get home the same way you came to work even if it's wet or late or otherwise inconvenient). More important, the above numbers are a useful reminder of how incomparably essential those underground trains abandoned by many New Yorkers last year are to keeping the city running. 
Just 8,657 people boarded trains at the two subway stations in my neighborhood on an average weekday in 2020, a 67% decline from 2019. Citywide, subway ridership fell 62% for the year. Even now, weekday ridership is down more than 55% from the pre-pandemic norm, although the decline is closer to 40% on weekends and was just 35% on the July 5 holiday. Driving, meanwhile, has returned almost to pre-pandemic levels.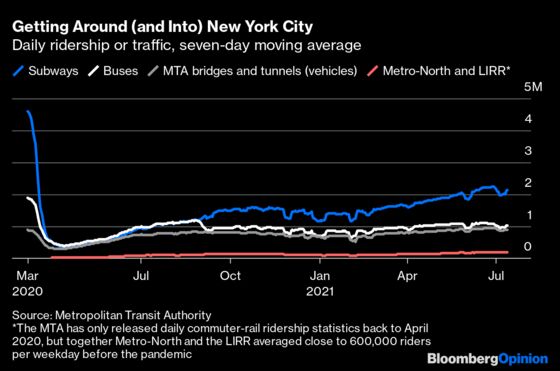 The above statistics come from the Metropolitan Transportation Authority, which manages a lot of the city's transportation infrastructure — subways, buses, the Metro-North and Long Island Railroad commuter-rail systems, seven toll bridges and two tunnels — but not all of it. The Port Authority of New York and New Jersey is in charge of another four toll bridges and two tunnels that appear to carry about three-quarters as much traffic as the MTA's bridges and tunnels do, as well as the two-state PATH rapid transit system, which carries about 5% as many weekday riders as the subway. New Jersey Transit manages a commuter rail system about half the size of Metro-North and the LIRR combined, as well as 71 bus lines into New York. There are also, if I'm counting correctly, 12 non-toll automotive crossings into Manhattan (most small bridges over the Harlem River), the Roosevelt Island Tram, a few helicopter shuttles and of course taxis, ride-hailing services, motorcycles, scooters, bikes and plain old walking.
Assembling timely and entirely consistent data combining all these different means of getting into and around New York City seems to be impossible, but the Census Bureau does ask people in its annual American Community Survey how they get to work, and the New York City Department of Planning used the 2017 answers to compile this summing-up of how people got to jobs in Manhattan.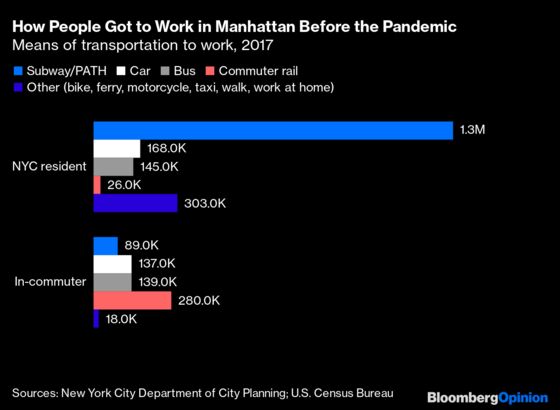 The subways, and trains in general, predominate. Private cars were the No. 2 means of getting to work in Manhattan for New Yorkers, with an estimated 168,000 city residents commuting that way, and another 137,000 commuted into Manhattan from outside the city by car. But that's probably about as high as those numbers can possibly go. Midtown Manhattan streets are a gridlocked mess again this summer even with New York area office occupancy at only 21.9% of the pre-pandemic normal (as of June 30).
Buses are an underutilized resource in New York, mainly because they're so slow, with little done to clear a path for them. When the pandemic emptied the streets of cars and the MTA waived bus fares last spring and summer, buses actually carried more riders than the subway. That ended after fares were reimposed last August, and increased car traffic has now slowed the average bus speed to just 6.3 miles an hour in Manhattan. Biking is usually faster than that, and the city Department of Transportion estimated based on 2016 through 2018 Census data that an average of 50,900 New Yorkers a day commuted by bike (in all boroughs, so this isn't directly comparable with the Manhattan numbers above), up 117% from a decade earlier.
New busways could make buses faster and more attractive to riders, and it's clear that the city's efforts to make biking easier and safer — however fitful and often controversial — were bearing fruit even before a pandemic and electric Citi Bikes gave them another boost. Still, these efforts are best seen as a complement to the subway rather than a replacement. To haul out another Citi Bike comparison, the bike share program recently boasted a record 3.2 million rides in June. The subway counted 65.6 million.
Again, that's less than half of normal June subway ridership before the pandemic. Travel on these less-crowded trains, I can report, is more pleasant and subject to fewer delays than what New Yorkers had become accustomed to in recent years. Once you're on the train, at least: A wave of pandemic retirements and a hiring freeze have left the system short on operators and conductors, the New York Times reported this week, leading to the cancellation of almost 5% of scheduled trains in June and long waits for passengers of some lower-frequency lines.
The hiring freeze was lifted in February after Congress approved $14.5 billion in aid for the MTA, and that money should be enough to keep the subway running at something close to normal into 2023. But the MTA usually relies on fare revenue to cover 70% of the subway's operating costs, so if ridership doesn't fully recover — due to fears of disease or crime, or because a new approach to office work reduces commuting days — the system risks a downward spiral of service cutbacks, fare hikes and renewed drops in ridership.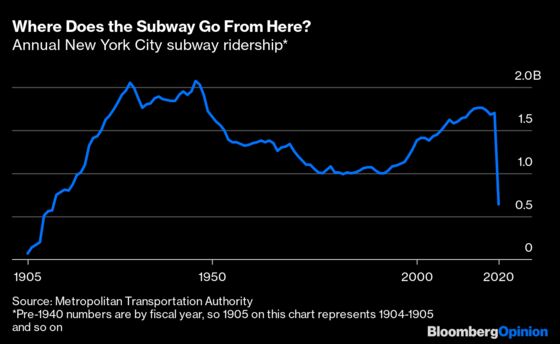 The last period of sharp subway ridership declines, from 1948 to 1958, presaged a difficult era of falling population, rising crime and both jobs and workers moving to the suburbs. The 2020 collapse had very different causes, and the many attempts to equate New York City's struggles over the past 16 months with those of that era seem to mostly miss the mark. But a lasting shift to more work-from-home days would be a huge challenge for New York's subway-dominated transportation system.
There's a best-case scenario in which (1) transit ridership fully recovers but isn't as concentrated around rush hour, (2) a planned congestion charge on drivers (which was delayed by the Trump administration but is now back on track) brings in new revenue and leaves the streets clearer for buses and bikes and (3) commuter rail systems that have seen even sharper ridership drops than the subway are reinvented as higher-frequency services that aren't just for commuters. There isn't, however, a realistic scenario in which New York City comes fully back to life while the subway founders. There won't ever be enough Citi Bikes to make that work.
This column does not necessarily reflect the opinion of the editorial board or Bloomberg LP and its owners.
Justin Fox is a Bloomberg Opinion columnist covering business. He was the editorial director of Harvard Business Review and wrote for Time, Fortune and American Banker. He is the author of "The Myth of the Rational Market."