New York's Vaccine Mandate Should Be the Norm
(Bloomberg Opinion) -- New York City on Tuesday became the first large U.S. locality to announce a broad vaccine mandate. As of Aug. 16, it will start phasing in a program requiring proof of inoculation for workers and patrons at restaurants, gyms and entertainment venues, with enforcement beginning on Sept. 23, Mayor Bill de Blasio said. Whether it's called a vaccine passport or a "Key to NYC Pass," it's the right move and a better idea than the mask mandates other cities have imposed. It should serve as a model for other regions.
The rapid spread of the delta variant means high vaccination rates are more important than ever — especially with the vast majority of severe illnesses and deaths occurring among the unvaccinated. Delta is so transmissible that experts think that 80% or more of the population may need to be vaccinated or have built up protection as a result of prior infection to reach herd immunity; previous estimates were closer to 70%. About 55% of New Yorkers are fully vaccinated, but as with the country as a whole, parts of the city are much lower. 
Asking, educating and incentivizing people doesn't appear to be enough. Relatively few employers require vaccination, and when they do, it's sometimes only for some staff. So it's likely going to be up to governments to do the heavy lifting. Already, President Joe Biden has announced a requirement that federal workers get vaccinated against Covid-19 or be tested frequently and face other restrictions. New York's mandate takes things a step further and in the direction they should go.
Polling by the Kaiser Family Foundation suggests that consumer-facing vaccine requirements could work well. Nearly 40% of young adults surveyed said they'd be more likely to get a vaccine if one were required for attendance at large events. New York's requirement is much more expansive and could be more effective. And New York State's digital Excelsior Pass, which provides proof of vaccination based on state records instead of a card from the Centers for Disease Control and Prevention, should cut down on fraud.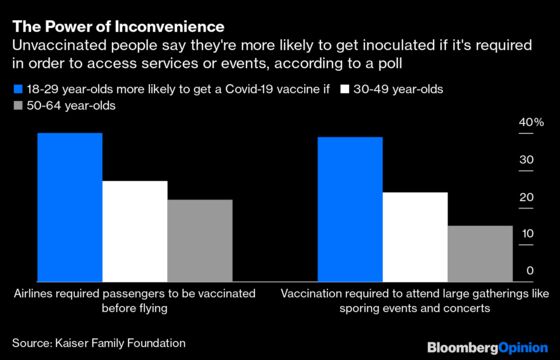 Requirements will work best on younger people, according to the data. Fortunately, that's the group for which vaccination tends to lag the most. There's real-world evidence as well. In France, which has a high rate of vaccine skepticism, stepped-up requirements to eat, shop and travel led to a surge in vaccinations. Likewise, Israel rode strict vaccine passport requirements to one of the highest vaccination rates in the world.
Other areas such as Los Angeles have opted to require masks. While masks certainly would limit the spread of the virus and should be considered in areas of high contagion, increasing the inoculation rate is the bigger priority. Unvaccinated people are less likely to wear face coverings, and a mask mandate doesn't do enough to deter in-home transmission or solve the restaurant problem: People need to take off their masks off to eat and drink. A vaccine drastically reduces the chances of bad outcomes in every setting, and the protection will last beyond the point where people are likely to put up with wearing masks.
There is an economic risk to New York's policy, which could see more people stay home within the city or avoid trips to the city. But the potential impact pales in comparison to the economic pall of persistent Covid surges.
The key to a sustained recovery is confidence and safety. It won't be possible to sustain either without many more vaccinations.
This column does not necessarily reflect the opinion of the editorial board or Bloomberg LP and its owners.
Max Nisen is a Bloomberg Opinion columnist covering biotech, pharma and health care. He previously wrote about management and corporate strategy for Quartz and Business Insider.