New York's Crime Wave Is Showing Signs of Breaking
(Bloomberg Opinion) -- Sometime in the next couple of weeks, if current trends continue, the number of murders in New York City in 2021 will fall below the year-to-date totals from 2020.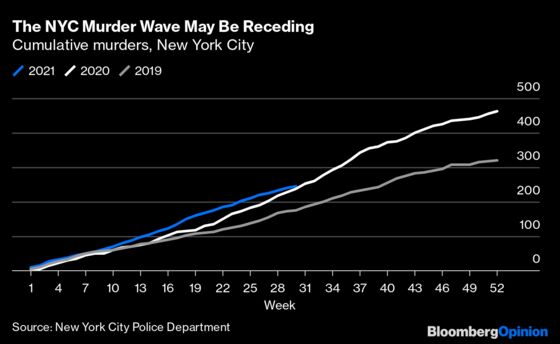 The numbers in the latest weekly crime report from the City of New York Police Department, aka NYPD, aren't exactly shout-from-the-rooftops good news. Murders in the city are still running 37.6% above the 2019 pace. The number of shooting victims, up a stunning 102.6% over two years ago, will probably fall below 2020's tally at some point, but it's not on track to undershoot by much. (If you calculate from the charts you'll get slightly different percentages because the cumulative weekly data in the charts includes a few days from the previous year.)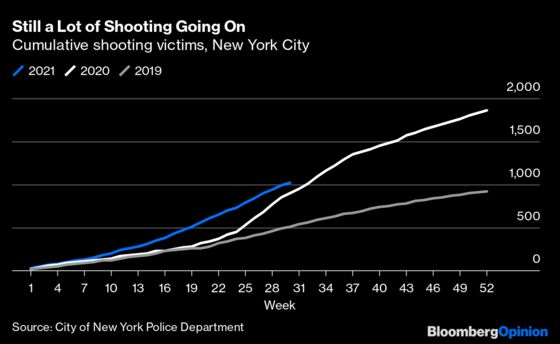 Also, not every place in the U.S. is seeing exactly what New York is seeing. Of the 74 U.S. cities for which crime-data analysts Jeff Asher and Ben Horowitz have been tracking murders on their new AH Datalytics dashboard, 52 have seen bigger percentage increases so far in 2021 than New York and only 17 have seen declines, with the overall year-to-date murder increase currently about 15%. As in New York, year-over-year gains are shrinking in some cities as the comparison period shifts to when murders really took off last summer, but Asher says it's not clear yet if "it's happening just in a few places or if it's happening everywhere."
Having fewer murders and shootings in New York this year than last would certainly be better than having more of them. It ought to ease fears that the city is about to relive the 1970s, for one thing. The number of murders so far this year is the highest to date since 2012, and the number of shooting victims the highest since 2000, but they're still just a quarter and a third, respectively, of their early-1990s peak and the city has added a million residents since then, meaning the per-capita comparison looks even better.
Elsewhere the historical comparisons are less reassuring. The 434 murders in Chicago through July 27, for example, amount to a 1% decline from the same point last year. Yay! But they're up 51% from 2019, there have been almost twice as many as in New York, which has nearly three times the population, and the 2020 total of 770 was only 21% below the all-time record of 970 set in 1974, when the city had almost 20% more residents. Not so yay.
Nationwide, if the Federal Bureau of Investigation's preliminary estimate of a 25% murder increase in 2020 and Asher and Horowitz's current estimate of a 15% rise in 2021 hold up, the murder rate will be the highest since 1996 and about 30% short of the peaks seen in the 1970s through 1990s.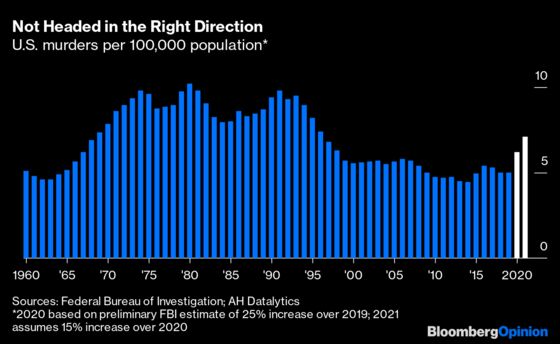 It's worth noting that crimes that don't involve people shooting one another generally haven't been rising like this. In the first six months of 2020, every major category of crime except murder, aggravated assault and motor vehicle theft was down nationwide over 2019, the FBI reported last fall. At the end of last year, the NYPD was even incongruously able to celebrate the lowest level of overall crime in the city since it started keeping track in its current fashion in the early 1990s. The city's crime totals so far this year are almost identical to 2019's, although motor vehicle thefts continue to rise — perhaps not surprising given the 26% increase in used car and truck prices since January.
Such simple, incentives-driven explanations are harder to find for the rise in shootings and murders, which is one reason why it's difficult to know whether it will retrace itself soon or not. The four main categories of explanation seem to be:
Pandemics can be really stressful!
The murder of George Floyd by a Minneapolis police officer and the wave of protests that followed ended up making the police a lot less effective.
The sharp rise in gun sales during the pandemic created more opportunities for people to shoot one another.
New sentencing and bail laws, the election of progressive district attorneys and pandemic-induced inmate releases put more criminals on the streets.
Ever since losing my temper last summer at a guy who lined up in the wrong place at my local farmer's market, then wondering what on earth had happened to me, I've been inclined to believe that the stress of the pandemic and the social and economic dislocation that accompanied it explain most of the jump in violence. But Londoners must have had about as stressful a 2020 as New Yorkers did and homicides there fell 16%, so the stress can't explain everything. As more crime data pours in, we should start getting a better idea of what can.
This column does not necessarily reflect the opinion of the editorial board or Bloomberg LP and its owners.
Justin Fox is a Bloomberg Opinion columnist covering business. He was the editorial director of Harvard Business Review and wrote for Time, Fortune and American Banker. He is the author of "The Myth of the Rational Market."