Is New York Back? Crime and Jobs Data Point to a Long Recovery
(Bloomberg Opinion) -- One could get the impression from reading headlines these days that New York City is back. Landlords are jacking up apartment rents by as much as 70% from pandemic lows. Google just said it would buy a downtown Manhattan building for $2.1 billion, the biggest office transaction in the U.S. since Covid-19 hit. Subway ridership is reaching new pandemic-era highs. And so on.
Indeed, the city has come far from the awful days of spring 2020. By a few metrics — apartment rents, mainly — it really is back to where it was before the pandemic. By most others, though, it still falls miles short of a full recovery.
I write this, I might as well admit, partly in response to my San-Francisco-based Bloomberg Opinion colleague Noah Smith's claim last week that New York "is emerging as one of the world's most resilient big cities in the wake of the pandemic." Sure, it looks pretty lively in comparison with San Francisco, where hardly anybody has gone back to the office and tourist zones like the area around Union Square remain deserted (or at least were when I was there a few weeks ago). It also isn't spiraling ever downward in a repeat of the terrible 1970s, as some feared last summer. There are even tantalizing hints that it may come back as something better than it was — at least that's what I told myself while biking home at dusk on Sunday after dropping off a U-Haul truck in East Harlem (long story) and encountering scene after lovely scene of New Yorkers dining outdoors, playing and socializing on closed-off streets, and getting around on two-wheeled vehicles of many varieties.
New York City is going to have trouble making much more headway, though, without a far bigger jobs recovery than it has seen so far. Payroll employment in the city fell 19.5% in the first three months of the pandemic and is still down almost 11% from February 2020 on a seasonally adjusted basis. Nationwide the decline is now just 3.5%, and a not-seasonally-adjusted long view (seasonally adjusted numbers are only available back to 1990) shows how massive the recent hit to New York has been from a historical perspective.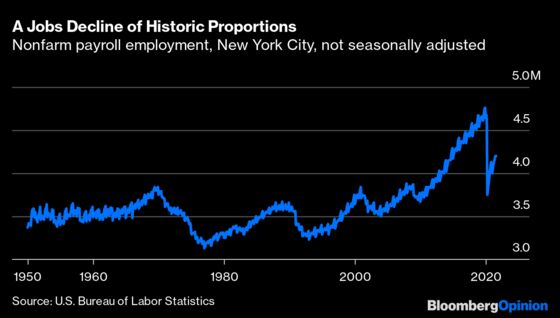 New York is the only city for which the Bureau of Labor Statistics releases timely monthly payroll data. It instead provides the numbers by metropolitan area, and among the country's largest metros Greater New York has been the hardest-hit, with the city seeing bigger job losses than its suburbs.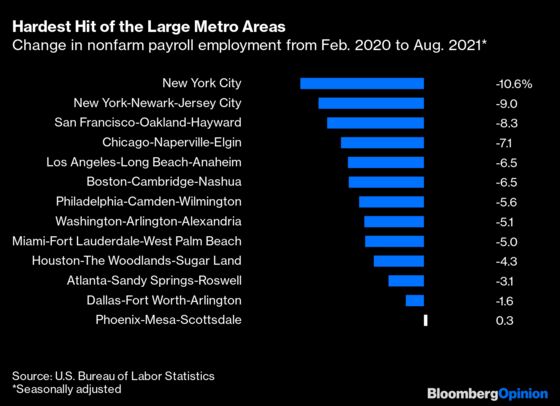 The BLS's Quarterly Census of Employment and Wages offers less-timely, not-seasonally-adjusted jobs data by county, which because San Francisco occupies an entire county and New York City occupies five, allows for comparisons of the two. As of February these showed a 14.1% employment decline for San Francisco versus a 13.3% decline for New York City. But for Manhattan the decline was 16.4%.
Google's community mobility statistics offer another way to compare how much people are getting out and about around in the world. At present, visits to retail and recreational establishments in Manhattan (a city-wide estimate for New York is not available) are still down more than 36% from the pre-pandemic norm, a significantly bigger decline than in Hong Kong, Berlin, Mexico City or Amsterdam.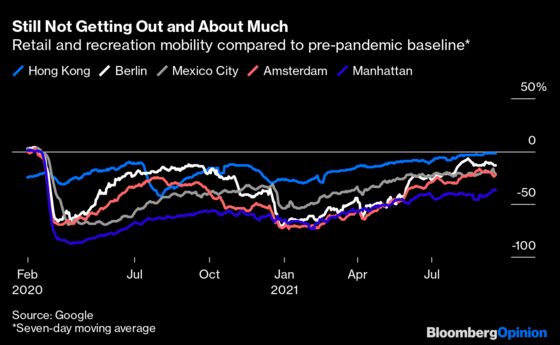 OpenTable's statistics on seated diners at the restaurants using its reservation service, meanwhile, show New York about even with San Francisco near the bottom of the pack.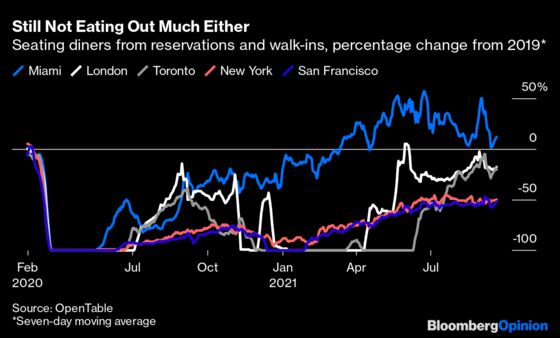 On a similar note, Bloomberg's Pret Index of transaction volumes at Pret a Manger Ltd. sandwich stores in major world financial centers shows New York lagging well behind London, Hong Kong and Paris. The picture is even worse for the city's lodging industry, with a recent report from the American Hotel & Lodging Association and Kalibri Labs projecting an 88.4%, decline in business travel revenue for New York in 2021 relative to 2019. Only Boston and San Francisco are expected to see bigger percentage declines. In the weekly office occupancy statistics maintained by Kastle Systems, New York was ahead of only San Francisco and San Jose with office security-card swipes at 28.1% of the pre-pandemic norm in the week of September 15.
Apartment rents are of course another matter, with Apartment List's estimate of the median rents paid by recent movers showing New York's surpassing pre-pandemic levels for the first time in August. That's in contrast to San Francisco and Washington, where rents still haven't fully recovered. On the other hand, rents in the Florida coastal city of Boca Raton have gone from 11% lower than New York's to 7% higher over the course of the pandemic.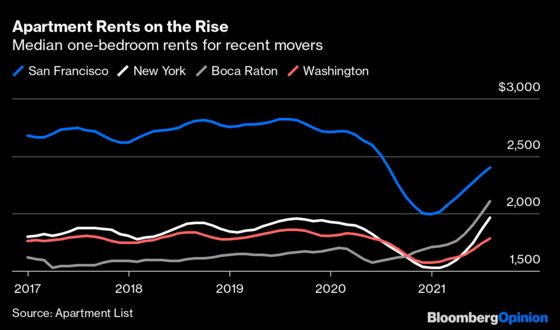 If that New York median rent seems low to you, remember that it's a big city with five boroughs, and there are different ways to measure rents. RentCafe's estimate of the average rent for apartments of all sizes in Manhattan is $4,072, still down slightly from the pre-pandemic figure. Zumper's asking-price data, meanwhile, shows the median one-bedroom rent in New York hitting $2,810 in August, pushing it past San Francisco as the country's most expensive market.
These rising rents are a sign that confidence in the city's future is returning, but they're also somewhat tragic, given that most New Yorkers can't afford $2,810 one-bedroom apartments. Unlike San Francisco and its suburbs (and even more, the San Jose-Sunnyvale-Santa Clara metro area just to its south), New York is not especially affluent. The city's median household income has been barely higher than the nation's in recent years, and probably dropped below it in 2020. There were indications that high real estate prices were  driving people away from the city before the pandemic hit, and while New York's surprisingly high population count in the 2020 Census was taken by some as evidence that earlier Census estimates showing a population decline starting in 2016 were wrong, I think that's a misreading: the population decline may well have been real, just starting from a higher base than thought.
The spasm of violent crime that began last summer is another problem. It's worse in other places than in New York, where murders are now trending downward and shootings have stopped rising relative to last year, but the city remains more dangerous than it was before the pandemic. It's also gotten a lot dirtier because of Sanitation Department cutbacks and worker shortages — which again are not unique to New York but are an especially big challenge here. Finally, while tax collections have come in a lot stronger than forecast last year and early this year, they're still running billions short of what the city will need to pay its bills when federal pandemic aid runs out.
The 20th anniversary of the Sept. 11, 2001 terrorist attacks provided an opportunity to marvel at New York's past resilience. In the immediate aftermath of 9/11 the city seemed permanently damaged. Some speculated that big cities and tall office buildings would go out of fashion. Instead, the country's biggest city came roaring back.
Will it do so again? Yeah, I think so. But Covid-19 has killed many more New Yorkers and caused far more economic damage than 9/11 did, and the remote-work revolution it spawned has already been more wide-reaching and durable than post-9/11 tall-building-phobia ever was. It's going to be a long, hard road to recovery for New York, and acting like we're already there seems like a big mistake.
This column does not necessarily reflect the opinion of the editorial board or Bloomberg LP and its owners.
Justin Fox is a Bloomberg Opinion columnist covering business. He was the editorial director of Harvard Business Review and wrote for Time, Fortune and American Banker. He is the author of "The Myth of the Rational Market."