New Jersey's Boom Is All About Government Stimulus
(Bloomberg Opinion) -- Among the many ripples that came out of the 2008 financial crisis, one was the financial damage to older, slower-growing, heavily-indebted states like Illinois and New Jersey. Investments in infrastructure and public employees had to be put on hold as the governments spent years grappling with budget deficits and high levels of debt. Now, thanks to the surge in tax revenues being delivered by the current economic rebound, these states have an opportunity they haven't had in 15 years: the ability to invest rather than figuring out how to cut the budget.
It's a reminder of how federal dollars and a robust recovery can have a dramatic impact on what were previously perceived as structural problems.
Illinois and New Jersey have the lowest credit ratings of all the states, hovering not far from junk status. They've had multiple downgrades from the major ratings agencies since the 2008 recession driven by ever-growing long-term liabilities like pension obligations, aging populations, slow population growth, and a rising tax burden that has led to the loss of businesses and residents who move to states with lower costs of living. There have been no easy solutions to this predicament, which is why the problems have persisted and grown worse for more than a decade.
But the past 18 months has shown there was an easy solution, however improbable its origin (and with uncertainty about how long it will last): explosive economic growth that leads to a surge in tax revenues. The recovery in tax revenues has actually been faster than the recovery in economic activity has been; since the fourth quarter of 2019, the nominal level of gross domestic product has increased by 6.9% while the level of state and local government tax receipts has risen 12.0%.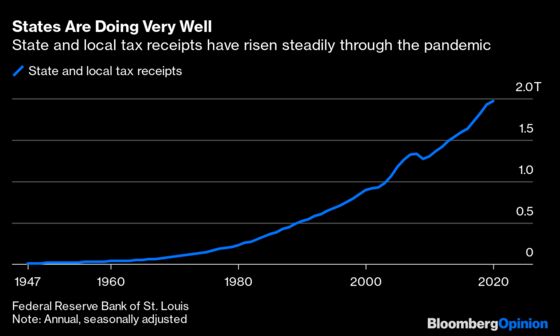 That's given some states more money than they know what to do with, but in Illinois and New Jersey it means they're no longer in a downward financial spiral, at least for now. New Jersey's tax revenues are surging, with receipts in the fiscal year-to-date 25% above last year's levels. Illinois had its credit rating upgraded by Moody's this year for the first time in two decades.  The state's bonds have gained 4.1% this year and New Jersey's have returned 3%, both vastly outpacing the 1.4% rise in the broad municipal-bond index, according to Bloomberg data. That's translated into lower borrowing costs going forward for the two states.
The increase in tax revenues, even while employment remains below its peak, illustrates just how unusual this pandemic economy has been. Of the tens of millions of jobs that were initially lost, a disproportionate number of them were lower-paid workers in industries like retail and hospitality who didn't pay a lot of income taxes. Better-paid knowledge workers were able to carry on and continue paying taxes. Consumers kept on spending throughout the pandemic, in part due to multiple rounds of fiscal relief that generated strong sales-tax revenues. The wage increases we've seen this year have also helped to turbocharge tax rolls.
But focusing just on tax data understates the financial windfall states have received. The American Rescue Plan passed earlier this year allocated $350 billion for state and local governments, and the lion's share of that money remains unspent. That means billions of dollars for both Illinois and New Jersey, even if it can't be used directly to shore up public sector pensions. The bipartisan infrastructure bill, officially known as the Infrastructure Investment and Jobs Act, will also mean billions of dollars spent on projects that some states previously lacked the funding to complete. Should the Build Back Better Act be signed into law, that would mean yet another large stream of money.
A large caveat is in order — there's no guarantee this new financial stability will last for states that previously had financial troubles. Budget deficits are projected to return over the next few years — though state economists are in the business of being conservative, and it's possible those forecasts are overly pessimistic, as they have been for the past 18 months.
But it's also a lesson that a robust economic recovery kick-started by the government has downstream benefits. Particularly for young people in states like Illinois and New Jersey who had nothing to do with the legislation or pension plans that dragged those states down. This moment amounts to a new beginning. Stopping the downward spiral of budget cuts and slow economic growth could be the chance to create a different trajectory going forward.
More From Bloomberg Opinion:
Not All   State Pandemic-Era Economies Are Equal: Conor Sen
States Don't Need Coronavirus Relief — Yet: Karl W. Smith
This column does not necessarily reflect the opinion of the editorial board or Bloomberg LP and its owners.
Conor Sen is a Bloomberg Opinion columnist and the founder of Peachtree Creek Investments. He's been a contributor to the Atlantic and Business Insider and resides in Atlanta.