Netflix Needs a Baby Yoda
(Bloomberg Opinion) -- Chess sets commemorating a recently popular television series are selling for upwards of $99. But "The Queen's Gambit," Netflix Inc.'s hit miniseries about a fictional chess prodigy, isn't the theme. It's HBO's "Game of Thrones," a fantasy drama that has nothing to do with the game: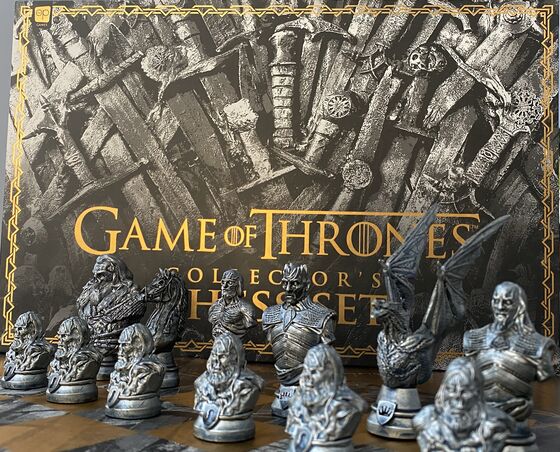 Why did "Game of Thrones" fandom warrant the making of official series-themed chessboards, yet "The Queen's Gambit" — a story that's said to have inspired a whole new generation of chess players — didn't? The short answer: "Game of Thrones" captivated TV viewers for nearly a decade; "The Queen's Gambit" was over and binged in just 6.5 hours. 
This is the curse of Netflix and the signature evanescence of its content library. While sales of chess sets did spike immediately after the Oct. 23 release of all seven episodes of "The Queen's Gambit," Netflix didn't benefit from the enthusiastic shopping it stoked. And this isn't the only way Netflix cedes profits to other companies. Take advertising: The Netflix app doesn't sell ads, but its content regularly sparks interaction on ad-driven social-media businesses such as Facebook Inc. when hits such as "Tiger King" and "Cobra Kai" go viral. From meme makers to retailers, Netflix is supplying material for free.
Netflix executives appear to be firmly opposed to adopting ads (for now), so I'll stick with the other more palatable argument: If the company were to invest in fewer limited series and more can't-wait-for-next-season, water-cooler-worthy storylines, it could probably make a lot of money selling consumers a lot of stuff. This would pay dividends to Netflix by also fostering loyalty to its app at a time when it's running out of Americans to sign up and searching for new growth avenues.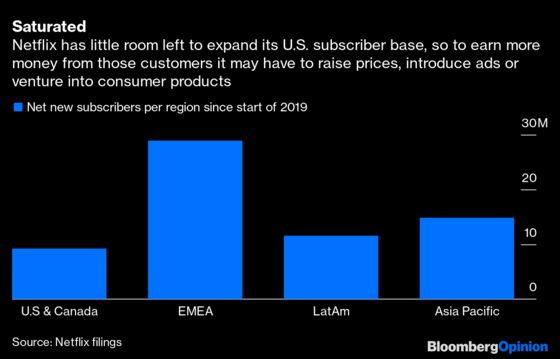 A TV franchise needs to have staying power to lend its trademarked characters and logo to merchandise sales. HBO can slap an image of its iconic iron throne or dragons on pretty much anything and people would buy it — even now, almost two years after the show's run has ended. There were even "Game of Thrones" eyeshadows and Night King ice cube trays. Hardly any series owned by Netflix is given the chance to reach such legendary status. "Stranger Things" was perhaps its most notable effort, but even that doesn't measure up.
Of course, no company has maximized the virtuous cycle of merchandise licensing more masterfully than Walt Disney Co. When Disney releases a new film, it profits from box-office tickets, then the various methods of home viewing, all the while generating a separate stream of recurring revenue from toys and visits to its theme-park attractions. The effect compounds, igniting fan excitement for the next film. It's why Disney fanatics can find everything from "Frozen" jewelry boxes and princess-inspired wedding gowns, to Millennium Falcon waffle makers and Mandalorian Adidas sneakers. And then there's "baby Yoda," the first retail golden goose to come out of Disney+, which now has more than 100 million users, gaining on Netflix's more than 200 million.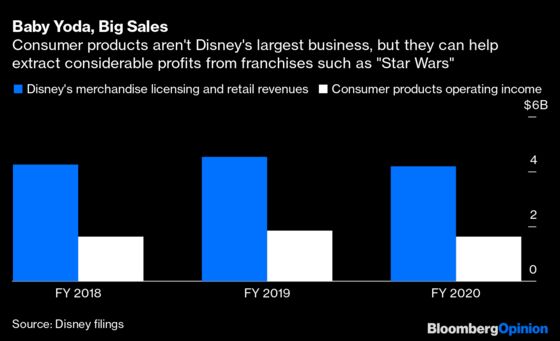 For Disney, consumer products are the earnings gifts that keep on giving — even during a pandemic. While revenue tied to its theme parks and cruise ships tumbled more than 40% in the fiscal year that ended in early October, merchandise licensing and retail revenues were down just 7%. In the latest quarter, Disney earned about 55 cents in profit for every dollar of consumer-product sales. This line of business consistently contributes more than $1.5 billion of operating income per year, and licensing carries much higher margins than producing a series that viewers binge in one sitting. In 2012, the Hollywood Reporter said that lifetime sales of "Star Wars" licensed goods had reached $20 billion, and that was before Disney acquired it.
Consumer products are a logical area of investment for Netflix, especially if it's going to keep resisting advertisers' money. But the first step is developing a series that has legs — be it dragon legs, baby alien legs, whatever works.
This column does not necessarily reflect the opinion of the editorial board or Bloomberg LP and its owners.
Tara Lachapelle is a Bloomberg Opinion columnist covering the business of entertainment and telecommunications, as well as broader deals. She previously wrote an M&A column for Bloomberg News.