Netflix Is a Wall Street Banker's Dream
(Bloomberg Opinion) -- Netflix Inc.'s grip on streaming-TV audiences is driving other media companies to pursue expensive mergers and takeovers that whiff of desperation. The irony? Netflix may still beat them all without having spent a single penny to acquire any competitors.
Comcast Corp.'s Brian Roberts is the latest media mogul said to be on the acquisition hunt. He's considering deals for ViacomCBS Inc. — itself formed from a fairly recent merger — and Roku Inc. to try to improve the cable provider's streaming offering, the Wall Street Journal reported, citing unnamed sources. While he chews that over, Discovery Inc.'s David Zaslav is working to close a deal for AT&T Inc.'s WarnerMedia division. The wireless carrier is the latest company to throw in the towel on streaming, letting cable networks and tech giants have at it. Amazon.com Inc. last month agreed to buy Metro-Goldwyn-Mayer, the movie studio known for James Bond. Meanwhile, Sony Corp.'s PlayStation Vue and Quibi both shut down after realizing how difficult it would be to make money. 
Content is king — of debt. The streaming wars are driving once unquestionably dominant companies such as Comcast and Walt Disney Co. to take on unprecedented amounts of debt to protect their market share and prestige. AT&T became known as the biggest non-bank borrower in the world after it acquired Time Warner for $102 billion in 2018; three years later, it's unraveling that transaction. In 2019, Disney swallowed 21st Century Fox for $85 billion, adding to former Chief Executive Officer Bob Iger's takeover trifecta — Star Wars, Marvel and Pixar— which built the foundation for Disney+. Comcast, after losing out on Fox, scooped up Sky Plc for about $50 billion, and Shari Redstone stitched back together her father's two fading entities, Viacom and CBS.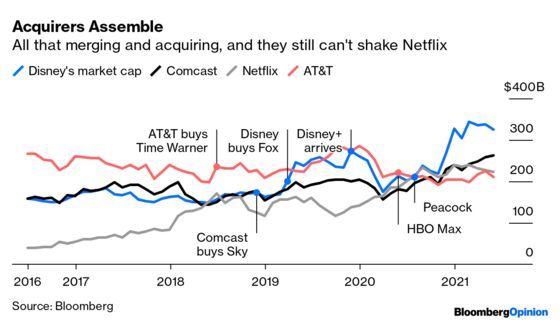 All this M&A in the past three years adds up to more than Netflix is worth in market capitalization, and yet it hasn't broken Netflix's hold on 200 million-plus subscribers or the many investors that favor its stock. Indeed, the streaming pioneer holds the industry's most valuable deal currency but hasn't used it for any deals. It's noteworthy that new entrants are trying to be so much like Netflix without embracing the guiding principles that made Netflix the favorite: keep things simple, enrich content creators over bankers, ensure technology is tops and offer commercial-free binging.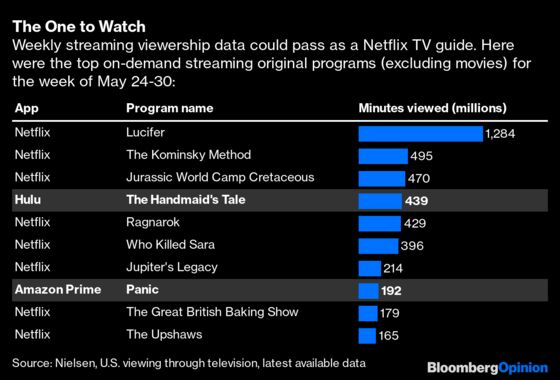 Instead of corporate takeovers, Netflix Co-CEOs Reed Hastings and Ted Sarandos have thrown billions of dollars at programming, striking deals with prominent Hollywood producers, directors and actors and buying the rights to popular works. That their  latest agreement is with Amblin Partners, the production company of box-office fixture Steven Spielberg, speaks volumes. And while their content spending was once a precariously debt-laden mission, they now say Netflix's success is such that the company no longer needs to tap the debt markets to fund the day-to-day operations, and soon it should begin regularly throwing off excess cash. 
The rising popularity of Disney+, HBO Max and Discovery+ are still making Netflix work harder. Hastings and Sarandos are investing more in binge-worthy reality-TV competition programs, stepping up consumer-merchandise efforts and, given the Spielberg deal, perhaps also recognizing the need to address Netflix's weakness when it comes to film quality. In the U.S., the app may have hit its growth limit, so their job now is keeping all those users satisfied. It will be quite a feat if they are able to accomplish that without having to resort to a single anticompetitive merger or falling into the trap that CEOs' egos and paranoia all too often lead them into: empire-building that rarely pays off. 
This column does not necessarily reflect the opinion of the editorial board or Bloomberg LP and its owners.
Tara Lachapelle is a Bloomberg Opinion columnist covering the business of entertainment and telecommunications, as well as broader deals. She previously wrote an M&A column for Bloomberg News.