Netflix Guards Its Streaming Crown With Video Games
(Bloomberg Opinion) -- While streaming-video services such as HBO Max, Disney+ and Paramount+ and are still trying to develop Netflix-size followings among TV and movie fans, Netflix Inc. is already on to the next thing: video games. It just might help the streaming pioneer get out of a growth rut. 
After hinting vaguely on last quarter's earnings call that gaming was on its radar, Netflix made clear it is making a more serious push into that area. The $243 billion company has hired Mike Verdu, a former executive at video-game publisher Electronic Arts Inc. and Facebook Inc., to be its vice president of game development, Netflix Chief Operating Officer Greg Peters said Wednesday, as first reported by Bloomberg News. Verdu, who also had stints at Zynga Inc. and Atari, worked on popular games at points during his career such as The Sims, Plants vs. Zombies and Farmville. Most recently, he helped oversee content for Facebook's Oculus Rift virtual reality headset.
It's risky for Netflix to wade into unfamiliar territory while it's on top of its game, but this could give any holdouts more of a reason to subscribe to the $14-a-month service. The company doesn't plan to charge extra for gaming, which would appear in the app alongside its usual programming, Bloomberg reported, citing a person familiar with the situation. Following a burst of new users in the first half of 2020 amid pandemic lockdowns, the pace of sign-ups is slowing again, with Netflix forecasting just 1 million new customers globally for the latest period; its official results will be out Tuesday after the market closes. Netflix has had a particularly tough go lately of adding users in the U.S. and Canada, although it does have more than 74 million subscribers in that region. The service also faces tough competition in Europe from Walt Disney Co.'s Disney+, which recently added the Star general-entertainment brand for its more adult-friendly fare.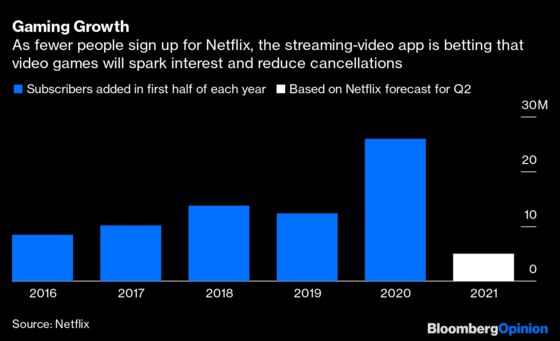 Unless it's willing to pump billions of dollars into the effort, it's hard to imagine Netflix becoming a significant competitor to Sony Corp.'s PlayStation and Microsoft Corp.'s Xbox, gaming consoles that have deep relationships with fans looking for some of the most true-to-life graphics and intricate storytelling. Still, it isn't welcome news for GameStop Inc.'s memestock pumpers to see a service as popular as Netflix potentially eating into its video-game retailing business. Shares of GameStop slid as much as 7.5% in early trading Thursday before recovering somewhat. Other tech giants have expanded into games with limited success: Apple Inc. has Arcade, and Alphabet Inc. has Google Stadia. But each has kept its video service as a separate product. 
Rather than going after the biggest gaming platforms directly, a more logical place for Netflix to start is with something like party games. To take one small example, the Jackbox Games party packs (a favorite for when my family gets together) would be perfect for Netflix — they don't even require a separate remote because participants take part in the trivia and cartoon-like missions using their phones. For the most ambitious companies, though, there is an unmet opportunity to more closely tie streaming series to video games, which now have their own elaborate storylines and character development not terribly far from the level of Hollywood-produced shows.
Given investors' historical concerns about Netflix's borrowing and spending, and that the company is turning the corner on becoming cash-flow positive, it makes sense to move slowly and modestly. Netflix is already the most popular destination for viewing Hollywood content on demand, and even with all the competition it faces, that hasn't seemed to drive large numbers of users to cancel. Any costly new endeavor will raise questions about how Netflix funds it as it continues its necessary splurge on original series and movies. A shift into some advertising-supported programming is starting to look inevitable. (Netflix has also predictably begun wading into consumer products, Disney's golden goose, amid the pressure to find new profit sources.)
Netflix has almost become synonymous with saying we're "watching TV." It's not unthinkable that someday users could be asking one another, "What are you playing on Netflix?"
This column does not necessarily reflect the opinion of the editorial board or Bloomberg LP and its owners.
Tara Lachapelle is a Bloomberg Opinion columnist covering the business of entertainment and telecommunications, as well as broader deals. She previously wrote an M&A column for Bloomberg News.