Netflix Wants You to Book That Trip. Really.
(Bloomberg Opinion) -- As summer approaches and the U.S. reopens with help from vaccines, Americans probably won't be reaching for their TV remotes as often. For Netflix and Disney+, that may not be such a bad thing. 
Even as Covid-19 cases remain high in parts of the U.S. including New York, the long-awaited return to something approaching "normal" has begun, albeit slowly. Restaurants are slightly fuller, and by the end of this week 99% of AMC Theaters will be back in business. Disneyland in California is about to welcome patrons for the first time since March 2020, while passenger air travel is on the rise. 
Some of the biggest beneficiaries of Covid restrictions were streaming-TV apps, as life under lockdown became an endless cycle of Zoom-Netflix-Zoom-Netflix. And so conventional wisdom would suggest that a return to normal doesn't bode well for Netflix Inc. and its imitators. That may not be the case, though. The key to understanding why can be found in two industry acronyms — AVOD versus SVOD.

AVOD refers to advertising-supported video on demand, which applies to free services such as Pluto TV and Tubi that have commercials; SVOD refers to subscription video on demand, which means apps that charge an ad-free monthly rate, such as Netflix, Disney+, HBO Max and Paramount+. Increasingly, some apps — Discovery+, Hulu and Peacock — are a mix of both types.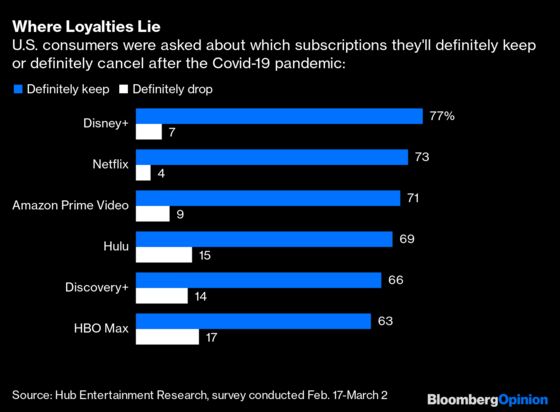 Whenever advertising is the chief source of profits, the goal is to have as many people watching as possible. That's not necessarily true when profits are purely subscription-driven. That's not to say Netflix doesn't want you watching; of course it does. But streaming too much too quickly isn't ideal for SVOD services. They have to keep feeding the machine, which makes each piece of content that much more evanescent and thus expensive from a return-on-investment standpoint (especially for Netflix, which doesn't have theme-park rides and consumer product tie-ins to maximize a franchise's lifetime earnings.) 
A survey by OnePoll and Fox Corp.'s Tubi found that the average person binge-watched four shows and 20 movies between June and August of last year. That's a lot. Imagine going to theaters 20 times in one summer — it would cost upwards of $180 per person. But whether you watch one movie or 20 on Netflix, the price is the same: $14 a month per household. That's why with commercial-free SVOD, viewing time and profitability have almost an inverse relationship. And it may help explain why Netflix recently announced that episodes for season two of "The Circle" and "Too Hot to Handle" — two of its popular reality shows — won't be released all at once the way most of its series normally are.
It may sound counterintuitive, but reopenings could bring some welcome reprieve to all the bingeing, at least for Netflix and Disney+. That's because their subscriber bases — about 200 million and 100 million, respectively — seem pretty solid and less in danger of mass cancellations this summer. Some proof: When "The Office" — formerly the most popular show on Netflix — moved to Comcast Corp.'s Peacock in January, the resulting surge in Peacock signups didn't translate into a subscriber exodus for Netflix, according to Antenna data. And as far as Disney is concerned, a rebound in theme-park attendance would restore cash flow that could be used for Disney+ productions.
Other less-essential apps, including late arrivers Paramount+ (owned by ViacomCBS Inc.) and Discovery+ (Discovery Inc.), as well as the yet-to-impress HBO Max (AT&T Inc.), may struggle to grab or hold the attention of distracted consumers unless they step up their game (this week's equity offering by ViacomCBS suggests it is getting ready to do so). They can no longer count on a rising tide to lift all boats. It's no surprise each one is introducing ad-supported tiers to improve margins, while Disney+ and Netflix don't yet feel the need. 
The return to normal may help turn Netflix and Disney+ into long-term winners, but their rivals could be left wishing we were all stuck home again.
This is the price of the standard plan.
This column does not necessarily reflect the opinion of the editorial board or Bloomberg LP and its owners.
Tara Lachapelle is a Bloomberg Opinion columnist covering the business of entertainment and telecommunications, as well as broader deals. She previously wrote an M&A column for Bloomberg News.