Defusing Myanmar Requires More Than Western Sanctions
(Bloomberg Opinion) -- Myanmar has long been a textbook example of sanctions failure. Years of isolation battered the population but didn't loosen the grip of the Tatmadaw, as the armed forces are known. When they ceded ground a decade ago, they did so on their own terms — and even that, as February's coup proved, was all too easily reversed. 
Today, Southeast Asia's poorest nation is again proving an example of the limits of outsiders' ability to influence autocratic leaders willing to shoulder a substantial economic burden — or impose it on their own people — and remain indifferent to international ignominy. The army held a dinner and drone display last weekend, on the same day soldiers killed dozens of civilians and burned one man alive.
That's no excuse for inaction in a situation where brutality against civilians has dramatically escalated and restive borderlands are smoldering, with ethnic armed groups being drawn back into conflict after coming out against the junta. So far, more than 500 people, including children as young as five, have been killed in the military's effort to impose control. Many were gunned down with high-velocity weapons suited only for the battlefield. Some were murdered in their homes. It's a human catastrophe that risks developing into a refugee crisis, a civil war and a murky proxy fight that drags in others, all at once — a combination no one can afford.
It should, though, prompt a realistic assessment of what is achievable, what will be necessary to rein in the worst excesses and, eventually, to pave the way for a compromise and a pathway toward democratic transition. All at a time when positions are hardening. Faced with a crisis that could spill over, Southeast Asia has a role to play by imposing its own travel and other restrictions on the elite, as does China, eager to restore stability as quickly as possible. For the West, measures like direct support for the population, say with humanitarian assistance and by preserving access to the internet, combined with efforts to woo younger officers and split the elite, may get better results than just condemnation. 
It's creditable that curbs have been imposed: The U.S. sanctioned officers involved in the coup and units that have repressed demonstrations. The measures target junta-controlled ministries and conglomerates, among them Myanmar Economic Corp. and Myanmar Economic Holdings Ltd., the military's two largest business entities. Europe has stepped up with travel bans and asset freezes.
Those send a strong message. But real leverage is limited when security services are insular and bent on control, as they are in Myanmar. While state finances are certainly fraying and growth was battered by the pandemic, the military has an elaborate financial network that is murky, hard to trace and will likely continue to evade sanctions — as it has for decades. The prospect of serving some 55 million new consumers in a nation starved of the basics of 21st century life attracted telecoms giants, brewers and banks after the country began opening up over the last decade. But the lure faded with the crisis in Rakhine state in 2017, when an army offensive pushed some 700,000 Rohingya Muslims to flee. The regime hoped its coup would leave the economy intact. Grassroots domestic boycotts of military-owned brands show just how unlikely that is.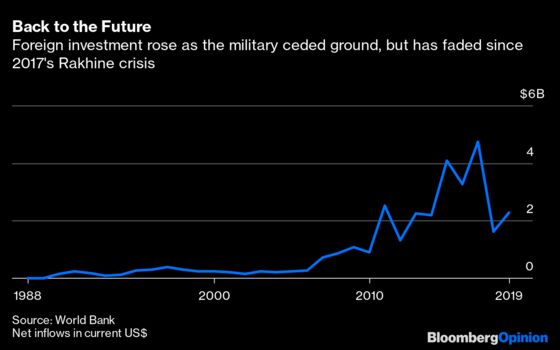 Lee Jones at Queen Mary University of London, who studies intervention and sanctions, points out that the years after an earlier junta took over in 1988 has provided the Tatmadaw with decades of experience of circumventing Western sanctions. And unlike most military regimes, often shaky because forces are riven with factions, Myanmar's is stable.
One option may lie with the country's Southeast Asian neighbors — which have stepped in as trade partners in the past when other countries pulled out — and China, a major investor unhappy over over attacks on Chinese-owned businesses and bearing no particular loyalty to the junta.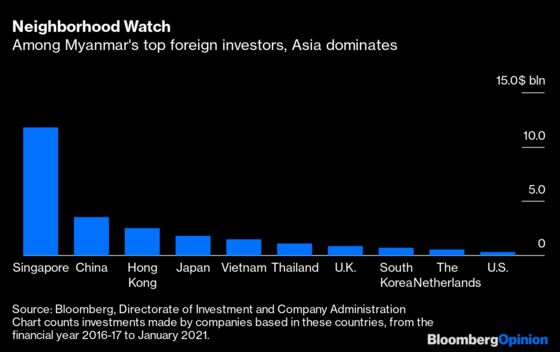 The credibility of the Association of Southeast Asian Nations as an actor in regional diplomacy is on the line. Much-maligned for its ineffectual bureaucracy and an act-only-by-consensus principle, Asean retains some merit for bringing together 10 very disparate countries across a huge region. But if it fails again to come to a stance on Myanmar, something it has struggled with for decades, the organization's continued existence will increasingly be as a bystander.
Aaron Connelly of the International Institute for Strategic Studies argues there are levers that Asean could pull; for example, discussing a suspension for Myanmar. Importantly, it could do so on procedural grounds, given the existence of a military junta, a jailed but elected government, and the prospect of a shadow unity government. Matters aren't simple. Individual Southeast Asian countries have their own interests, and most have invoked non-interference. Excluding one member state creates a dangerous precedent that influential outsiders like China could exploit. But inaction pushes Asean toward further irrelevance, not least in the eyes of Myanmar's people.
Countries can and should act individually, too. Regulators in Singapore, a favored destination for the country's elite, say they haven't found evidence of significant funds from Myanmar companies or individuals, but have called for vigilance on potential sanctions compliance and money laundering. Travel bans there would squeeze the junta, as would action from neighbor Thailand, already home to large numbers of Myanmar refugees. The region could push the U.N. Security Council toward a global arms embargo. China currently opposes more coercive measures.
Creativity may matter even more. That means finding ways to support Myanmar's extraordinarily resilient protesters and strikers, helping civil society, and keeping the population connected to the outside world. The approach should include an effort to exploit the generational gap in the military, between high-ranking older officers and web-savvy younger ones. Defections have been low-ranking so far, but an internal rift is at least imaginable. The alternative is too bleak to consider.
Brunei, Cambodia, Indonesia, Laos, Malaysia,Myanmar, the Philippines, Singapore, Thailand and Vietnam.
This column does not necessarily reflect the opinion of the editorial board or Bloomberg LP and its owners.
Clara Ferreira Marques is a Bloomberg Opinion columnist covering commodities and environmental, social and governance issues. Previously, she was an associate editor for Reuters Breakingviews, and editor and correspondent for Reuters in Singapore, India, the U.K., Italy and Russia.