Myanmar's Covid Crisis Is Testing Its Neighbors
(Bloomberg Opinion) -- It's hard to find logic in the actions of a leadership that attacks doctors and nurses at the height of a pandemic. And yet that's happening in Myanmar.
In response to civil disobedience by medical staff after a military coup in February, soldiers have hijacked ambulances, arrested personnel and confiscated equipment. In a collapsing state, it's helping to accelerate a calamity of unknown proportions. Official figures put Covid-19 infections at more than 310,000 and deaths at over 10,000, but the junta's appeal for help last week, anecdotal evidence of overwhelmed funeral services and even new crematoriums suggest that's likely a fraction of the real toll.
Myanmar has suffered crippling disaster before while under deeply isolated and incompetent military rule. In 2008, Cyclone Nargis killed an estimated 138,000 and displaced hundreds of thousands in the Irrawaddy Delta. The regime made things worse by resisting international aid that it feared as interference. The mishandling of the crisis and the international aid that eventually poured in contributed to the tentative opening that followed. The Covid catastrophe is unlikely to have the same effect, with a junta newly back in power and showing no signs of yielding.
The only hope is that the extent to which the country's structures and economy have crumbled and the threat of contagion — with new variants circulating, at a time when much of Southeast Asia is grappling with record surges — will prompt action from the international actors who have the greatest clout here and the most at stake: Myanmar's neighbors. 
The pandemic picture is grim. From around 2,000 tallied daily cases in early July, numbers had more than doubled by the middle of the month. By July 19, United Nations figures put the test positivity rate at 39%, compared to 22% two weeks earlier. Desperate citizens have struggled to get their hands on oxygen cylinders, with demand soaring and sales or refills restricted by a military leadership that says it is trying to control hoarding. The situation is worse for political detainees, held in crowded prisons. Nyan Win, a senior adviser to ousted leader Aung San Suu Kyi, died last month after contracting Covid-19 in jail.
Less than 3.4 million vaccine doses have been distributed in a population of 54 million — one of the lowest and slowest rates in the region. Doctors and nurses, already in short supply, have been continually harassed by a government unhappy to be opposed by a well-organized professional group. In three months from February 11, Physicians for Human Rights counted 157 arrests and 73 raids on hospitals. The World Health Organization counts 260 attacks to date. 
The health emergency is compounded by floods across parts of the country, widespread unrest and clashes in the borderlands that have displaced tens of thousands, plus an economy expected to be almost a third smaller by the end of this fiscal year than it would have been without Covid-19 and the coup.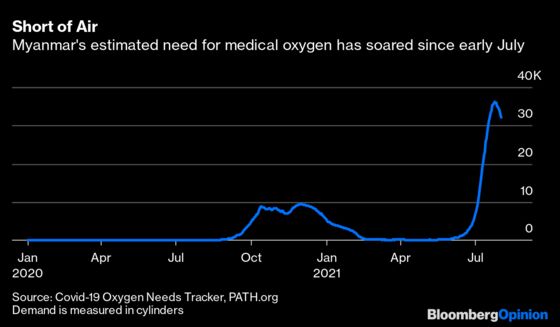 The question is how bad it has to get before nations in the region are prompted to press the military simply for restraint.
Thirteen years ago, relief efforts after Nargis did indirectly help encourage a level of engagement with the outside world. But much of that effort was down to the skill of the then-leader of the Association of Southeast Asian Nations, Surin Pitsuwan, a skilled Thai politician who was able to get past resistance from the Myanmar military and among member states to pull off a relief effort led by Asean. This time, there is none of that urgency or creativity, and practical difficulties involved in distributing medical aid are manifold.
Instead, the military is being allowed to use Covid-19 to crush an already battered population, fraying the trust that is desperately required for any adequate public health response, especially one that will lean on vaccinations. The prospect of a vote in 2023, dangled by the military leadership, is at best a mirage. Asean is left as the perpetual bystander.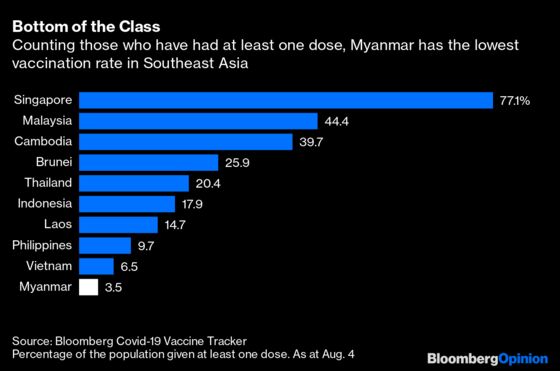 Outsiders' influence is limited. As Aaron Connelly of the International Institute for Strategic Studies pointed out to me, the escalation in Western sanctions has been too slow to jolt a junta well-used to circumventing just such curbs, with huge military-linked commercial outfits to lean on.
The world is not without options to at least limit the violence and devastation, and those start with Southeast Asia, where trading partners and military allies have the greatest influence over the junta. The threat to public health and national security posed by a fraying nation has not been greater. Unfortunately, it's also a region with a tolerance for chaos among its neighbors and plenty of domestic reasons not to squeeze the regime too hard. 
The West can still use its leverage to press Asean, at a minimum, to do more than belatedly appoint a special envoy and express concern, pushing the Myanmar military to abide by the modest five-point consensus agreed to in April, which among other things calls for a cessation of violence, dialogue and humanitarian aid. Absent that, neighbors could even consider beginning to cut perks for the leadership, like travel.
China, with no inclination to step in but worried about the chaos, will be hard-pressed to dissent. It has already seen coronavirus cases flare up in the southern province of Yunnan, including in the city of Ruili, a major trade and border crossing point. 
Reasons to act have never been stronger. The only question for all sides, at a time of multiple distractions, is the will to do so.
This column does not necessarily reflect the opinion of the editorial board or Bloomberg LP and its owners.
Clara Ferreira Marques is a Bloomberg Opinion columnist covering commodities and environmental, social and governance issues. Previously, she was an associate editor for Reuters Breakingviews, and editor and correspondent for Reuters in Singapore, India, the U.K., Italy and Russia.